AUSTIN, Texas — The Austin City Council will consider purchasing a hotel property to temporarily house the homeless at its Thursday, Nov. 14, meeting.
According to the council's agenda, they will consider "amending the Fiscal Year 2019-2020 Office of Real Estate Services Capital Budget to increase appropriations by $8,000,000 to acquire and renovate a building to provide shelter and support services to those experiencing homelessness."
"The Office of Real Estate Services has identified the building at 2711 South IH-35 as a property that would be able to provide shelter and support services to those experiencing homelessness. The property is an ideal location given the proximity to areas where individuals who are experiencing homelessness live, accessible by public transportation, close to major arterials, and within reasonable distance of health care facilities. The estimated purchase price including closing costs and other related fees is $8,000,000. The funding in this item includes funding for renovation."
Austin Mayor Steve Adler provided the following statement on Nov. 8:
"Next week, Council will consider acquiring and renovating what I hope will be the first of several hotel properties to rapidly house and help permanently stabilize people in our community experiencing homelessness. This type of property conversion has worked in cities around the country, providing housing and wraparound services in collaboration with service providers. Encouraged by these examples, we have been focused on executing the strategy here in Austin for some time. The strategy gained momentum when Matt Mollica arrived in Austin to run ECHO since he has prior successful experience doing this. This week is an exciting milestone in a long-term strategy for addressing homelessness."
KVUE obtained a list of six locations from the City of Austin last week that they were previously considering:
2429 and 2433 Highway 71 East in Del Valle ($2,500,000)
Red Roof Inn at 8216 N. Interstate Highway 35 in Austin ($8,575,000)
Ace Motel at 2627 Manor Road in Austin ($5,300,000)
Mountain Star Lodge at 3573. S. RR 620 in Austin ($3,950,000)
1304 Rio Grande St. in Austin ($3,000,000)
Quality Suites at 1701 E. Saint Elmo Road in Austin (Sale price unknown)
These properties range in sizes from six to 142 rooms. The properties have all been on the market between 18 and 165 days. The oldest property, 1304 Rio Grande Street, was built in 1916 and was last renovated this September. The newest property, 1701 E. Saint Elmo Road, was built in 1998.
More details on the properties can be found here.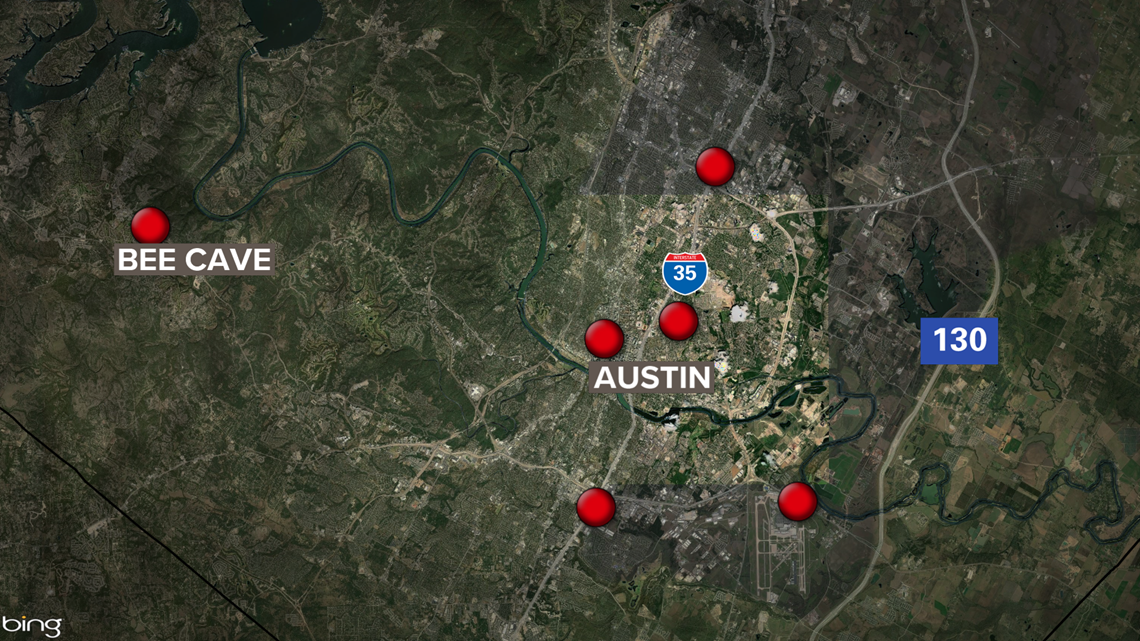 After learning about the possibility, Bee Cave Mayor Monty Parker said the City of Bee Cave did not receive any notice that the City of Austin was interested in acquiring Mountain Star Lodge. He posted the following statement on Facebook:
"Personally, I was shocked a few months ago when Austin rescinded their camping ordinance allowing the homeless to camp virtually anywhere and we have recently seen a partial reinstatement of the ordinance due to public outrage, law enforcement issues and a general lack of security felt by those who enjoy Austin as a destination. So to hear that Austin would consider exporting the problem they helped create to a small city like ours, with no public transportation or homeless resources, is mind-boggling and void of any respect for the homeless population that Austin is so compassionate about."
The City of Austin said they are having conversations with multiple properties and just because one may be on this list it is not indicative of anything other than the City expressing interest. The City is not currently looking at any property outside of city limits.
Mayor Parker later released an updated statement:
"Our City Manager, Clint Garza, was able to speak directly to the City of Austin Assistant City Manager, Rodney Gonzales, a few minutes ago, and he confirmed emphatically that Austin will not be purchasing the Mountain Star Lodge, and would never consider transferring any of their homeless population to a neighboring city without first having discussion with that city. So the topic that started our day with much trepidation has now been put to bed."
Regardless of the location, Austin's homeless strategy officer, Lori Pampilo-Harris, told KVUE there is a need for more shelter space.
"Motels, really, are an opportunity for quick conversion to permanent supportive housing. The structure is already there. The additional things that we would need in our community is property management and along with the case services," she said. "To me, when we're in the environment that we're in, along with a sense of urgency that we have and willingness that we have from the community and from our elected officials, there's nothing off of the table. Motels is just one option that we're looking at."
An example of the need for more shelter space is the Salvation Army in Austin. Its two Austin shelters are at full capacity, and there are more than 400 individual families on its waitlist, according to Communications Director Corey Leith.
"Our demographic that is on the waitlist is the hidden homeless factor, the families who are living in their cars or couch-surfing, living in storage units," he said. "Those are the people who are contacting every week to see if we have availability at one of our shelters."
The Rathgeber Center – which will have 212 beds for families – was scheduled to open before Christmas but will instead open in February 2020 due to a lack of funding and a lengthy hiring process, Leith said.
"When people always talk about, 'Do we need more shelters? Do we need more bed space here in Austin?,' the answer is always yes," he said. "But with that bed space needs to come case management as well 'cause those case managers are going to help those people who are looking for overnight shelter in their programs to find employment opportunities and also affordable housing."
If a property is secured by the City of Austin, it would serve as a temporary shelter before the client is moved into a more permanent shelter.
MORE KVUE HOMELESS COVERAGE: