AUSTIN, Texas — More details have been released about an incident where a homeless man attacked multiple police officers in Downtown Austin and sent them to the hospital.
According to an affidavit obtained days after the incident by KVUE, Austin Police Department officers were called to the area of 611 Neches Street by an employee who works at Caritas near the ARCH at around 4 p.m. on Sept. 17.
The employee told officers that a man, identified as Henry Parker, 47, was outside breaking side mirrors on multiple vehicles. The employee also said she saw Parker yelling and cursing.
As officers approached Parker, he allegedly started to act erratic and back up into traffic. Officers grabbed him so that he didn't get hit by a car. As officers tried to put handcuffs on Parker, police said he continued to act erratically. He was taken down to the ground by the officers, and at that point, Parker began to bite, kick, flail and pull his arms away from officers.
During the altercation, the affidavit said three officers were injured.
One officer said that the man bit him in his knee, causing him "excruciating pain." Later, medics looked at his knee, which had a bleeding bite mark.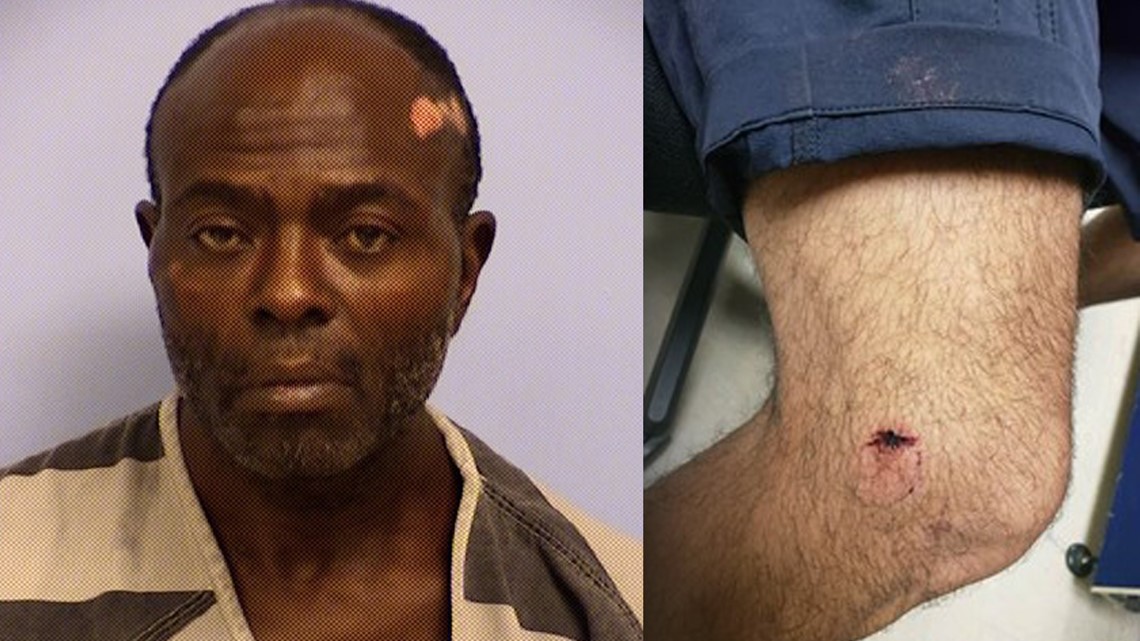 Another officer was kicked backward by Parker, while the third had bloody scratches due to Parker digging into his knee with his nails.
PHOTOS: Austin police officers injured in pursuit of vandalism suspect
Ken Casady, the president of the Austin Police Association, originally told KVUE that five police officers were hospitalized in the incident.
"The individual resisted and fought back and then clawed the officers and bit one of the officers in the knee," Casaday said. "A lot of people on social media say that's not that big of a deal – it's a really big deal. Human bites are very nasty, they're worse than dog bites. The human mouth is filled with all kinds of nasty bacteria."
All officers were hospitalized, but have since been released.
Parker faces four charges and is currently in the Travis County Jail with a bond set at $40,000.
Casaday said the community needs to know what officers go through "on a daily basis" in Austin.
KVUE asked Casaday why he felt people should know the man was homeless.
He said it brings a bigger health risk to officers.
"Someone living in northwest Austin in a condo most likely has healthcare, good quality healthcare. Their hygiene is good," Casaday said. "But when you're exposed like homeless community members are, you just run the gambit of diseases that are out there ... It just brings a lot more problems to the plate when you deal with someone that has absolutely no healthcare, and they live in an outdoor environment on a daily basis."