AUSTIN, Texas — The first 19 days of this month have been the hottest start to May on record for Austin, but we're finally seeing signs of a pattern change by next week with cooler temps and daily rain chances.
Daily rain and storm chances begin Friday evening, and this will include a chance for a couple of strong storms. The forecast is a little tricky for Friday evening, given we will have a "cap" in place that could prevent storms from forming. We'll put the rain chance Friday evening around 30% for now.
A cold front will push through Saturday night into Sunday morning, bringing another decent chance for rain and storms, and then multiple systems next week will bring more widespread rain potential. This will include the threat for more strong storms and perhaps even some flooding around Monday and Tuesday.
Rainfall projections are now indicating that a widespread 2 to 3 inches of rainfall is possible with isolated higher amounts. This would be excellent news for the Hill Country, which continues to experience "exceptional" drought, but the exact totals will need to be worked out in the coming days as we see how the ingredients will come together. Highs next week also dip down to the mid and upper 80s along with the elevated storm chances.
THURSDAY NIGHT:
Increasing clouds. South wind at 5 to 15 mph with gusts up to 25 mph.
LOW: 73
FRIDAY:
Morning clouds give way to a mostly to partly sunny afternoon. 30% chance of late day storms. South wind at 10 to 15 mph with gusts up to 25 mph.
HIGH: 99
SATURDAY:
Partly sunny skies with a 30% chance of showers and storms. South wind at 10 to 15 mph with gusts up to 25 mph.
HIGH: 96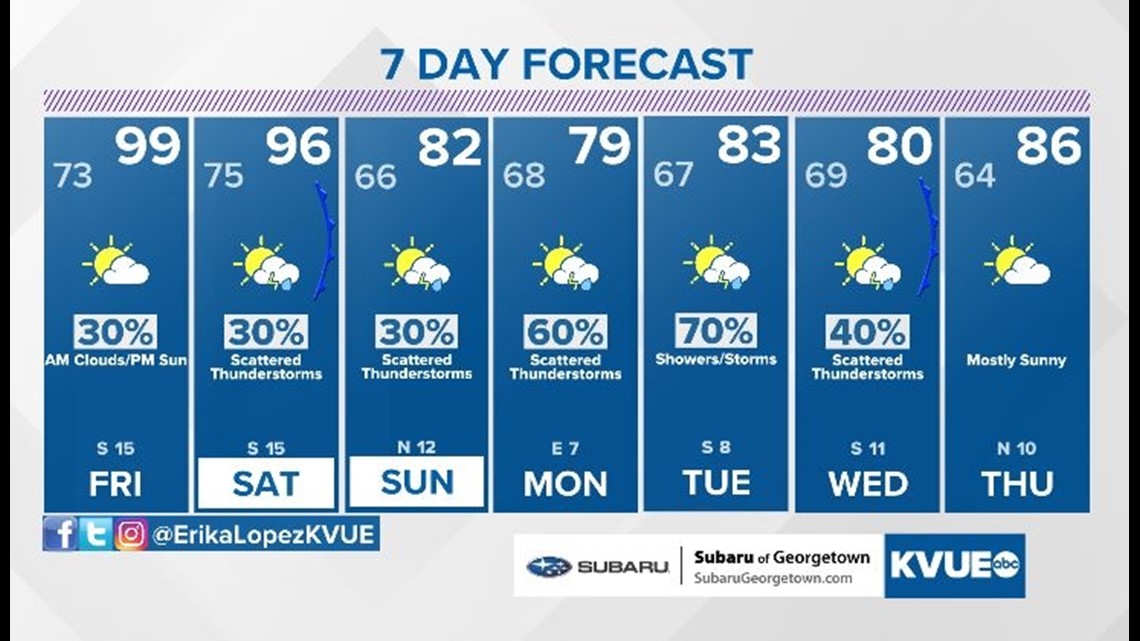 Check out the live radar for what you can expect the rest of the day and into the workweek.