AUSTIN, Texas — A few storms developed Monday evening south of Austin, but the front responsible for these storms is now drifting south of the KVUE area. This will push the rain chance through the rest of the overnight to our south, and now the remainder of this week is looking just about completely dry.
Temperatures behind the front will drop slightly, but it's not going to the type of cool down that we were all hoping for. Morning temperatures will be in the upper 60s to low 70s over the next several days, but the morning will be in the low to mid 90s.
Mid 90s remain in the forecast for this weekend into early next week. Although the outlook for the next 7 days is now dry, long range models are hinting that a more active weather pattern could return during the first 10 days of October. We'll keep you posted.
MONDAY NIGHT:
10% chance of a showers or storm, primarily southeast of Austin. Then gradual clearing. Northeast wind at 5 to 15 mph.
LOW: 72
TUESDAY:
Mostly sunny. 10% chance of a shower. Northeast wind at 5 to 10 mph.
HIGH: 94
TUESDAY NIGHT:
Mostly clear. A little cooler. North wind at 5 to 10 mph.
LOW: 71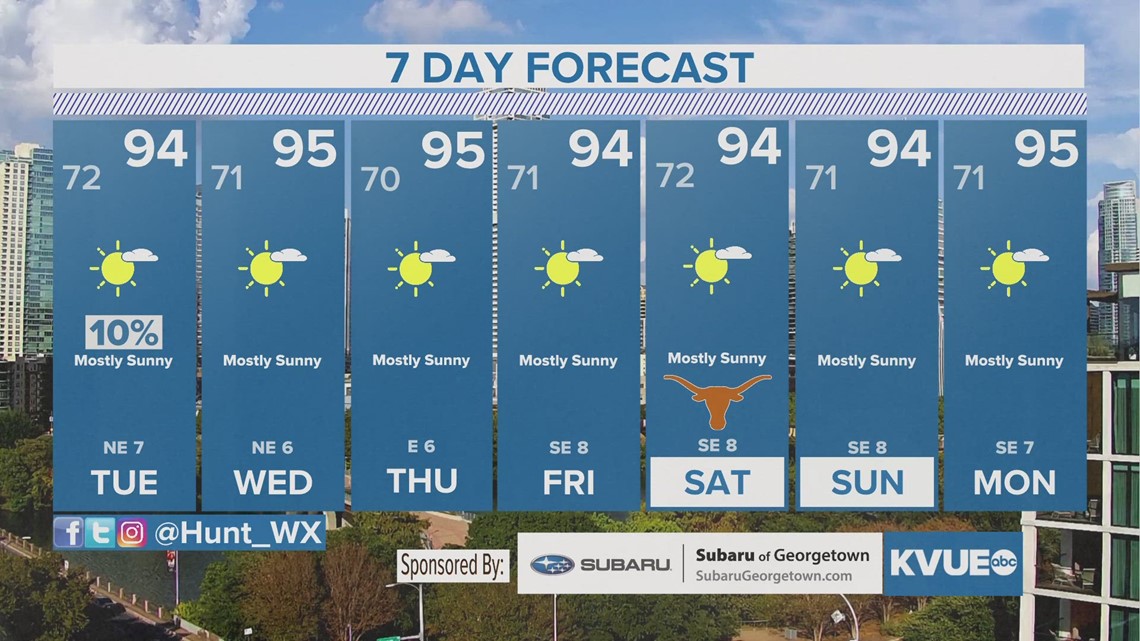 Check out the live radar for what you can expect the rest of the day and into the workweek.