AUSTIN, Texas — We officially broke our triple-digit heat streak on Saturday with an afternoon high of 99 degrees. What's even better was some areas received nice, although brief, showers. This triple-digit heat streak lasted 21 days and tied as our second longest stretch on record. The longest stretch was 27 days set back in 2011.
We'll monitor additional rain chances on Sunday, but they'll be slim and mostly along and east of Interstate 35. Some storms could contain strong winds. It's also important to note any lightning strikes could easily start wildfires due to the elevated fire weather concerns we continue to monitor. Afternoon highs are expected to just barely return to the triple digits with a forecast around 100 for Sunday.
The start of the workweek begins with triple-digit temperatures. However, we do expect the impacts of the high pressure system responsible for our excessive heat this summer to weaken slightly. This could allow us to see isolated rain chances arrive midweek, predominantly on Wednesday and Thursday. We could also feel impacts in our temperatures with highs possibly in the upper 90s.
There are currently several ongoing fires across Central Texas. Remember to avoid outdoor burning and quickly report if you see a grass fire. We remain under high fire danger, burn bans, and a severe to exceptional drought for much of Central Texas.
Additionally, there is a tropical wave off the west coast of Africa that has a 40% chance of development in the eastern Atlantic over the next five days. We'll continue to monitor the tropics closely as we enter into a more active time of hurricane season.
SUNDAY:
Mostly sunny with a 20% chance of an isolated shower. Southeast wind at 5 to 15 mph.
HIGH: 101
SUNDAY NIGHT:
Partly cloudy and muggy. Southeast wind at 5 to 10 mph.
LOW: 77
MONDAY:
Sunny with a 10% chance of an isolated shower. Southeast wind at 5 to 10 mph.
HIGH: 100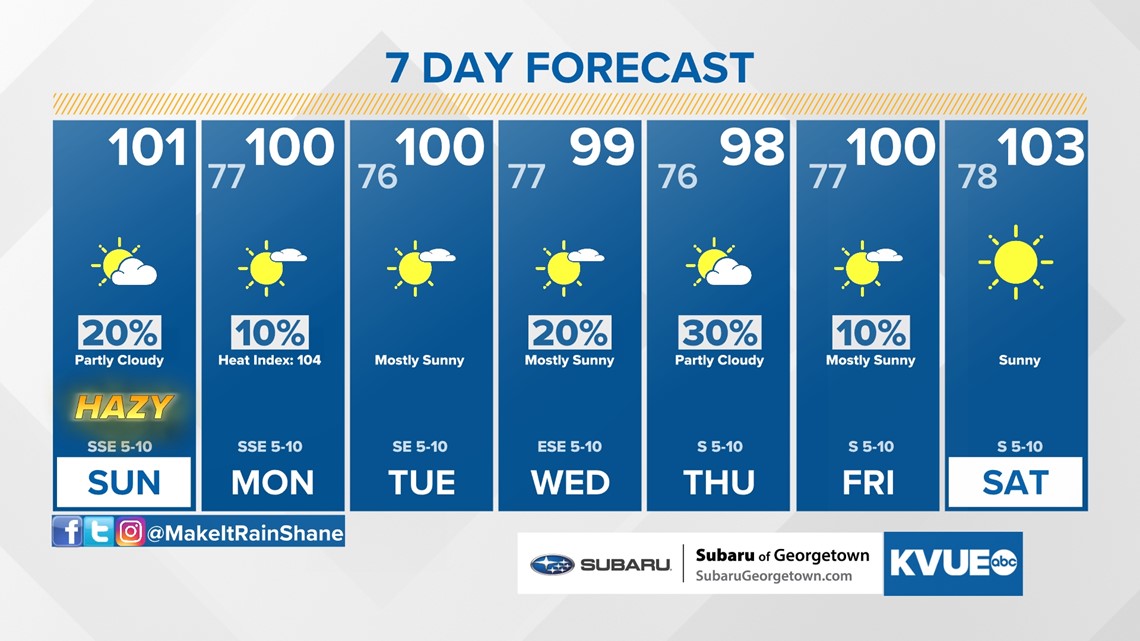 Check out the live radar for what you can expect the rest of the day and into the workweek.