AUSTIN, Texas — Hopefully you enjoyed the record-tying high temperature at Camp Mabry yesterday, because winter-like temperatures return to Central Texas for midweek. We reached 84 degrees Tuesday afternoon, tying the daily heat record set in 1991.
We woke up this morning to an entirely different air mass due to a cold front that arrived overnight. Windy conditions are expected with gusts up to 30 mph likely into the afternoon. "Feels like" temperatures will most likely be in the upper 40s to lower 50s, so don't forget to bundle up!
While freezing temperatures will be possible in the Hill Country Wednesday night, overnight lows in Austin should remain above freezing in the upper 30s.
Thursday will still trend on the cool side in the upper 50s, but winds will be calmer. Clouds build back in by Friday and linger through the weekend as temperatures return to the 70s.
Recent forecast model trends show the potential for isolated showers and cloud coverage over the weekend, stifling our temperatures in the 60s to lower 70s as a cold front arrives on Saturday. Models are not entirely in agreement yet as to whether or not the front stalls or moves through, but isolated rain chances will remain possible both Saturday and Sunday.
A stronger system may push through Central Texas around Tuesday of next week but, ahead of that, Monday afternoon temperatures will be near 80 degrees.
WEDNESDAY:
Chilly and windy. North-northeast wind 10 to 15 mph with gusts around 30 mph.
HIGH: 57
WEDNESDAY NIGHT:
Increasing clouds. Northeast wind at 5-10 mph.
LOW: 40
THURSDAY:
Partly sunny and mild. 10% chance of late isolated shower. Calm wind.
HIGH: 59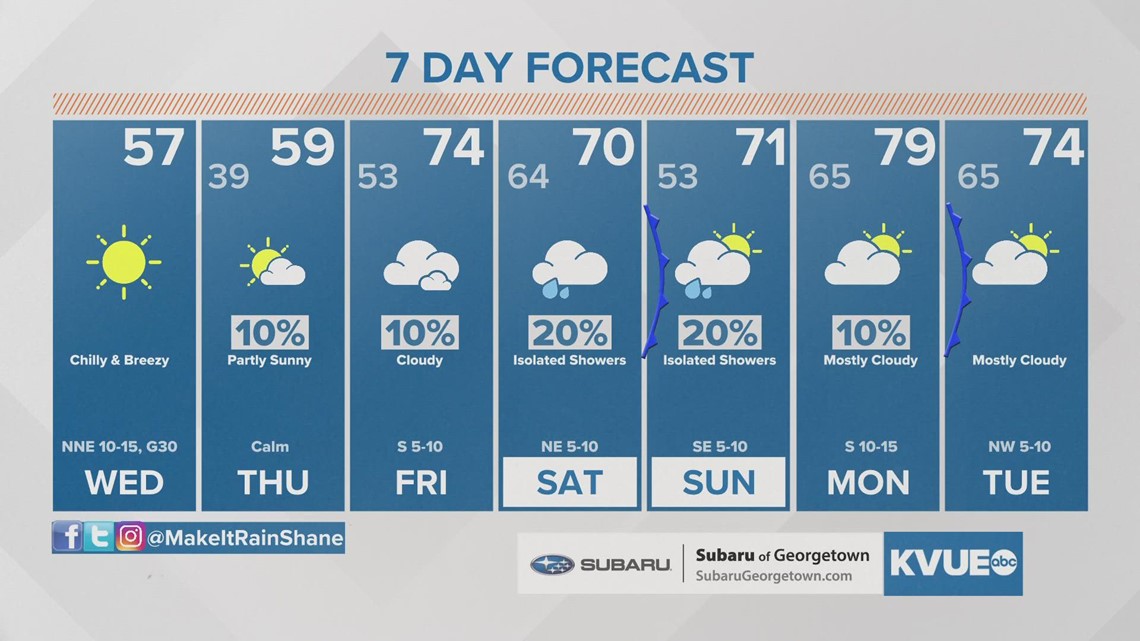 Check out the live radar for what you can expect the rest of the day and into the workweek.