AUSTIN, Texas — Editor's note: This blog is no longer being updated. Click here for Thursday's blog.
KVUE is keeping you updated with the latest coronavirus and COVID-19 news in the Austin area.
Scroll down for the top headlines and latest updates in KVUE's Aug. 18 live blog.
Texas: More than 2.8 million cases have been reported in the state, and more than 53,100 people in Texas have died, according to the Texas Department of State Health Services.
Central Texas counties:

Austin-Travis County: The seven-day moving average of new admissions is 76, and an average of 601 people are hospitalized. The seven-day moving average for new cases is 513. Since the beginning of the pandemic, over 97,515 cases have been reported and at least 924 people have died.
Hays County: There are currently 2,161 active cases and 62 people are currently hospitalized (49 unvaccinated, 13 vaccinated). Since the beginning of the pandemic, at least 23,478 confirmed cases have been reported and at least 293 people have died. At least 21,024 people have recovered from the virus.
Williamson County: There are 360 new cases, and 11% of hospital beds are available and 1% of ICU beds are available. Since the beginning of the pandemic, at least 48,979 cases have been reported in the county and at least 510 people have died.
For a look at COVID-19 data across all of the state's counties, click here.
GRAPHS: Coronavirus data Aug. 18, 2021
5:50 p.m. – Austin Public Health said it is prepared to give a third dose of vaccine to people with moderately to severely compromised immune systems at its vaccination locations (except the Ana Lark Center). It said most pharmacies and clinics are also providing the third dose and to visit vaccines.gov for a location near you.
Those currently eligible to receive an additional dose of an mRNA vaccine (either the Pfizer-BioNTech COVID-19 vaccine or Moderna COVID-19 vaccine) must be at least 28 days from receiving their second dose and meet at least one of the criteria below:
Be or have been receiving active cancer treatment for tumors or cancers of the blood
Have received an organ transplant and be taking medicine to suppress the immune system
Have received a stem cell transplant within the last 2 years or be taking medicine to suppress the immune system
Have moderate or severe primary immunodeficiency (such as DiGeorge syndrome, Wiskott-Aldrich syndrome)
Have advanced or untreated HIV infection
Be in active treatment with high-dose corticosteroids or other drugs that may suppress your immune response
According to the CDC, moderately to severely immunocompromised people, who make up about 3% of the adult population in the U.S., are more at risk of serious, prolonged disease and may benefit from an additional dose to ensure they have enough protection against COVID-19.
5:45 p.m. – Travis County reported another death from COVID-19 on Wednesday along with 847 new confirmed cases, bringing the total to 97,515 cases and 924 deaths since the start of the pandemic. At least 93,720 people have recovered from the virus.
Travis County currently has 618 people hospitalized with COVID-19, with 223 in the ICU and 145 on ventilators.
5:40 p.m. – Hays County reported another COVID-19 death on Wednesday, a Kyle woman in her 80s. Officials also reported 191 new confirmed cases along with six new hospitalizations and 11 new hospital discharges. There are 166 additional people considered recovered.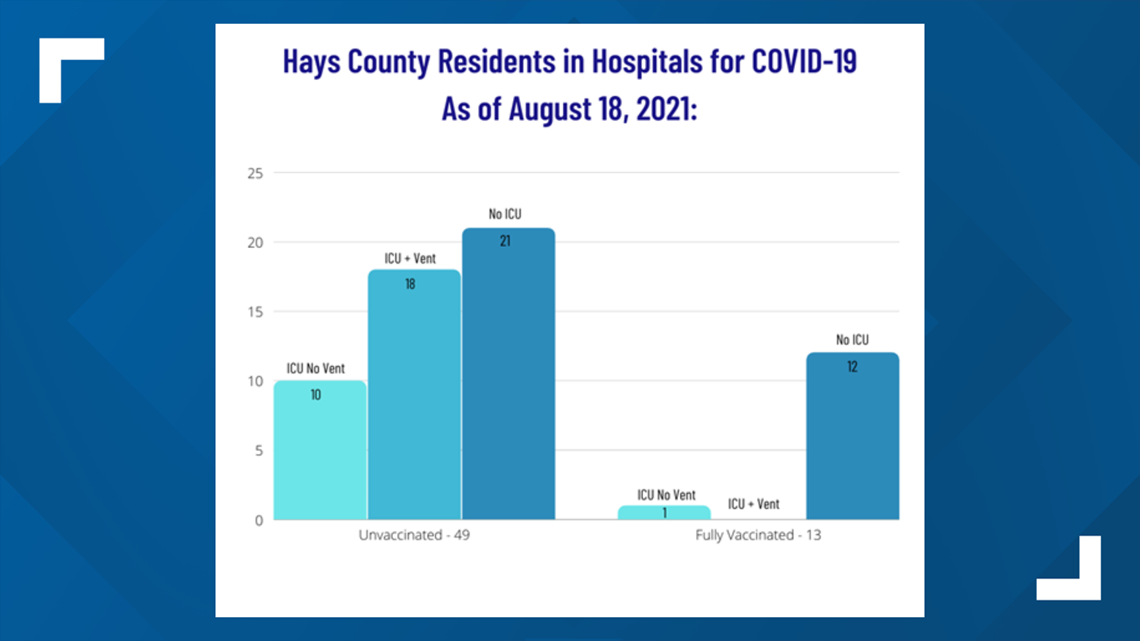 3:40 p.m. – The University of Texas said it has allowed some professors to make temporary adjustments to their classes to reduce density through Sept. 17.
It said these adjustments will not affect every class, but some classes may ask students to join in-person once per week and participate remotely the other days, while other classes may move online completely until Sept. 17.
3:30 p.m. – The Outlaw Music Festival at Germania Insurance Amphitheater on Sunday, Aug. 22, will require a negative COVID-19 test result within 72 hours of the event or proof of vaccination for entry.
3:11 p.m. – The Texas Department of State Health Services tweeted Wednesday that hospital capacity concerns were worsening.
"Fatalities are increasing faster. The Delta variant has Texas in one of its worst fights all pandemic," the tweet continued.
2:56 p.m. – Leander ISD has released a COVID-19 dashboard on the district website detailing a summary breakdown of cases by school, as well as detailed reported case information for students who tested positive.
12:23 p.m. – According to RRISD officials, 3,300 students have opted out of its temporary mask policy, equating to nearly 6% of all students.