AUSTIN, Texas — Friday marks day five of a broken quorum in the Texas House of Democrats, after many members of both the House and the Senate fled to Washington, D.C., on Monday to advocate for federal legislation as "voter integrity" bills move through the special session.
With a broken quorum, the House cannot do business. And it appears some Republican lawmakers are resorting to "desperate measures" to attract their Democratic counterparts back to Austin.
The tweet included a photo of a makeshift pull-string box trap labeled "quorum trap," using a case of Miller Lite as bait, an apparent dig at the Democrats after an image of them sitting in a bus along with a case of the beer began circulating online.
On Thursday, "Texans For Greg Abbott" launched a "Missing Democrats" campaign, featuring ads to be placed in targeted House districts of those who fled to Washington. The campaign will also collect signatures from their constituents who are demanding that they come back to work.
"Instead of staying in Texas and representing their constituents during the Special Session, Texas Democrats have fled from property tax relief, funding to support law enforcement, funding for children in foster care, and funding for retired teachers," said Gov. Abbott. "By abandoning their responsibilities, the Texas Democrats are letting Texans down by stalling important legislation. There is no excuse for their PR stunt, and I join thousands of Texans in demanding that these Democrats get back to work."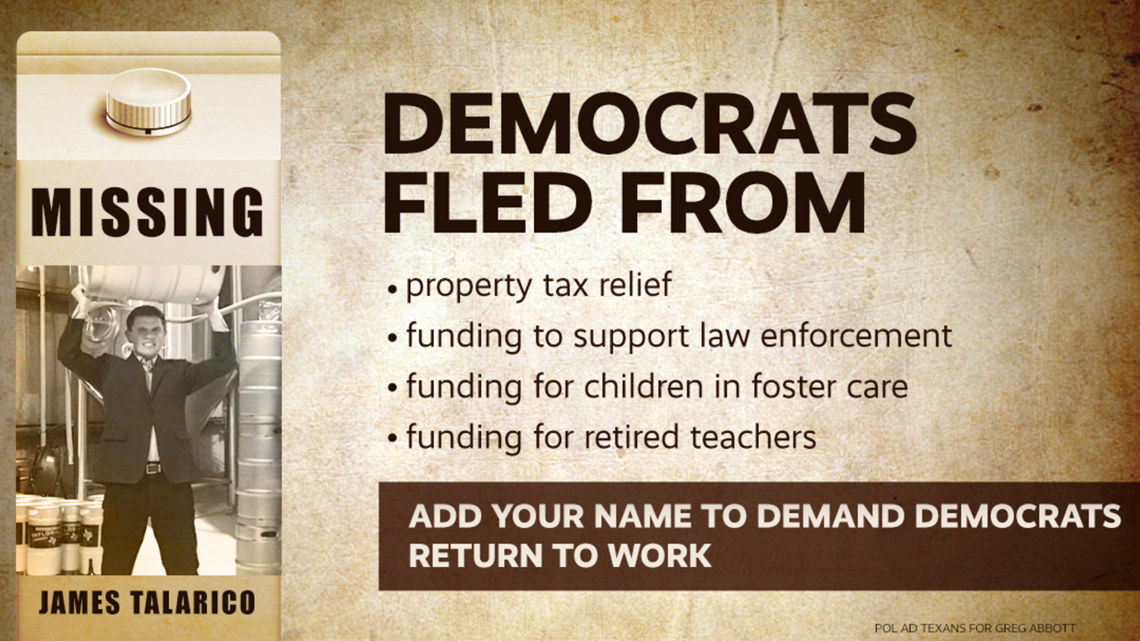 Also on Thursday, House Speaker Dade Phelan issued a statement saying he chartered a plane, demanding the Democrats to contact his office to fly back to Texas as soon as possible.
"In an effort to further compel House Democrats to return to the State of Texas, I am chartering a plane that will be on standby in Washington, D.C., on Saturday," he wrote. "I am demanding all of our colleagues in D.C. to contact my staff immediately in order to secure their seat on the plane and return to Austin in order to do the state's business. The State of Texas is waiting."
A spokesperson for Speaker Phelan's office confirmed the plane would be paid for with Phelan's campaign funds.