AUSTIN, Texas — At local jails across Texas, hundreds of people are stuck inside – unable to stand trial – and forced to wait for a bed to become available at a state hospital.
A judge found those people mentally incompetent to stand trial, which means they must receive mental health treatment from the state.
But oftentimes people are forced to wait months, if not more than a year, before they get that necessary help.
"He doesn't deserve to be going through this," Michael Risenmay said. "Most people who know him just say he's just the sweetest kid."
Like most dads, Michael Risenmay thinks the world of his son. Jakob Risenmay suffers from a few mental disabilities, like low IQ and autism.
But Jakob Risenmay still writes letters to his family every couple of weeks.
"You can see they're not addressed correctly," Michael Risenmay said, referring to letters his son sent. "This one: mom and dad with a partial address on it."
The letters come from the Bexar County Jail in San Antonio.
After a fight on a bus, police arrested Jakob Risenmay for assaulting a public servant and injuring a disabled person. A judge found him mentally incompetent to stand trial, meaning he needs treatment from a state hospital.
Jakob Risenmay has been waiting to get that help for more than six months, sitting in a jail cell.
"There have been times we go and he'll have bruising all over his face or he's lost a tooth that got knocked out in one of the assaults," Michael Risenmay said.
There are stories like this across Texas – many right here in Travis County.
Inmates have to wait because there are not enough hospital beds in the state for all of them.
The state breaks up mentally incompetent inmates into two categories: non-maximum security and – the more dangerous cases – maximum security.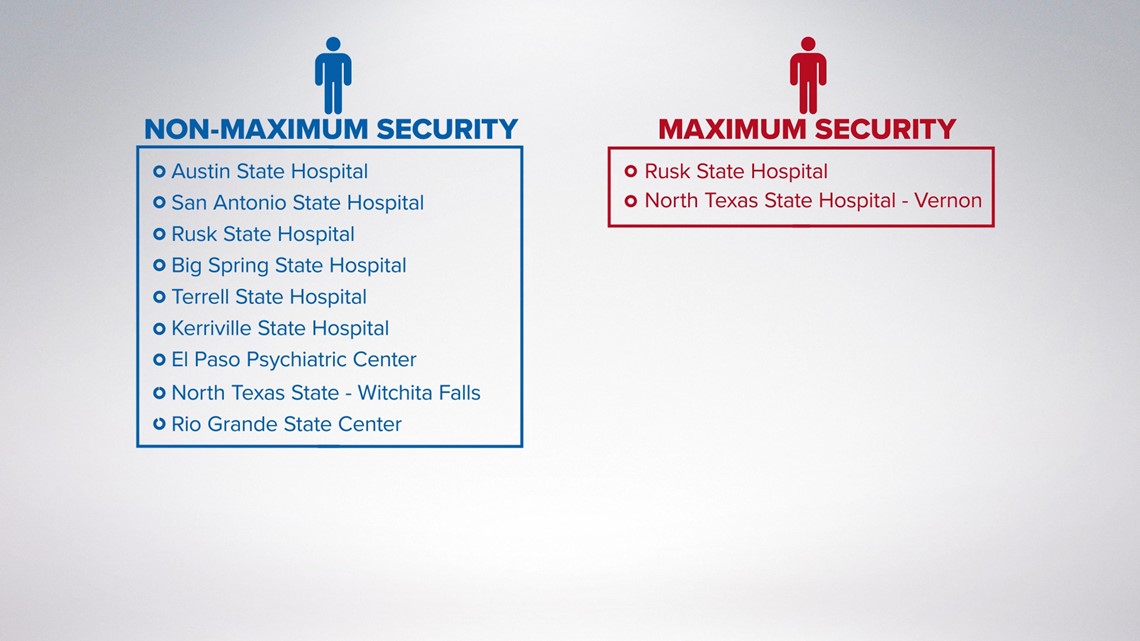 Maximum-security inmates can only go to one of two hospitals in the state, and non-maximum-security inmates have nine options.
On both lists combined in January 2019, 732 people were waiting in jail for treatment. By October 2019, that waitlist reached 900 people sitting in jail on local taxpayer dollars.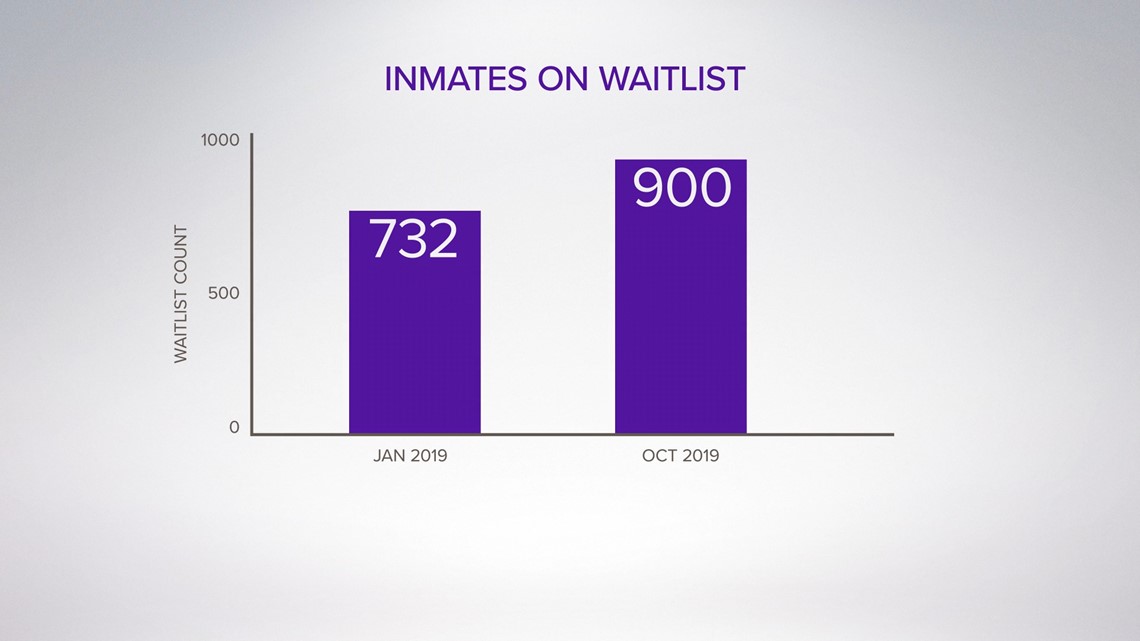 In the Travis County Jail, Alex Pickles used to be on that list. His mom, Patricia, remembers the wait.
"I think everyone who is involved with the mental health system knows that it's broken," Patricia said. "We know that we have to change it. Now let's just come to the table and let's just do that."
The wait time for inmates is also growing.
In the same timeframe mentioned above – January to October – the non-maximum-security waitlist grew from an average of 44 days to 57 days. The maximum-security waitlist went from 215 days to 308 days, on average.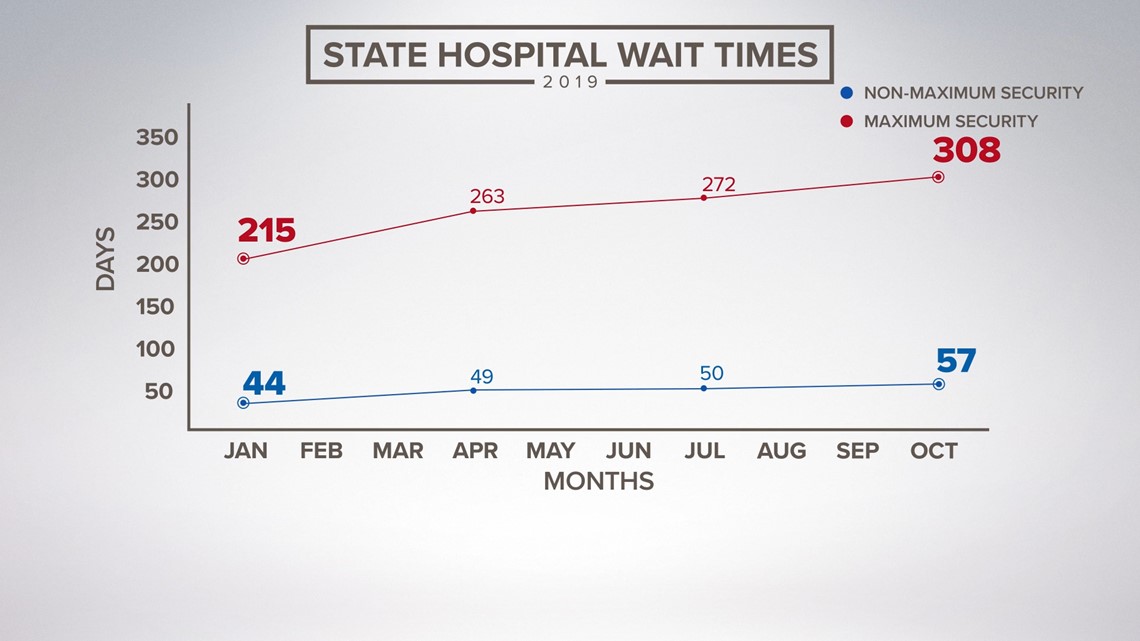 Inside the Tarrant County Jail in Fort Worth, Lashunja Allen told KVUE she watched her son, Carrelle Harper, lose 40 pounds while he waited.
"It was heartbreaking," Allen said. "It was heartbreaking. And I cried many nights. Many days and many nights."
Eventually, Harper made it off the list and into a state hospital. But not everyone is that lucky.
A lawsuit against Williamson County filed in November highlights the worst-case scenario with what can happen while an inmate waits in jail for mental health treatment.
The lawsuit claims 24-year-old Daniel McCoy was in the Williamson County Jail, mentally incompetent and waiting for transfer to a state hospital.
According to the lawsuit, inmates and guards watched him for months "eat his own feces," "bang his head against the cell wall," and "drink his own bodily fluids."
The suit said jailers found him "unresponsive" in his cell, "covered in secretions" after "violently throwing up" for hours, if not days.
Eventually, they sent Daniel to the hospital, where he died five days later from brain damage and pneumonia.
Williamson County hasn't filed an answer to the lawsuit and wouldn't comment for this report.
"They're suffering," Allen said. "They're not getting the proper treatment and it's not making it any better, it's making it worse."
The agency wouldn't do an interview with KVUE because they're at the center of a class-action lawsuit about this exact issue.
"I think the waitlist is very much a threat to the health and safety of the person and to their family and loved ones and their children," Executive Director of Texas Jail Project Diana Claitor said. "It affects everyone."
"There needs to be more hospitals and there needs to be more funding and more local facilities too," Claitor said.
State funding has gone up for mental health hospitals since 2018. And a spokesperson told KVUE $745 million in construction projects will eventually add nearly 400 new beds for inmates who are waiting.
But that will still leave hundreds of people in jail waiting for mental health treatment – inmates like Jakob Risenmay in Bexar County Jail.
"They can't heal when they're sitting in jail," Michael said. "They can't get better. They can't get the proper medical attention. So it doesn't do anybody any good. It just makes things worse."
Michael Risenmay said while his family waits for their son to get the medical help he needs, they're telling everyone they know to write him letters. The goal is to keep him strong enough to make it until he's finally transferred to a state hospital.
"You know, and there's been several nights where I couldn't sleep at all just because you're worried about what's happening," Michael said. "And, you know, it's not right."
The state's health department has to publish an updated count of the waitlist every three months. A new report with an updated count should be available sometime in February 2020.