AUSTIN, Texas — Editor's note: This blog is no longer being updated. For more on Monday's front, click here.
Friday starts cloudy, humid and warm. Our highs today will reach the low 80s during the early afternoon before our first cold front arrives in the afternoon. However, the much more substantial change comes early next week with the second front.
Front No. 1
Our front arrives in the Hill Country during the early afternoon. The high temperature of 81 will happen in Austin during this time. Behind this front, temperatures will drop through the afternoon leading to cool, cloudy weather for Friday evening. As the front moves through, there is a slight chance for isolated rain. The heaviest rain Friday will be north and east of our area.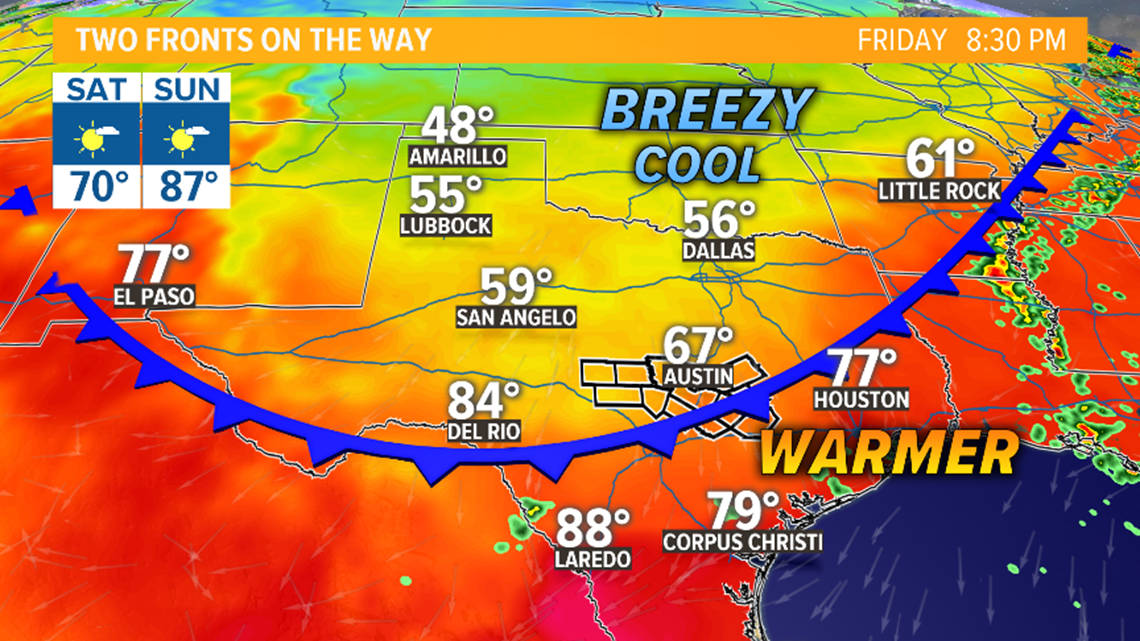 Southerly winds quickly return on Sunday, bringing back temperatures slightly above the average, in the mid and upper 80s. The warmer weather will be short-lived as a stronger cold front pushes into the state.
Front No. 2
Our second front looks to arrive on Monday. This means we may start the day with temperatures warming through the 70s, but then see temperatures quickly falling behind the front through the afternoon and evening. This front looks to move through the region quickly since it will have cold, dense air behind it. Breezy weather along with slight rain chances accompany the arrival of the front on Monday.
The current forecast has highs in the 50s Tuesday and Wednesday with mornings in the 40s. Some models have even shown the potential for the first freeze of the season Wednesday morning for parts of the Hill Country.

Rain:
It's been a very dry month of October, and any rain from this cold front would be well appreciated. While this front does not look like a massive rainmaker, we are expecting elevated rain chances Monday through Wednesday with a much cooler and more damp forecast pattern. Even with the higher rain chances, most forecast models suggest totals will stay lower than a half-inch through Wednesday.