AUSTIN, Texas — A strong cold front swept through Central Texas this morning, and we spent the rest of the day in the 30s and 40s. Clouds and any precipitation have moved out, and this sets the stage for a widespread late-season freeze tonight into Saturday morning.
A Wind Advisory has been issued for the afternoon and evening with wind gusts of 30 to 40 mph expected. These winds will drop the feels like temperatures into the 20s and 30s this afternoon.
Austin will drop down to about 28 degrees by Saturday morning. Outside of Austin, mid 20s will be possible for the coldest spots. Across the Hill Country we're expecting a hard freeze with some numbers dropping to the low 20s.
Plan accordingly for any sensitive outdoor plants!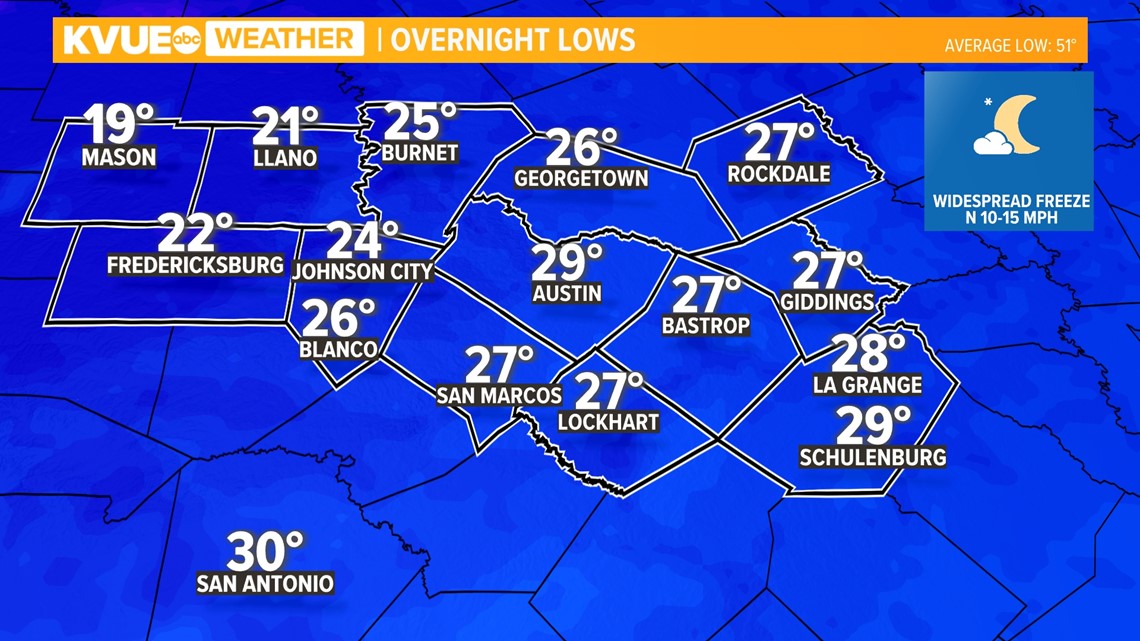 The rest of the weekend won't be too bad. Saturday afternoon is sunny but cool with highs in the 50s. By Sunday afternoon highs return to the mid and upper 60s.
Next week is looking much warmer with highs in the low 80s by Monday. A weak front Monday night likely won't bring much if any rain, and the rest of the week settles into the mid and upper 70s.
The KVUE Weather Team will continue to closely monitor this developing forecast.
In the meantime, here is a look at the extended forecast: