AUSTIN, Texas — Editor's note: This blog is no longer being updated. Click here for Thursday's blog.
KVUE is keeping you updated with the latest coronavirus and COVID-19 news in the Austin area.
Scroll down for the top headlines and latest updates in KVUE's Sept. 15 live blog.
For a look at COVID-19 data across all of the state's counties, click here. KVUE is tracking COVID-19 data from five school districts in Central Texas. Many school districts have their own COVID-19 dashboard.
GRAPHS: Coronavirus data Sept. 15, 2021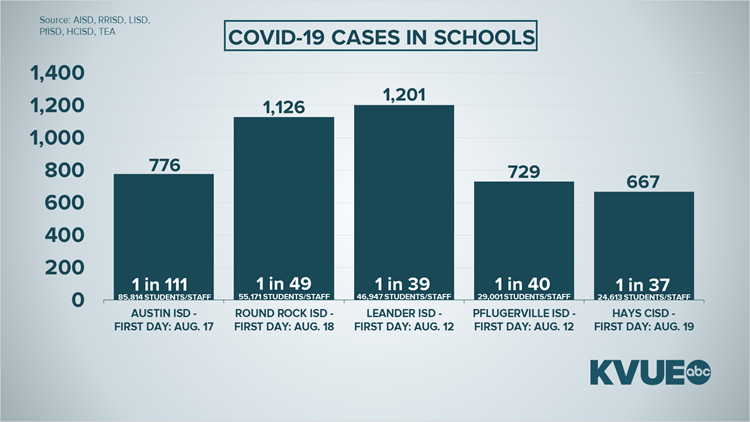 4 p.m. – Here is the latest COVID-19 data from the Texas Department of State Health Services:
Cases average back down to 14,707 per day over the past week

Up 13% from a week ago
Up 25% from a month ago

411 additional deaths added today

59,608 total to date
298 per day over the past week

12,817 COVID-19 patients in Texas hospitals

Down 5% from a week ago
Up 9% from a month ago

8,906 regular adults
3,634 ICU adults
277 kids

Texas surpassed 40 million cumulative COVID-19 cases. COVID-19 reporting goes back 512 days, so the cumulative average is 78,239 per day. Over the past week, the average is 160,553 per day.
1,062 cases per day over the past week (four most populous counties: Bastrop, Hays, Travis, Williamson counties)

Up 7% from a week ago
Up 20% from a month ago

643 COVID-19 patients in Austin area (TSA O) hospitals

381 regular adults
248 ICU adults
14 kids

Six adult, four pediatric ICU beds available = 2% availability
2,815 deaths in the KVUE's 12-county viewing area since the beginning of the pandemic
The Centers for Medicare and Medicaid Services (CMS) selected HHSC as one of four recipients for the program designed to address health disparities, improve health outcomes and meet the needs of Texans living in rural areas through telemedicine.