AUSTIN, Texas — Lt. Brett Bailey with the Austin Police Department's Hate Crimes Review Committee said on Tuesday that they are looking through videos and trying to find those responsible for Sept. 11's act of vandalism that happened at the Islamic Center of Greater Austin.
But in order for this hate incident to be considered a hate crime, Lt. Bailey said they have to find another crime as well.
A bloody pig-head mask attached to an anti-Muslim sign was discovered in front of the Islamic Center of Greater Austin on Saturday, Sept. 11.
"MUSLIMS: You are as unclean to God as a pig is to you. Have your idolatry washed clean by the blood of Jesus Christ! 1 Corinthians 6:9-11"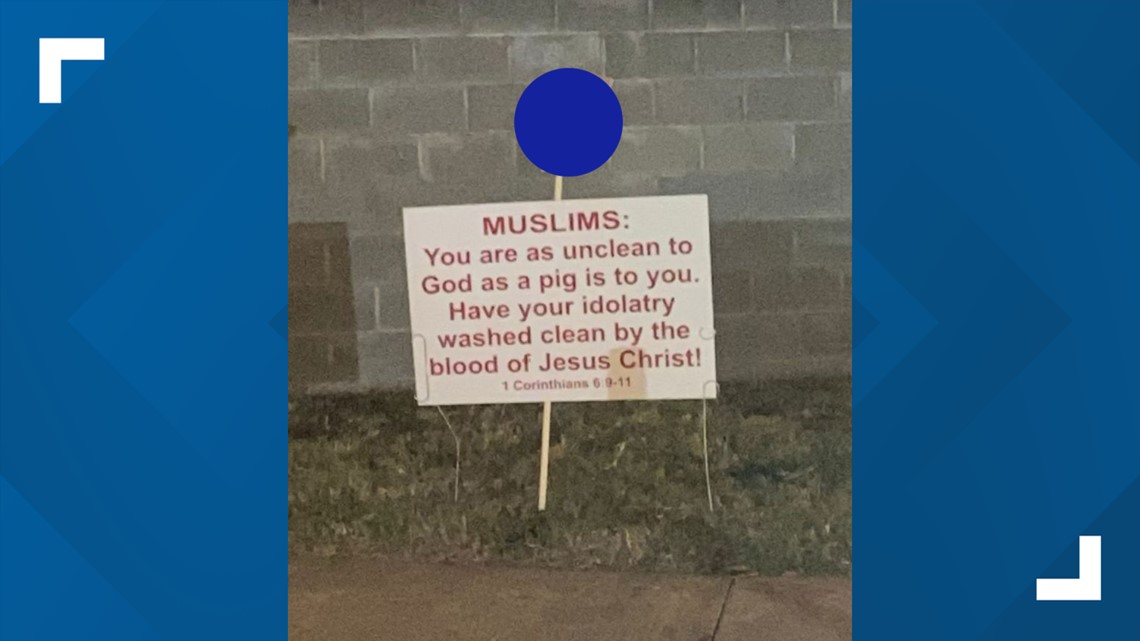 "Someone from, I believe, Capital Metro had spotted it and given the mosque a call," William White, the government affairs manager with CAIR, said.
White said they immediately called the police.
"When we got wind of it, we made contact with APD who, within an hour, let us know they were opening an investigation into it. They also let us know that they will be monitoring, adding additional patrol to all Austin area mosques and community centers," White said.
It's not the first time an Austin mosque was vandalized.
In 2018, in two separate incidents days apart, the North Austin Muslim Community Center was broken into, windows smashed and members' tires slashed. And, in 2017, a fire destroyed the Islamic Center of Lake Travis while under construction.
These are just two of several reported incidents in the past few years, some 31-year-old Zohaib Qadri experienced.
"I was almost disappointed," the Longhorn and Austinite said.
When Qadri heard about the pig mask and anti-Muslim sign, it took him back to what he calls the "9/11 days," when he lived in New York City after the Sept. 11 attacks.
"I was called a terrorist, you know, raghead, towelhead, a lot of various slurs," he recalled.
Carol Johnson, the City of Austin's first civil rights officer, said she is saddened by the crime.
"I hurt for our community. The Office of Civil Rights was established to ensure that every violation of hate, bias and hate discrimination is investigated and that violations are prosecuted to the fullest extent of the law. It is important that we call out every racist act for what it is and that we do our part to help our community heal. We know that healing can only come with accountability," Johnson said.
Johnson added that her office is working with the APD in a series of outreach and education series workshops on hate bias and hate crimes. The first one is Thursday, Sept. 16.
"How do you determine what is a hate crime? When you experience a hate crime, when you experience hate bias and racial discrimination, how do you address those things? How do you protect yourselves? Who do you go to turn to? So we're having these types of discussions where, right now, the workshop that we have upcoming is focusing on the hate bias against the AAPI (Asian American Pacific Islander) community. But certainly, we want to make sure that we talk about the hate crimes in general," Johnson said.
White said while he is no stranger to these hate incidents, yet they are still heartbreaking every single time. He will now make it a point to increase Islamic education so others don't feel the same hate.
On Saturday, CAIR-Austin Executive Director Fairzan Syed called on local, state and federal authorities to investigate this incident as a hate crime.
"Early today, the Austin Muslim community held a free COVID-19 vaccination drive and hosted a soup kitchen to mark the tragic 20th anniversary of Sept. 11," he said. "While our community united with our fellow Americans to help build a better nation, a small hate-filled minority continues to use bigotry and intimidation to attempt to divide us and dishonor the lives lost on that tragic day."
The Austin/Travis County Hate Crimes Task Force also issued a statement from Travis County District Attorney Jose Garza condemning the incident:
"On behalf of the Austin/Travis County Hate Crimes Task Force, we want to condemn the horrible incident that took place this past weekend at the Islamic Center of Greater Austin and the Austin Peace Academy. We stand by and with our Muslim community and we applaud the work that APD is doing to investigate this incident. When a community center is the target of hate, our entire community is affected. We will continue to work tirelessly to build a more inclusive and safe Austin community."
The task force was launched in December 2010. It includes ADL Austin, the Austin City Council, the Austin/Travis County Community Justice Council, and representatives from over 70 local agencies, law enforcement, civil rights groups and other stakeholders.
If you have a civil rights violation to report, click here.