AUSTIN, Texas — While many people struggle to make plans even just a few months in advance, space enthusiasts in Central Texas are already marking their calendars for the year 2024.
On April 8, 2024, a total eclipse will be viewable for the heart of Texas.
If you need a quick astronomy refresher, don't worry. A solar eclipse occurs when the moon passes between the sun and Earth. When the moon blocks the entire sun, a total solar eclipse occurs. This is different from a partial solar eclipse where the moon does not entirely block the sun.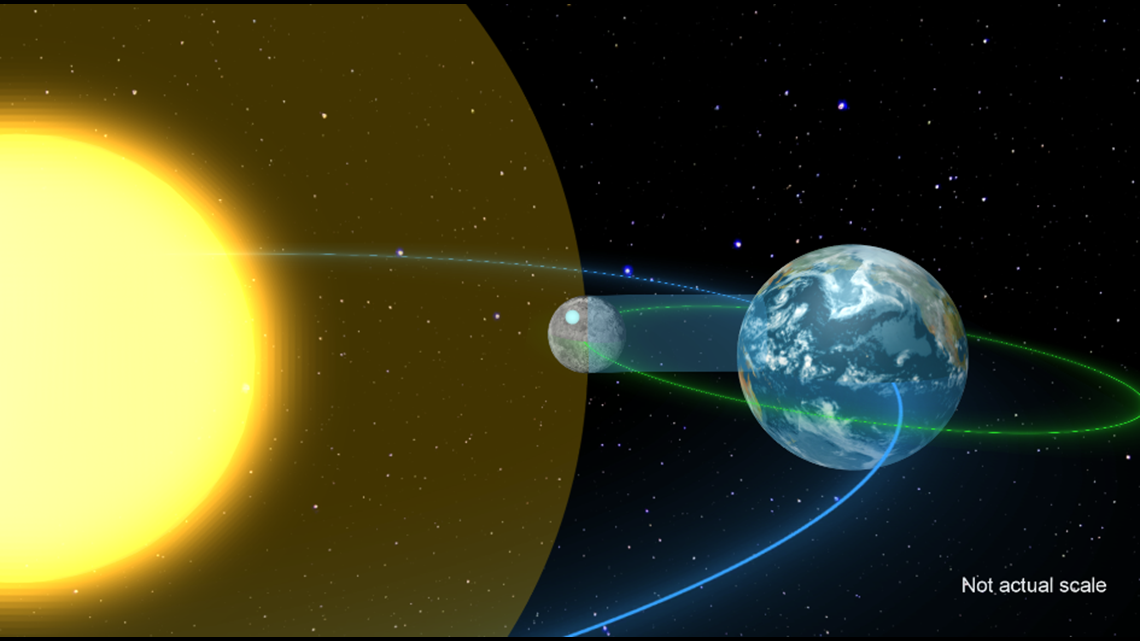 Many residents throughout Central Texas will be able to view the solar eclipse, but the best viewing spots within the KVUE viewing area will be west of Interstate 35.
Here is a list of some of the areas within the region that will experience the total solar eclipse for the longest period of time:
Kerrville: 1:32 p.m. - 1:36 p.m. (4 minutes and 29 seconds of totality)
Fredericksburg: 1:32 p.m. - 1:37 p.m. (4 minutes and 24 seconds of totality)
Llano: 1:34 p.m. - 1:38 p.m. (4 minutes and 22 seconds of totality)
Lampasas: 1:35 p.m. - 1:39 p.m. (4 minutes and 24 seconds of totality)
Killeen: 1:36 p.m. - 1:40 p.m. (4 minutes and 17 seconds of totality)
Gatesville: 1:36 p.m. - 1:41 p.m. (4 minutes and 23 seconds of totality)
Residents in Austin will experience about 1 minute and 46 seconds of the total solar eclipse at 1:36 p.m.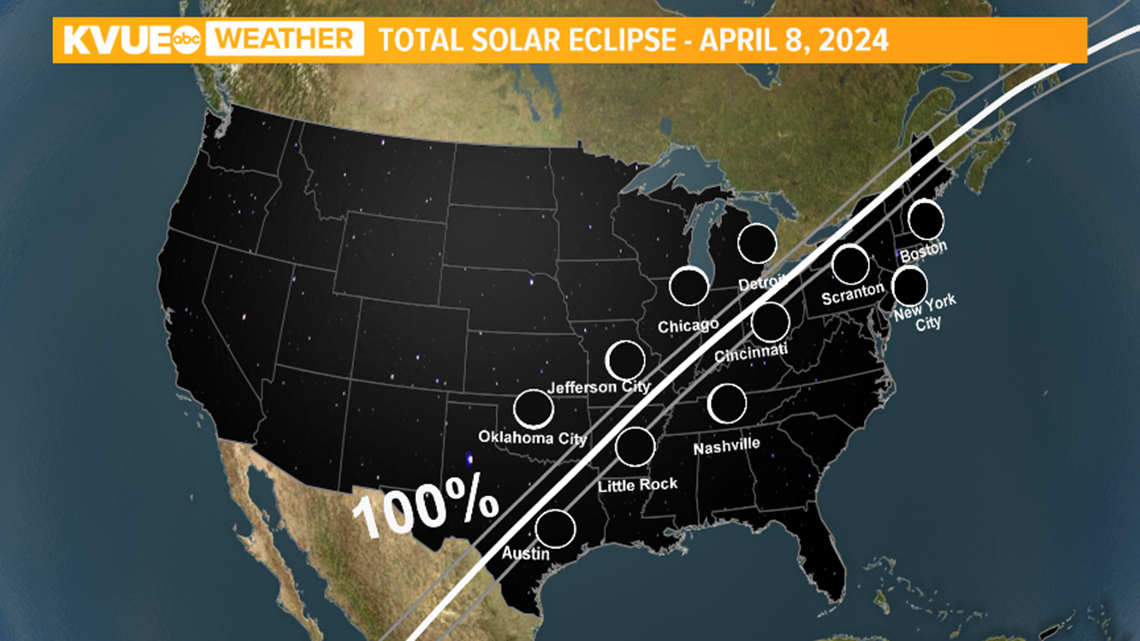 Areas falling between the gray lines in the image above will experience the total solar eclipse. Areas falling along the center white line will experience the total solar eclipse for the longest period of time.
According to the American Astronomical Society, the brightness from a total solar eclipse is comparable to that of a full moon and is safe to look at. However, it is unsafe to stare directly at the sun leading up to and after the total eclipse has occurred. Therefore, it is important to use a filter, such as special eclipse glasses. Make sure you buy some well in advance!
While it is exciting to know Central Texans will get a front-row seat for this event, it's important to note that the forecast for that day will play a crucial role in whether the eclipse will be viewable.
Naturally, a cloudy day would make it difficult to observe the phenomenon.
Texans should be in a great position to see the eclipse, but residents near Bermejillo, Mexico, will experience the longest duration totality (i.e. the longest time of eclipse). It is expected to last about 4 minutes and 28 seconds near this location.
Scientists predict there will be only 67 total solar eclipses this century.
The most recent total solar eclipse on Earth was on Dec. 14, 2020, but was only viewable for portions of the Southern Hemisphere. The longest duration of totality for this event was about 2 minutes and 9 seconds.