Here's a look into 120-plus years of Texas Longhorns vs. TCU Horned Frogs history
Texas has historically dominated TCU since the late 1800s, but the last 10 years tell a different story.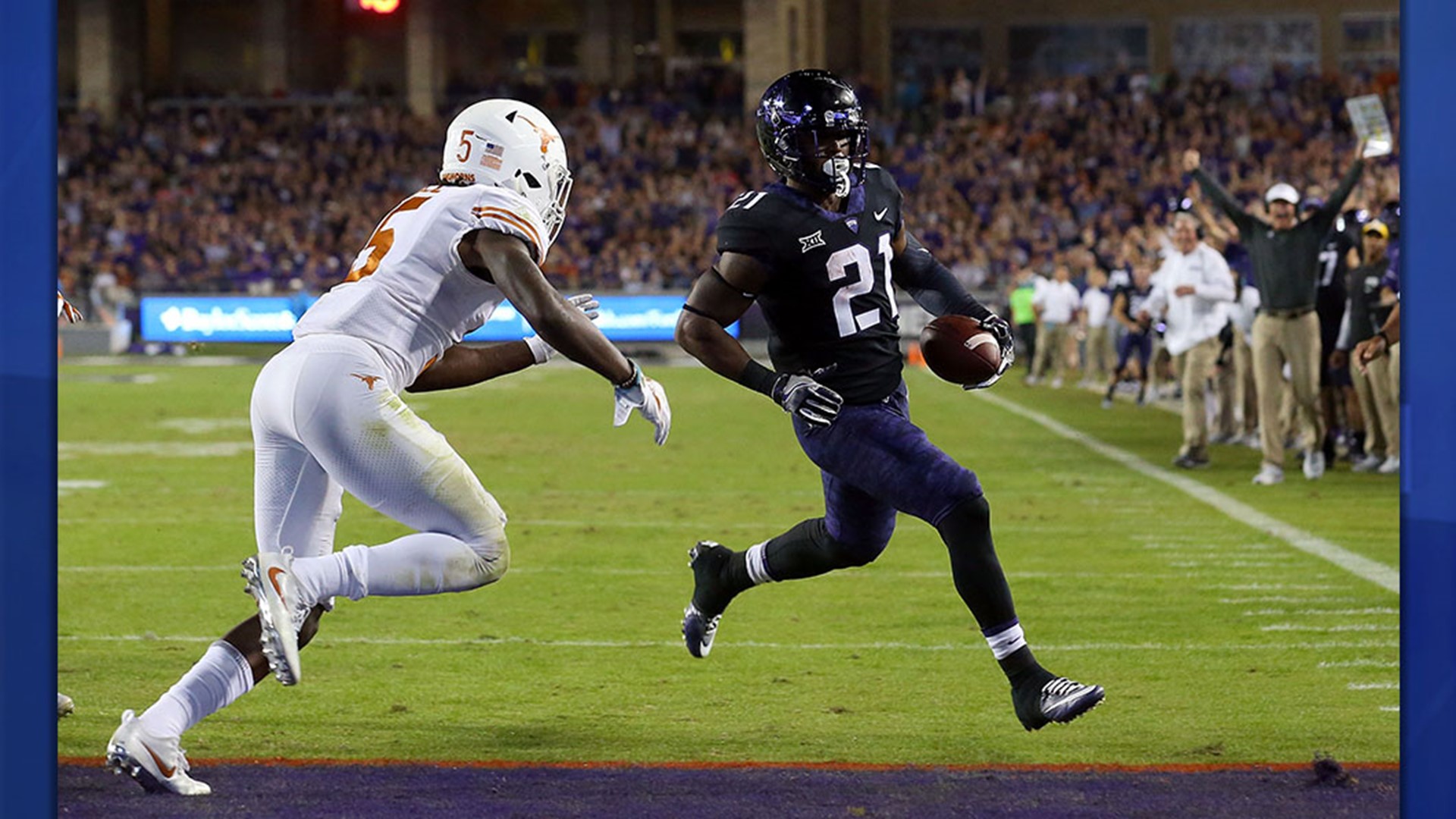 Texas and TCU have played against each other since ... 1897?
:
On Saturday, Oct. 26, Texas and TCU will meet for the 90th time. The series is actually older than the illustrious Texas-Oklahoma rivalry and nearly as old as both of Texas' rivalries against Texas A&M and Arkansas.
Texas and Oklahoma first played each other in 1900. You can read more about the history of that game by clicking here. Texas-TCU is three years older than the Red River Showdown is. The Longhorns' and Horned Frogs' first game against each other was played in 1897, three years after the start of the Texas A&M and Arkansas rivalries in 1894.
Texas won the inaugural matchup, 18-10. In fact, Texas dominated this series early on. The Longhorns did not lose the first 14 games until TCU finally pulled out a 15-12 road win in 1929.
UT and TCU met almost annually – except for a small drought from 1918-1924 and a few single years in between – until 1996. Up until 1996, Texas was a member of the Southwest Conference since 1918. That's when UT left the Southwest Conference for the Big 12 Conference. The Horned Frogs were also a member of the Southwest Conference until the mid-1990s, when they joined the Western Athletic Conference, otherwise known as the "WAC."
Texas dominates the late 1960s, 1970s, 1980s and early 1990s
:
The longest consecutive win streak belongs to Texas. Starting in 1968, UT rattled off 24 wins in a row against TCU, by far the longest win streak in series history. The Horned Frogs finally hopped out of that trend in 1992 when they beat the Longhorns 23-14 at home. Texas won back-to-back National Titles during this period in 1969 and 1970.
The second longest win streak also belongs to UT, when they beat TCU 13 times in a row to start off the series from 1897 to 1928. Included in this stretch was the largest margin of victory: a 72-0 Longhorns shellacking of the Horned Frogs in 1915.
TCU's longest win streak against Texas is four games, which the team has done twice: from 1935 to 1938 and from 2014 to 2017. TCU's largest margin of victory came in 1956, when the Horned Frogs beat the Longhorns 46-0.
Texas-TCU rivalry dies for more than a decade
:
After Texas beat TCU 27-19 in 1995, the Longhorns and Horned Frogs had gone their separate ways to new conferences and did not schedule each other for more than a decade. TCU bounced from the WAC to Conference USA to the Mountain West Conference. Texas dominated in its new conference, making five Big 12 Championship appearances in the decade it didn't play TCU, and won the program's fourth National Championship in 2005.
TCU gained prominence during the Gary Patterson era, which started in 2001. The Horned Frogs logged four seasons of 10-plus wins from 2001 to 2007 when Texas and TCU played as a non-conference matchup.
TCU joins the Big 12, Texas series is renewed
:
In 2012, TCU left the Mountain West Conference and joined the Big 12 after Texas A&M left the Big 12 for the Southeastern Conference (SEC). Since joining the Big 12, TCU has taken a stronghold on the series with Texas, winning five of the seven matchups from 2012 to 2018.
TCU gained national prominence just before joining the Big 12, going 12-1 and 13-0 in 2009 and 2010.
Against Texas, TCU's four wins in a row from 2014 to 2017 were by a sizable margin: averaging a margin of victory of 31 points per game. Texas has also lost two games in a row in Fort Worth and have not beaten the Horned Frogs at Amon G. Carter Stadium since 2013.
Texas changes course in 2018
:
Last season, TCU came to Darrell K. Royal-Texas Memorial Stadium as the No. 17 ranked team in the nation. Texas was unranked at the time. The Longhorns took care of business at home and stomped the Frogs 31-16 to begin its course back into national prominence as a program.
The first half of this game was pretty even, although despite a TCU halftime lead, it felt like Texas was in control of the first half. TCU led 13-10 at the break after sophomore quarterback Shawn Robinson drove his offense down the field and took the lead in the final seconds of the first half with a one-yard back shoulder fade touchdown pass. To this point, Robinson was 11-for-18 passing with 108 yards and a touchdown, and rushed for another 42 yards on seven carries. Texas sophomore quarterback Sam Ehlinger was 11-for-14 for 115 yards and zero touchdowns in the first. Ehlinger was more productive in the second half, finishing with 225 passing yards and two touchdowns in the air – including a 31-yarder to junior wide receiver Collin Johnson and a 38-yarder to junior wide receiver Lil'Jordan Humphrey. Ehlinger also ran a two-yard zone read keeper in for a touchdown, as well. Texas returned to the top 25 rankings the following week for the first time since dropping out after the 2018 season opening loss to Maryland.
Looking ahead to 90th all-time meeting
:
Going into the 90th time these two storied Texas programs will kickoff against one another, Texas has major questions to answer on the defensive side of the football. In back-to-back weeks, tackling woes have plagued the Longhorns defense against Oklahoma, who most would say is a formidable opponent, but also against Kansas, who most would say is not.
"No. They should be. We have standards at the University of Texas that we need to play up to, and we didn't on that (defensive) side of the ball," Herman said. "Again, when you're starting nine freshman or sophomores on the defensive side of the football and you turn over the ball twice in the fourth quarter where we turned it over, that's not good complementary football. So although the numbers say we played well offensively, I would say situationally we didn't help our defense. None of us are OK or satisfied with the defensive performance just because we won the game. We do expect to play much, much better."
"I don't know that their defense has given up big points," Herman said. "I know that the SMU game sticks out to everybody, but SMU had a lot of short fields. I felt good this morning knowing last year's (UT) team beat (TCU) 31-16. No. 90 is a load. He's as good a defensive tackle as we'll play this year. No. 6, their nickel, is a really active player. They're going to be really well coached, defensively."
Texas and TCU will kickoff Saturday, Oct. 26, at 2:30 p.m.