Project Connect: What to know about the $7.1B public transit plan
Project Connect is a mass transit plan for Austin funded in part by Proposition A. This is an in-depth look at the plan.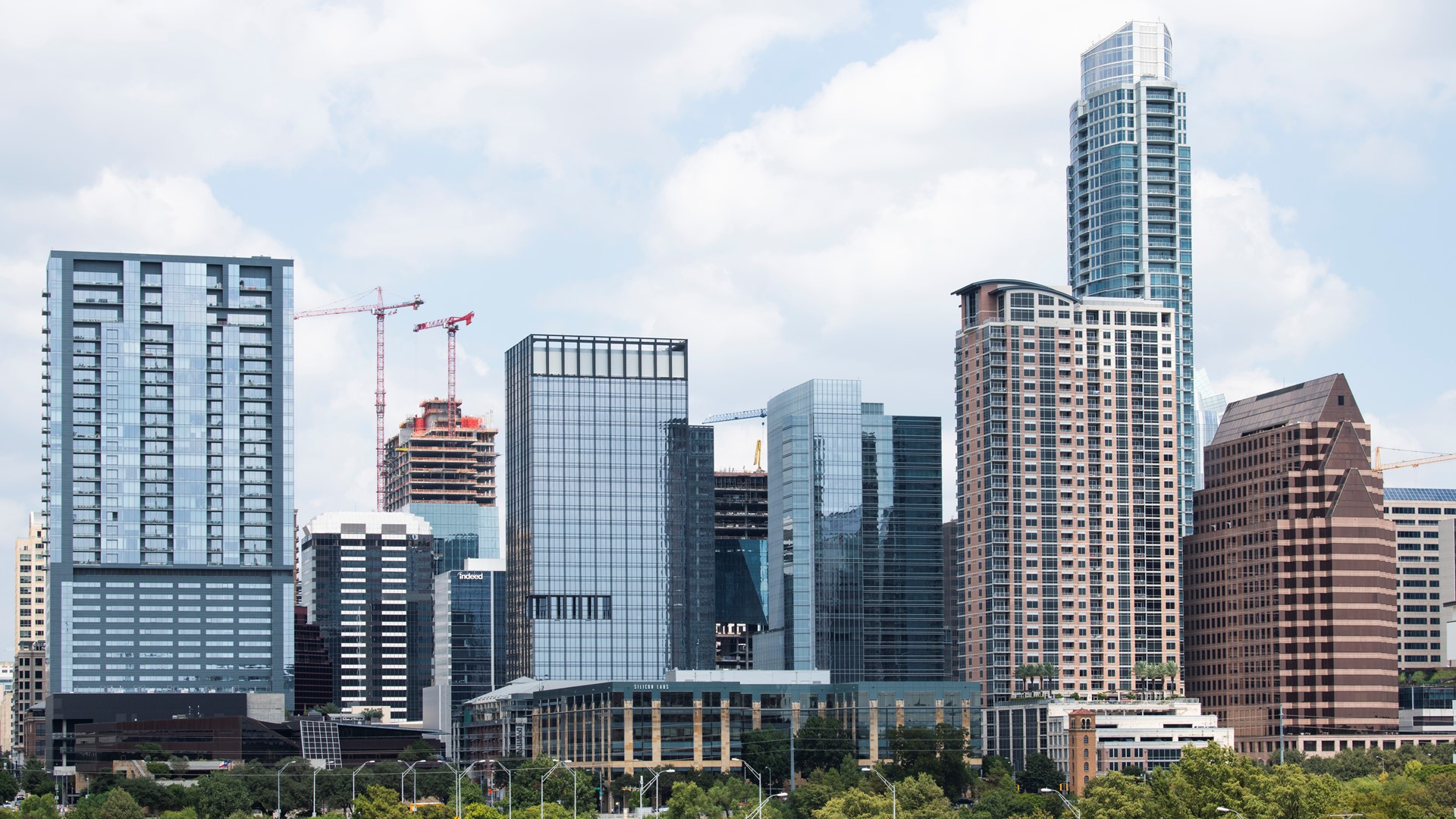 Editor's note: Prop A, a $7.1 billion Project Connect plan, passed in the November election. To read more on what that means for Austinites, click here.
This story originally stated the proposed underground tunnel would span about six city blocks. It has been updated to reflect the correct estimated amount, more than 20 city blocks. Additionally, the route of the Gold Line has also been updated.
This November, Austin voters will have the option to approve or reject Proposition A, a ballot measure that would increase property taxes and fund a multi-billion-dollar mass transit system called "Project Connect."
To help voters make an informed decision at the polls, KVUE is taking an in-depth look at the proposal, breaking down what it would pay for, how much it would cost and what supporters and detractors have to say about what Project Connect means for Austin's future.
What your vote would pay for
:
A look at what a 'yes' vote would fund
Capital Metro's $7.1 billion Project Connect plan would add two light rail lines, another commuter rail line, additional rapid bus service and more to Austin, with the potential to expand in the future to service areas like Tech Ridge and Elgin.
The expanded rapid bus service will include 42 miles of new service with 65 stations. By completion, Austin's transit system will be all-electric.
According to the City, the tax rate revenue, or Proposition A, is one source of funding that would help build, operate and maintain the system. CapMetro will also allocate their Capital Expansion Fund to the project, and the project proposal also relies on a 45% investment from federal grants and support, which would account for about $3.19 billion.
"Project Connect meets so many long-held needs, critical needs for this city," Austin Mayor Steve Adler told KVUE. "The quality of life is getting so eroded by traffic."
By voting "yes" for Proposition A, this is what you'd be paying for:
Blue Line: A light rail line running from Austin-Bergstrom International Airport (AUS), connecting through the Downtown Station and running north to Lamar Boulevard at U.S. 183
Orange Line: A light rail line running from North Lamar Boulevard at U.S. 183 south to Stassney Lane, connecting through Republic Square
Downtown Transit Tunnel: The underground tunnel would run more than 20 city blocks (1.6 miles) from Cesar Chavez Street to 11th Street, from Guadalupe Street to Trinity Street, and from Fourth Street to the cul de sac near Lady Bird Lake at Trinity Street.
Green Line: Like the current Red Line, the Green Line would serve as a commuter rail running from downtown to the Colony Park neighborhood in East Austin
Gold Line: A new rapid bus route going from the Austin Community College Highland area, through the Downtown Station to the Republic Square Station.
Three new MetroRapid routes, which are buses with frequent service and a limited number of stops
Neighborhood circulators: 15 new zones or vehicles would be added to help neighborhoods gain better access to the main transit lines
Community displacement: A $300 million investment that would help communities affected by transit line creation and construction
Other features including park and rides, customer technology systems and maintenance facility improvements
"They're making it look like a larger plan by throwing in some bus routes that should have already been in place," said Roger Falk, a member of the Our Mobility Our Future PAC, which doesn't support Proposition A.
The PAC is concerned about the lack of flexibility for users from a rail system and how long it would take before construction is complete.
"People need to understand that they're going to start taxing you today and now for this, and it's not going to roll for a decade," Falk said.
"We're already sitting knee-deep in the consequences of not investing in infrastructure," Austin City Councilmember Natasha Harper-Madison said. "And look where it's getting us. It means that people can't get where they need to go. The fact that, you know, families that need and require more comprehensive mobility options don't have it – that's a massive impediment to their success and their ability to thrive in this city. It's a barrier."
Based on CapMetro's estimates, construction would start in four years, pending environmental approvals and preliminary engineering. Construction wouldn't be complete for at least nine years.
Concerns over the downtown tunnel
A major chunk of the project is a downtown tunnel, projected to cost $2 billion, which would span about 20 city blocks along Fourth Street from Republic Square to the Downtown Station, north from Republic Square to at least 11th Street, and south from the Downtown Station to Rainey Street.
"One of the chief components of this project, in fact, is the underground tunnel to ensure that traffic is not impacted downtown," Adler said. "It also will keep the transit system moving more quickly."
But one component of the tunnel that has some concerned is how it will be dug and how it could affect downtown traffic while it's under construction.
"The tunnel is very troubling because it has massive costs, and there's very little study been done to see if it's even viable," Falk said.
CapMetro has not done its own review to figure out what it might find underground. So far, the only analysis is based on other Austin tunnel work or information from high-rise studies.
Investing in displacement
Due to the scope of the construction, the Austin City Council added $300 million to the project in order to help communities and people who would be displaced by it. It's still not clear exactly how the money would be spent or what kind of help it would provide.
"Experience now has shown us that sometimes when we do things that are needed the most, it has the unintended consequence of pricing people out of their homes," Adler said.
According to Adler, the $300 million investment would be one of, if not the largest of its kind in the country associated with a transit project – something he's "proud" the City is including with the proposal to voters.
"This is where we recognize if we're going to build this city for everybody and make it right for everybody, this is something we cannot skimp on," Harper-Madison said.
But Falk is still concerned that the amount might not be enough and says, by making the investment, the City is admitting there will be a problem.
"They're going to run all the affordable housing out of here," Falk said. "They're going to replace it with for-profit stainless granite development that's out of the cost range for poor, low-income people, mostly people of color, that are along these transit lines."
How much will Project Connect cost?
:
A breakdown of what the project will cost Austin taxpayers
Project Connect would increase property taxes in Austin. The City estimates the overall property tax bill total would increase by about 4%, but the City's portion of the tax bill would increase by 26%. The City reports that would equate to an increase of $332.39 per year, or $27.70 per month.
This is the cost breakdown for each piece of Project Connect:
$3.8 billion: Orange and Blue light rail lines
$2 billion: Underground transit tunnel
$170 million: Four rapid bus routes, including the Gold line
$370 million: Green line commuter rail
$60 million: More buses and park and rides
$1.5 million: Neighborhood circulator buses
$25 million: Improvements to the current Red line
$300 million: Displacement investment
$330 million: Maintenance and technology
"With a tax rate election, not only can you, at the beginning of the buildout, use the net revenue to pay for the system to be built, but then you start – that revenue is continuous. Therefore you can bank it and be able to retrofit the fix, anything that needs to be fixed, you know, 10, 20, 30 years down the line," said Matthew Geske, the vice president of regional infrastructure and mobility for the Austin Chamber of Commerce.
KVUE set out to double-check the City's math and found the dollar amount increases per year are fairly accurate. Our calculations put the increase next year at $335.09, compared to $332.39, or $27.92 per month, compared to $27.70. See how we did the math.
Some officials say there's also a cost to doing nothing.
"The cost of doing nothing is to continue to have a city where we just don't have a real way to get around and we don't have real options," said Ann Kitchen, an Austin City Council member and CapMetro board member.
"The cost of doing nothing is really going to result in businesses deciding to bypass Austin in favor of other locations in Texas, in the United States and around the world," said Shaun Cranston, the vice-chair for mobility at the Austin Chamber of Commerce.
"We should be doing nothing and letting technology take its course because we're going to be putting money into an old technology here," said Roger Falk, a member of the Our Mobility Our Future PAC, which is against Proposition A.
CapMetro and the City expect to get 45% of the project funded by the federal government, which would make the total local investment about $3.91 billion. If the federal dollars don't come through, the taxes would still be collected and put toward as much of the project as possible, according to the agreement the council approved with voters.
"The most egregious thing about this thing right now is the audacity that the City and Capital Metro would bring a $7.1 billion [plan] to this community and really promote it," Travis County Commissioner Gerald Daugherty said.
Daugherty doesn't support the transit plan, partly because of the cost and the timing.
Jennifer Virden, a candidate for the District 10 Austin City Council seat, also does not support the plan. She's worried the pandemic's uncertainty doesn't justify the massive bill.
"There's no way that the cost of this project is going to be worth any benefit," Virden said. "The world is changing. I think that we cannot continue business as usual. That would not be prudent. We need to be careful."
But the Chamber of Commerce believes it's a project that supports Austin's future. The City is expected to grow by two million by 2040.
"We think it's a very good investment when it touches on the three core things that are important to us: the economic development, growth of education and the reduced reduction in congestion," Cranston said. "This is a once in a lifetime opportunity for us to have a system invest into our community that will make positive changes, positive opportunities and positive growth for generations to come."
Why light rail?
:
About 82% of the project's cost would be for light rail and an underground tunnel
The most expensive part of the Project Connect plan is two light rail lines and the underground transit tunnel.
The two light rail lines would cost $3.8 billion and the downtown transit tunnel is projected to cost $2 billion, accounting for nearly 82% of the project's total cost.
Supporters of the plan call it the best way to move the most people through an area at once, but opponents call it an outdated method of transportation.
In Austin, Project Connect would add 19 miles of light rail lines and 26 stations through the city, connecting everywhere from Austin-Bergstrom International Airport, to North Lamar Boulevard, to Stassney Lane.
"For the foreseeable future, light rail, it's dependable and it is the workhorse of every major city that is relying on transit to move people around," said Wade Cooper, CapMetro's board chair, who has worked on transit issues for 20 years. "It is still the best way to get a lot of people through a small space in a quick period of time."
The Orange Line and Blue Line would include stops at places like the Austin Convention Center, Rainey Street, Auditorium Shores and The University of Texas.
Those fixed stops, however, are of concern for some who don't support Project Connect.
"What we should be doing instead of investing in old light rail technology is putting money into tri-modal pathways and better-quality infrastructure to conduct micro-mobility application," said Roger Falk, a member of the PAC against Prop A.
Instead, Our Mobility Our Future supports other modes of transportation, including e-bikes, scooters or V2X – an intelligent form of transportation that uses technology for vehicles and infrastructure to communicate with each other.
But the Austin Chamber of Commerce supports many solutions to congestion.
"We need everything on the table as far as how do we address our mobility concerns. It's not just transit. It's not just roads. It all has to work. And it's not just telecommuting," said Matt Geske, the vice president of regional mobility and infrastructure for the Austin Chamber.
According to CapMetro estimates, light rail construction would not begin for four years and then would take another five years to complete.
"It's more expensive, obviously, than building dedicated lanes, but you're building something that hopefully will last for 100 years," Cooper said.
According to CapMetro, the only geotechnical and groundwater analysis for a transit tunnel so far is based on other Austin tunnel work or information from high-rise tower studies.
Additional impacts
:
How Prop A will affect other parts of Austin's future besides mobility
If approved, the 10-year Project Connect plan promises to bring tens of thousands of jobs and billions of dollars of economic activity to the Austin area, according to figures provided by CapMetro.
Opponents of Project Connect, or Proposition A, told KVUE the cost of the transit plan far outweighs any benefits that could be gained from it.
"There's no way that the cost of this project is going to be worth any benefit," said Jennifer Virden, a candidate for the Austin City Council District 10 seat.
Supporters say it's a vote that could have lasting impacts on the region.
"We have a generational opportunity to positively affect the outcome of our city," said Shaun Cranston, the vice-chair for mobility at the Austin Chamber of Commerce.
Let's break down the non-mobility impacts Project Connect could have if approved.
Jobs
CapMetro's estimates indicate Project Connect would create more than 97,450 jobs. Many of those jobs would be in construction required for building the system.
"This isn't just building a McDonald's or something simple. Of course, this is a complicated system and a very large growing city," said Jeremy Hendricks, the assistant business manager for the Southwest Laborers District Council. "I would expect the building and trades and nonunion sector to immediately start recruiting and training folks. I know you're going to see a lot of contractors – not just from here in Austin, probably all across the nation – look at a major project like this."
A major project like Project Connect could also make a difference when it comes to adding additional jobs to the area in the future.
"The hardest to quantify with the number today is how many businesses will choose to locate here because of our transit system," Cranston said.
Economic activity
A CapMetro analysis indicates Project Connect would create $13.8 billion in economic activity, including things like new housing and employment opportunities.
"Increased investment in public transportation can lead to significant economic growth as a result of both the short-term stimulus impact of public transportation outlays and a longer-term, cumulative impact on economic productivity," the American Public Transportation Association wrote in a recent report.
Affordable housing
Project Connect's connection to affordable housing is another aspect of the plan that supporters are excited about.
"Recognizing proximity to affordable housing and the stations is just one of those notches, right, that we get to check off and say, 'We took that into consideration and we were thorough and consider it as we've moved through the process,'" Austin City Councilmember Natasha Harper-Madison said. "I really do see this as an opportunity for us to not only transform how we get around in our city but also to balance growth and equity and racial and economic and mobility justice."
Equity
When it comes to equity, supporters of Project Connect say it addresses some of Austin's long-held needs.
"Don't take your own privilege as the example of what it is that you're voting for," said Dr. Colette Pierce Burnette, the president and CEO of Huston Tillotson University. "They're voting for an opportunity for all Austinites to have an equitable opportunity to get to their jobs, to get to provided health care, to get child care, to get home, to get to school."
Dr. Burnette said while she and other Austinites may go to their garage, get in their car and commute to work every morning, that's not the lived experience of many other Austinites.
"[Voting for Prop A] will make a statement about Austin moving to be a community that's working very hard to truly be equitable for all, as opposed to ignoring the problems that we know exist. Because what we're talking about are challenges we know exist. They're not things that we think we want to prevent from happening," Dr. Burnette said.
In addition to a tunnel, light rail tracks and bus routes, advocates insist Project Connect will mean a better quality of life for all Austinites.
Impact on Downtown Austin
:
Some say Project Connect could fuel downtown growth
While many things have slowed down or stopped altogether because of the COVID-19 pandemic, Downtown Austin's growth has not, according to the Downtown Austin Alliance (DAA).
"Even during the pandemic, we haven't seen a slowdown in the construction," said Dewitt Peart, the president and CEO of the DAA.
In 2019, the DAA reported that Downtown Austin had 96,396 employees, a 19% increase since 2013, representing about 15% of Austin's workforce.
Downtown stakeholders told KVUE that Project Connect could help with growth that's still to come. But opponents worry that a post-pandemic economic crash is looming, which could have a negative impact on the multi-billion-dollar project.
In November, voters will be asked to approve Proposition A, which would increase the City of Austin's portion of the property tax bill by about 20%, based on a KVUE analysis. The tax revenue would fund the $7.1 billion transit system, including two light rail lines that would run through Downtown Austin.
"Transit increasingly is becoming something that our meeting planners or conventioneers are concerned with," said Joe Bolash, Hilton Austin's general manager and a chairperson for the Austin Hotel & Lodging Association.
In addition to seeing transit as an aid to possible hotel business, it's something Bolash is also concerned about with the hotel's employees.
"We're seeing our team members, especially our entry-level team members, having to live farther and farther away," he said. "Our team members, our bedrock, are not able to get to work easily and are looking for opportunities outside of downtown simply because transportation has become untenable for them, either in terms of cost or just purely sitting in traffic an hour or an hour and a half."
The DAA anticipates continued job and residential growth in future years as well.
"The only way to increase the number of workers that are commuting is by having a very robust transit system," Peart said. "If Austin is going to be a city of the future, we need a transportation system that aligns with that."
But opponents worry that working downtown may never be the same again, as teleworking options have become more common during the pandemic.
But Bolash expects his employees will still need a way to get to the Hilton, and letting Project Connect fail is something he said is "unimaginable."
"It's the most sound, logical, reasonable solution to the issues that we're facing now and paving a bright future for tomorrow," Bolash said.