On Sept. 10, the Travis County Sheriff's Office confirmed that a Grand Jury indicted Johnny Ramon Leon III for capital murder in the case -- a first-degree felony.
The documents show that Leon was arrested in College Station around 10:30 Wednesday morning in connection to the March 2 shooting death of Ted Shaughnessy, the owner of Gallerie Jewelers in Austin. Ted Shaughnessy's son, Nicolas "Nick" Patrick Shaughnessy, and his wife, 19-year-old Jaclyn Alexa Edison, have been charged with criminal solicitation in connection to the jewelry store owner's death.
A law enforcement source tells KVUE that Leon was the shooter, but at a news conference today Travis County Sheriff Sally Hernandez wouldn't confirm that.
But when KVUE News asked if this was the missing piece to the investigative puzzle, Sheriff Hernandez responded, "we do feel very confident that this is the big piece."
Spokesperson Kristen Dark later clarified that they have reason to believe that Leon is one of the shooters involved in this case.
Court documents show Nick Shaughnessy believed he would get $8 million when his parents died.
Sheriff Hernandez said they discovered Leon through hours of watching surveillance footage from Ted Shaughnessy's home security system.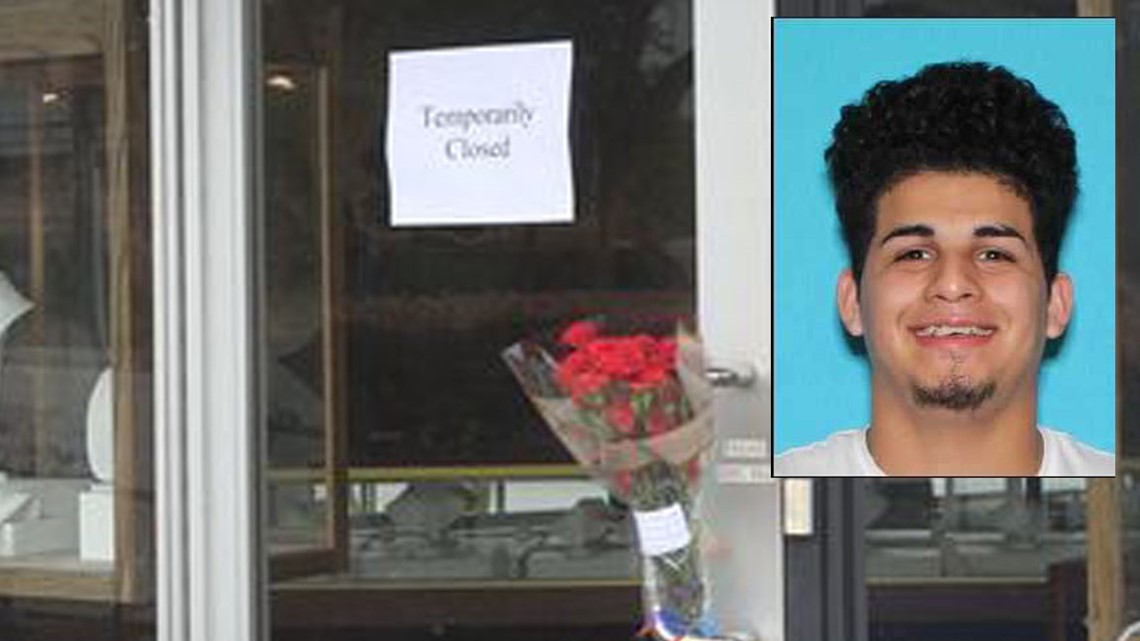 On March 2 at 4:46 a.m., the Travis County Sheriff's Office received a 9-1-1 call from Corey Shaughnessy reporting an intruder at their Oliver Drive home. She reported that several shots had been fired and that her husband, Ted Shaughnessy, had suffered gunshot wounds. Ted Shaughnessy was pronounced dead on the scene.
On March 5, detectives spoke with an employee at the housing complex in College Station where Nick Shaughnessy and Edison reside. The employee said that Nick Shaughnessy had contacted her via social media about two weeks prior and told her if she were ever looking to make extra cash to let him know, the affidavit said. When she asked him what he meant, he allegedly said, "illegal activities." He then allegedly said, "anything from strippers to murders," and said he would pay her $20,000 a head with a $15,000 incentive. He then allegedly sent her skeleton emojis. The employee said at this point, she stopped responding.
A search warrant was conducted on Nick Shaughnessy's and Edison's home in College Station that same day. A box of .380-caliber ammunition was found, with six rounds missing from the box. The ammunition matched the caliber and brand of the fired .380-caliber casings found in the area of Ted Shaughnessy's body. On a computer, police found files downloaded from Nick Shaughnessy's phone. A conversation between he and his girlfriend were found. At some point, Edison texted him, "Do they want 50K or not." He allegedly said, "We will see," and, "I'm sure they're [sic] casual jobs are around 10."
In the Travis County Sheriff's Office affidavit for Leon, authorities said they spoke with one confidential informant on June 13 who said Nick Shaughnessy told them that he had planned on traveling to Austin to kill his parents in February. Nick Shaughnessy told the informant that he had found "someone in the club who agreed to kill his parents," the affidavit states. After Ted Shaughnessy's murder, the informant said Nick Shaughnessy allegedly reported that he "had not paid 'them' yet."
"The informant had seen a threatening text Nicolas received on his cell phone sometime in March stating that they knew where Nicolas lived and still needed to be paid," the affidavit states.
According to surveillance video obtained from Nick Shaughnessy's residence, two men were seen visiting him on Feb. 28. Authorities were able to identify one of the men seen in the video, who then identified the other man in the video as Leon. The unidentified man told authorities he was offered $2,500 to kill two people, "another $2,500 after it was done, and then another $5,000 later on," the affidavit said. Authorities have not clarified if the unidentified man is connected to Ted Shaughnessy's death or if he faces charges.
Travis County Sheriff Sally Hernandez on Wednesday thanked the DPS, College Station police, the Lone Star Fugitive Task Force, the Travis County District Attorney's Office and the Travis County Sheriff's Office for their efforts in this investigation.