Mayor Steve Adler spoke with KVUE Sunday evening and Monday morning after the fourth explosion in March 2018, calling the influx of explosions "horrific" and "scary."
Multiple law enforcement agencies responded to the 800 block of Dawn Song Drive Sunday evening where there were reports of two people injured in an explosion. Austin-Travis County Emergency Medical Services said the two men in their 20s were transported to South Austin Medical Center. Hospital officials confirmed they were both in good condition before midnight.
"This is the highest priority in the city," said Mayor Adler.
Adler called the professionalism of the multiple law enforcement agencies involved "extreme" and said a multitude of resources were being distributed towards all of the explosions experienced in March.
"I'm confident they're going to find out who's responsible for this and stop it," Adler said. "Everyone is real determined and real focused. We are just all making sure everybody has all the resources they need to be able to work on this."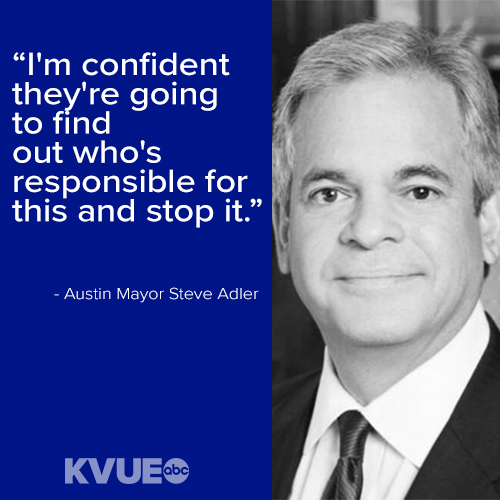 The mayor said Austin is still a safe city and reaffirmed the message of "not touching or handling anything suspicious" to the community. He urged locals to call 9-1-1 and let them handle it.
Adler also reassured the City of Austin "would do anything and everything to make sure law enforcement has whatever it needs to find those responsible and put an end to this."
Adler expressed he was "happy" that police have received more than 700 calls simply because it means people are staying aware and reporting anything suspicious.
The mayor said he has not yet heard from Gov. Greg Abbott, who lives in Austin himself.
Adler said he's spoken with the victims of the previous blasts and their families.
"I reaffirmed for them that the thoughts and prayers of an entire community are with them, as they are now with the additional victims and their families," he said. "The community is carrying them in our prayers. As a community, we're going to find the answers to this. There is no resource being requested that is not immediately available to the folks that are working on this."