AUSTIN, Texas — Texas and cryptocurrency mining could soon become synonymous as companies flock to the business-friendly state. But can the ERCOT grid handle the intense energy requirement?
Driving into one of the largest Bitcoin mining facilities in North America, we didn't know what to expect.
"This building is 1,050 feet long and 60 feet wide," said Riot Whinstone CEO Chad Harris. "You don't see this in Bitcoin mining."
Riot Whinstone is an unusually large mining facility in Rockdale, Texas, just an hour northeast of Austin. Harris said they broke ground in January 2020 and started mining in June of that year.
Inside each football-field-length warehouse are thousands of computers buzzing like worker bees, mining almost nonstop to create a sweet profit – Bitcoin.
Bitcoin is a form of cryptocurrency, which is a form of digital money usually called a coin. Bitcoin is the original form of cryptocurrency and, right now, it's the most valuable. In April of 2021, one bitcoin was worth more than $60,000, but the price fluctuates often. Creating more coins or mining them takes a lot of energy.
"If I sent $20 in bitcoin to you, it requires approximately the amount of electricity that an American household will use in an entire month," said Cryptocurrency legal expert, Blockchain Democracy author and Texas A&M Professor William Magnuson.
Magnuson worries that the intense energy usage from cryptocurrency mining will lead to more carbon emissions.
So, why does crypto-mining require so much power?
"There are about 100,000 machines here," said Harris.
Harris said every machine or miner is racing 24 hours a day to solve a complicated math problem. The computer that solves it first produces the new, unique bitcoin.
"So, one single machine, after power cost, earns $30 to $31 a day," said Harris.
Harris said, working together, these machines make about 63 bitcoins a day.
That translates to more than $3 million. To do that, the data center needs 300 megawatts of energy. The problem is that, after every coin is made, it's harder to solve that complicated math problem, which leads to a demand for even more power.
To fulfill that need, Riot Whinstone is expanding, adding enough computers to need another 400 megawatts. That's enough to power a large city.
PHOTOS: Riot Whinstone Bitcoin facility
"Texas has some of the lowest costs energy in the world," said the president of the Texas Blockchain Council, Lee Bratcher."
The cheap energy cost and business-friendly incentives are why cryptocurrency miners and related companies are flocking to Texas.
"We think that the ethos of Bitcoin and cryptocurrency and blockchain, in general, fits very well with the state of Texas' decentralized love, freedom-loving and kind of outside-the-box, independent thinking," said Bratcher.
Bratcher started the Texas Blockchain Council in 2020 with the goal of making Texas "Bitcoin mining country" and Austin the "Bitcoin mining capital of the world."
"We have about 75 member companies, about 250 individual members," said Bratcher.
The council regularly holds meetings in Austin, Houston and Dallas for the cryptocurrency community. They recently held one of Texas' largest blockchain summits in Austin.
"About 700 thought leaders and industry professionals from all over the country attended the event in Austin," said Bratcher.
Texas Sens. Ted Cruz and John Cornyn were in attendance. Along with Gov. Greg Abbott, the two said they support Texas becoming a crypto leader.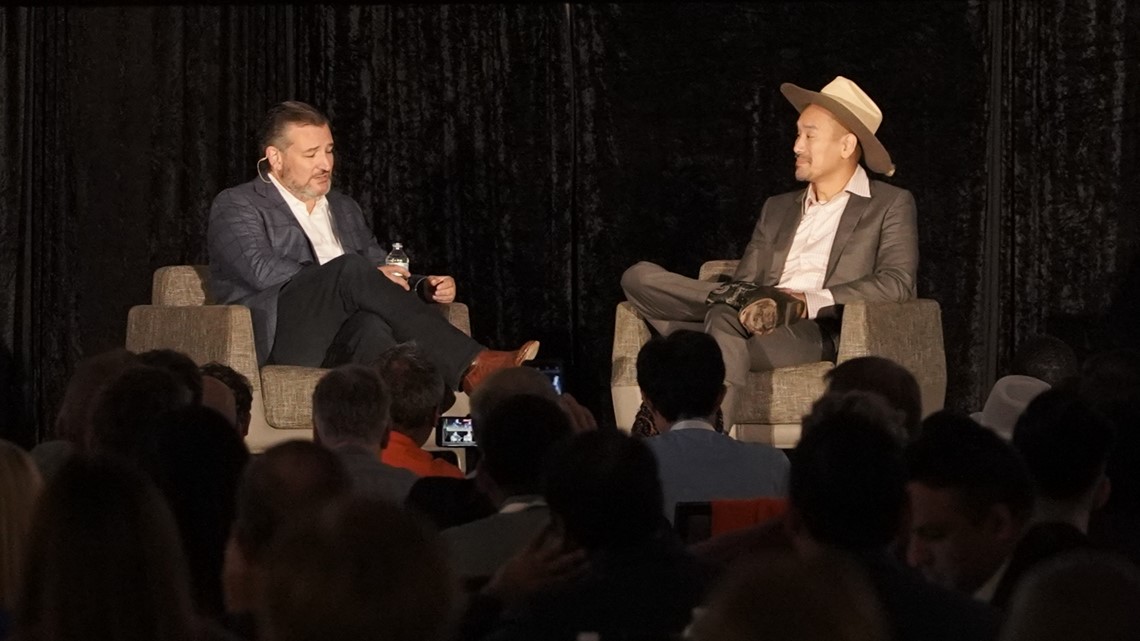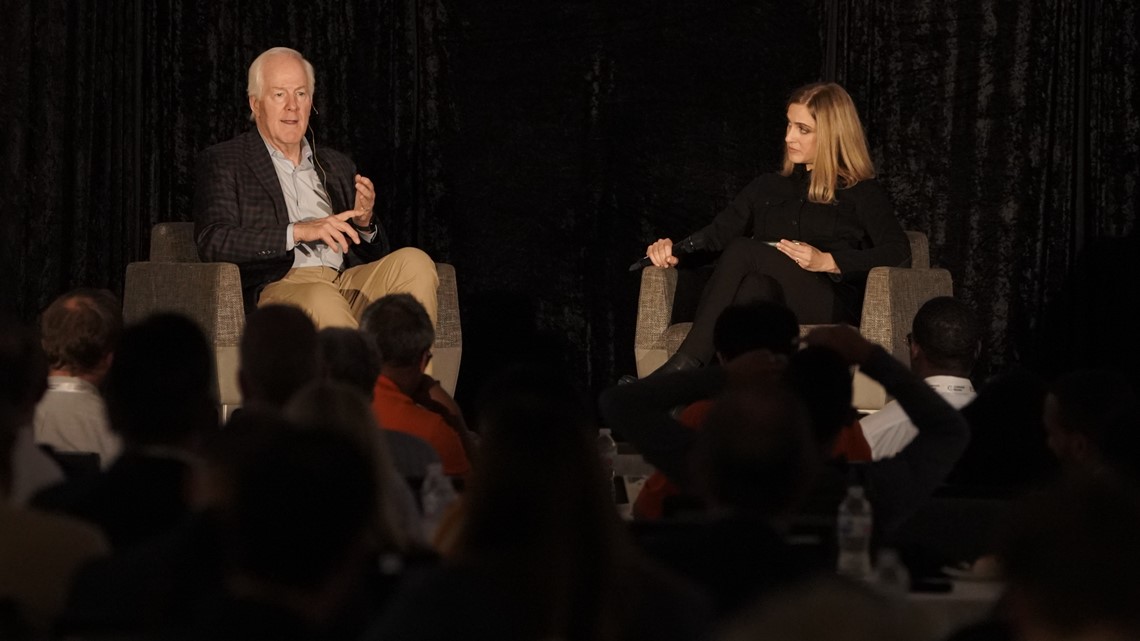 "Several of the largest Bitcoin mining companies in the world are headquartered themselves in Austin," said Bratcher. "There's so much tech talent in Austin. The number of job openings for cryptocurrency companies, financial services companies, funds, tech startups is just out of control in Austin and Dallas, and Houston as well."
Blockcap, another mining and blockchain company, moved its headquarters from Las Vegas to Austin in 2021. There are more than four dozen blockchain companies in Austin. Blockchain systems essentially serve as digital ledgers. Most of the time, it's used to track Bitcoin activity and transactions.
Just less than a mile from Riot Whinstone is Bitdeer, another leading Bitcoin miner in the continent needing about the same amount of energy.
In West Texas, Genesis Digital Assets is building a new self-hosted Bitcoin mining data center with 300 megawatts of capacity and power sourced from the Electric Reliability Council of Texas (ERCOT), according to their statement.
"We know that the Texas grid is unstable," said Magnuson.
The winter storm of February 2021 crippled the Texas power grid, leading to over 240 deaths.
Crypto-mining supporters argue they bring balance to the grid in two ways. One, by using energy that otherwise wouldn't be used.
"While if I wasn't using the amount of power that I'm using, you would be paying more for your power," said Harris.
Two, by being able to power down in seconds when electricity demand is high.
"Bitcoin miners can turn off within five seconds, so they actually provide grid resiliency by increasing baseload demand," said Bratcher.
Cryptocurrency mining isn't regulated in Texas, so there's no rule forcing miners to turn off.
"How do we know that cryptocurrency miners are acting responsibly?" asked Magnuson. "How do we know if cryptocurrency miners will power down their facility when the electricity grid is struggling?"
Harris said while it's not required, there is an incentive. Harris said their electricity costs are lower if they shut down during peak demand.
"It can be from 15 minutes to four hours," said Harris. "For that, we're rewarded a lesser fee for transmission. It's about 400th of a cent per kilowatt-hour."
Harris said they powered down about 72 times last summer as well as during the winter storm. But Harris admits that not everyone will live by that honor code and shut down when needed.
"You're going to have a gold standard, and we believe we're it, and then you're going to have people that might not behave the same way," said Harris.
Since the winter storm, state leaders made it mandatory for power plants to winterize, but University of Texas energy expert Joshua Rhodes said that's not enough.
"Half the power plants in ERCOT run on natural gas," said Rhodes. "If we don't fix the natural gas sector, then it doesn't really help to have power plants that can operate if you can't get fuel to them, because they're not going to make electricity."
Because blockchain is unregulated, it's unclear how many Bitcoin miners are in Texas.
"There is no central database that keeps track of where all the Bitcoin mines are located," said Magnuson. "We don't know where many of them are except press releases."
This means it's hard to know how much power miners are actually using.
"We need our government regulators to step in and clarify the rules that apply to cryptocurrency," said Magnuson.
"We don't regulate any other load, being those large petrochemical refineries and oil and gas facilities on the on the gulf coast," said Rhodes.
There are still a lot of unknowns, but one thing is for sure the buzz surrounding Bitcoin is growing. You can now use it to buy Dallas Mavericks tickets or exchange currency at your local H-E-B. And, soon, you'll start seeing QR codes to use Bitcoin at restaurants.
"Exactly what it's designed to do is to create a financial opportunity, freedom with no outside governance to allow people to exchange currency for goods and services," said Harris. "It's amazing."
As more miners swarm to Texas, only time will tell if the buzzing machines will pollinate our electricity grid or give it a paralyzing sting.