AUSTIN, Texas — After checking out the 'Good Omens: Garden of Earthly Delights' activation Friday, KVUE decided to keep the end times rolling by going to the 'Good Omens: The Nice and Accurate Event' Saturday night.
The event – which featured author and showrunner Neil Gaiman, director Douglas Mackinnon and actors Michael Sheen, David Tennant and Jon Hamm -- served as a screening of sorts for the forthcoming apocalyptic Amazon Prime Video series.
The packed room at the ZACH Theatre was shown a handful of clips from the six episodes, rather than one full episode. And, as the series doesn't drop until May 31, attendees were forbidden from talking about or recording what was shown.
"What you should do is make memories and taunt your friends about it 'til May," host Aisha Tyler told the crowd.
RELATED: First look: Inside the 'Good Omens Garden of Earthly Delights' activation at SXSW 2019
RELATED: First look: Inside the 'Game of Thrones' installation at SXSW 2019
Instead of digging deep into what the show is about, the event focused instead on how it was made.
Gaiman – who, along with Terry Pratchett, wrote the novel the show is based on, 'Good Omens: The Nice and Accurate Prophecies of Agnes Nutter, Witch' – told the crowd that he and Pratchett were told repeatedly by television powers that the book could never be made into a TV show because it was too complex.
But then, Pratchett told Gaiman he had to make the book into a show before he died.
And then he died.
"There have been many, many times over the last two years [of development and production] that I have cursed Terry Pratchett for dying," Gaiman said, jokingly.
RELATED: KVUE Review: 'Pink Wall,' starring Jay Duplass, Tatiana Maslany
RELATED: 'Us' thriller by Jordan Peele to premiere at 2019 SXSW Festival
Calling Pratchett's wish "sort-of an awful last request," Gaiman knew he had to serve as showrunner -- something he'd never done before -- because only he could be sure the series would be what Pratchett would have wanted.
And according to Tyler, he succeeded in creating something he and Pratchett can both be proud of. Tyler is a fan of the book, has watched all six episodes and said it's a really faithful adaptation. (Plus, a bonus for 'Doctor Who' fans: Tennant's presence aside, there are approximately seven to eight 'Doctor Who' Easter eggs across the six episodes.)
Tyler said, despite the story's dark humor, it has "incredible brightness and razor-sharp delight."
As for exactly what kind of show it is?
"It's a buddy movie, isn't it?" Tennant asked.
"It's a buddy comedy, it's a road movie and it's an office comedy," Tyler said.
But fans shouldn't get their hopes up for a second season. Unlike many other limited series that end up getting renewed, Gaiman said 'Good Omens' will be done after this run
"The nice thing about 'Good Omens' is it has a beginning, a middle and an end," Gaiman said. "Season one of 'Good Omens' is 'Good Omens.'"
RELATED: Inside the Daily Show's interactive 'Donald J. Trump Presidential Twitter Library' at SXSW 2019
RELATED: 'It was electric': Creator, cast of 'Us' thriller speak about watching premiere at SXSW 2019
Gaiman also said, after creating this show, he doesn't have any showrunner aspirations for the future.
"I am now a retired showrunner," Gaiman said. "And in my retirement, I'm thinking of taking up writing."
If the story ever did have a sequel though? Gaiman and Pratchett did have a name picked out:
"'668: The Neighbor of the Beast.'"
SXSW 2019 in photos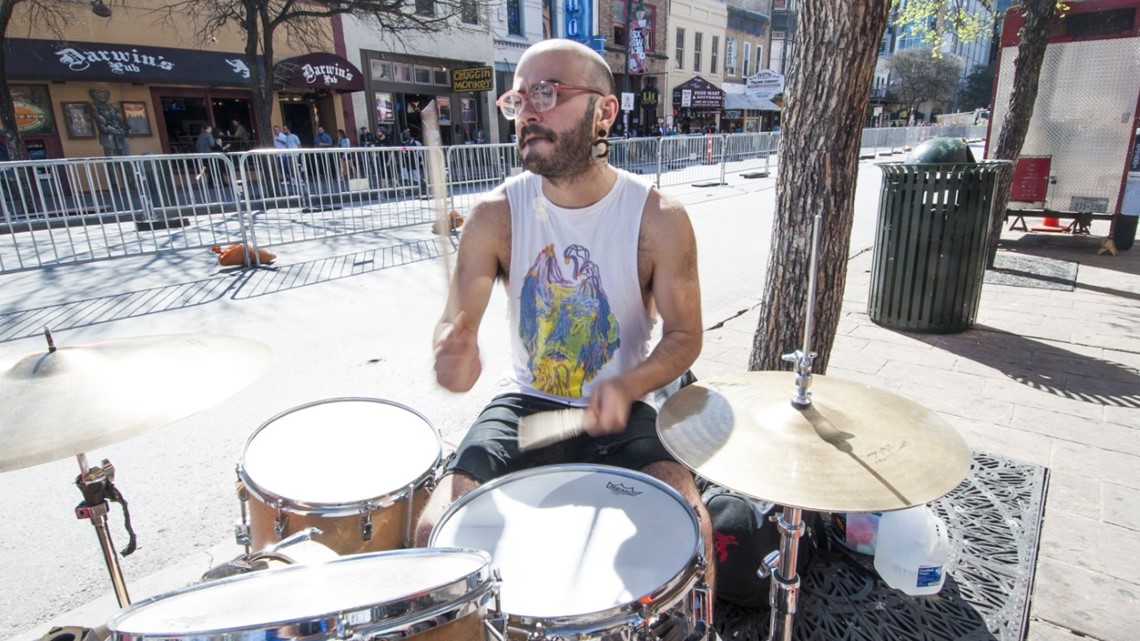 RELATED:
SXSW 2019 forecast has rain chances and warm temperatures
CBD cocktails served up fresh at SXSW event
O'Rourke makes surprise visit at SXSW, remains coy on 'big announcement'