AUSTIN, Texas — Enjoy the beautiful weather in the Austin area Friday afternoon, because big changes are on the way.
Temperatures Friday afternoon will climb into the upper 70s for most areas under sunny skies. A few 80-degree readings cannot be ruled out in the Hill Country. This is nearly 20 degrees above average.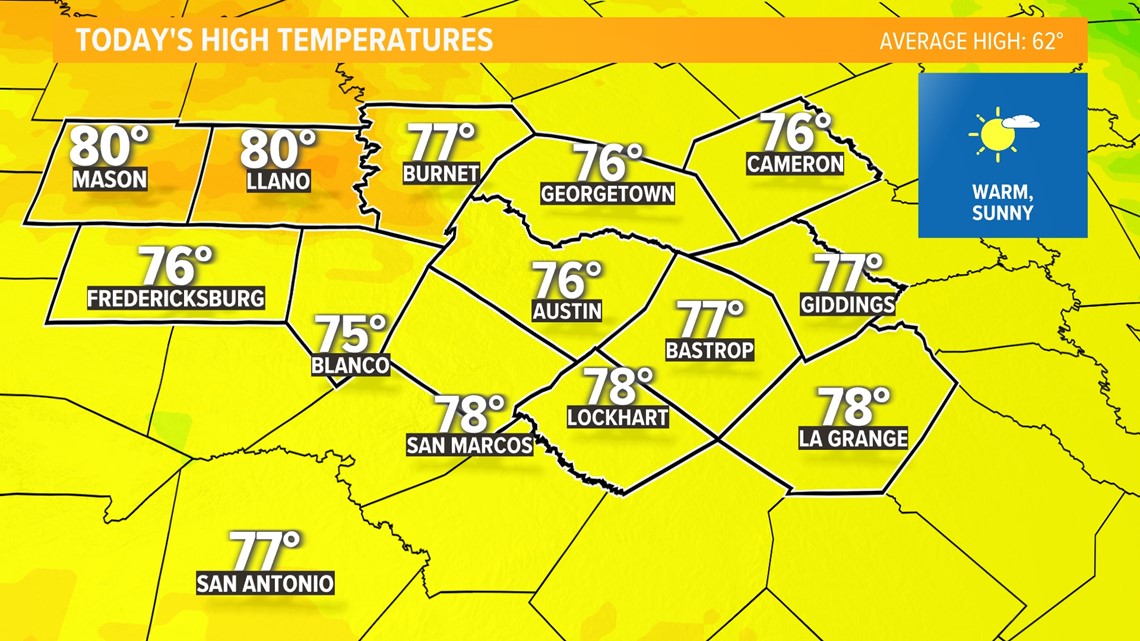 The evening hours will be nice too, with temperatures gradually slipping into the 60s. Have dinner on the patio with a cold beverage because big changes arrive Friday night!
Cold front timing and impacts
The cold front will move into the Hill Country between 8 p.m. to 10 p.m. Friday.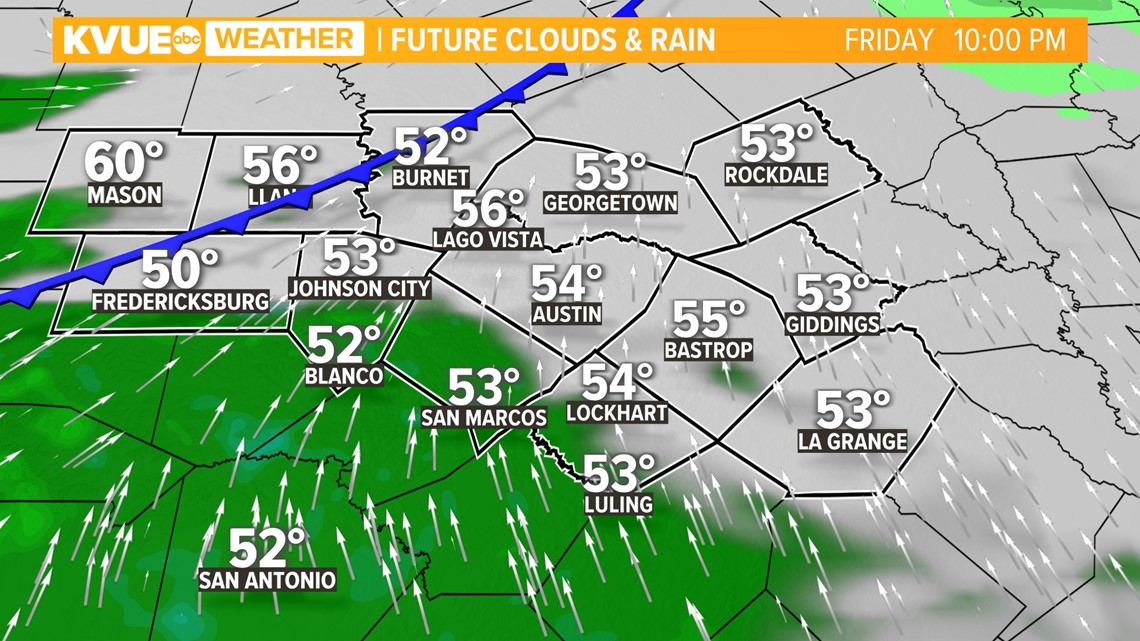 By midnight the cold front will move into the Interstate 35 corridor, including Austin.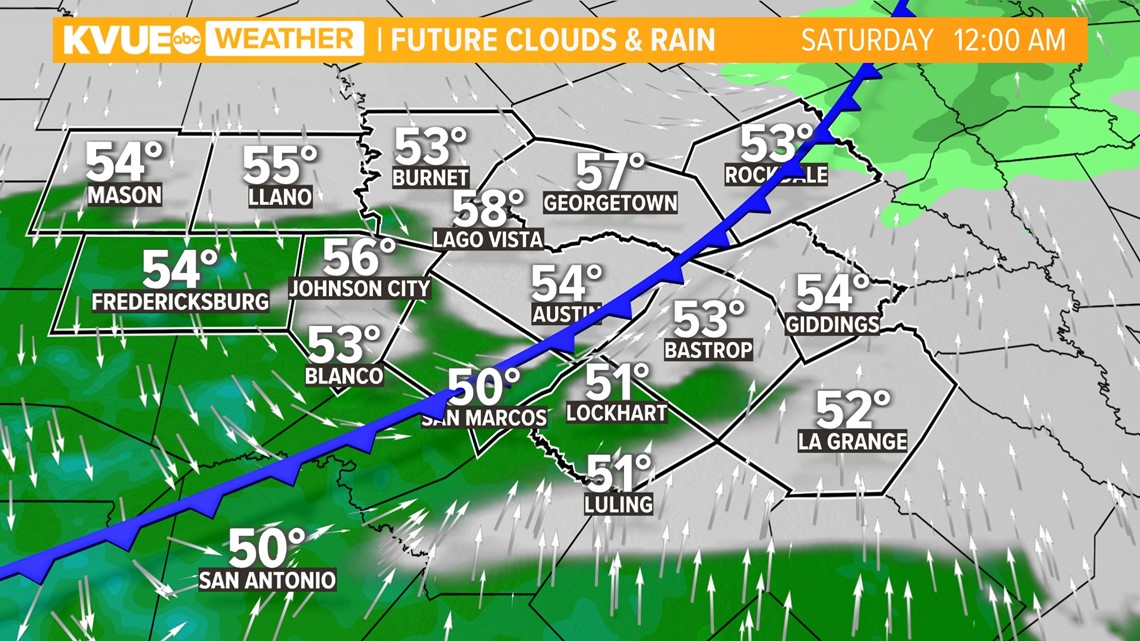 And by 2 a.m. Saturday, the cold front will have pushed through all of Central Texas. Behind the cold front, you can expect falling temperatures and gusty winds. Temperatures will fall into the 30s and lower 40s for your Saturday morning. High temperatures will stay in the 40s and 50s Saturday afternoon.
Keep in mind that with the strong winds, wind chills will be in the 20s and 30s Saturday morning. It will feel like the 30s and 40s Saturday afternoon. Stay bundled up or stay indoors if you can.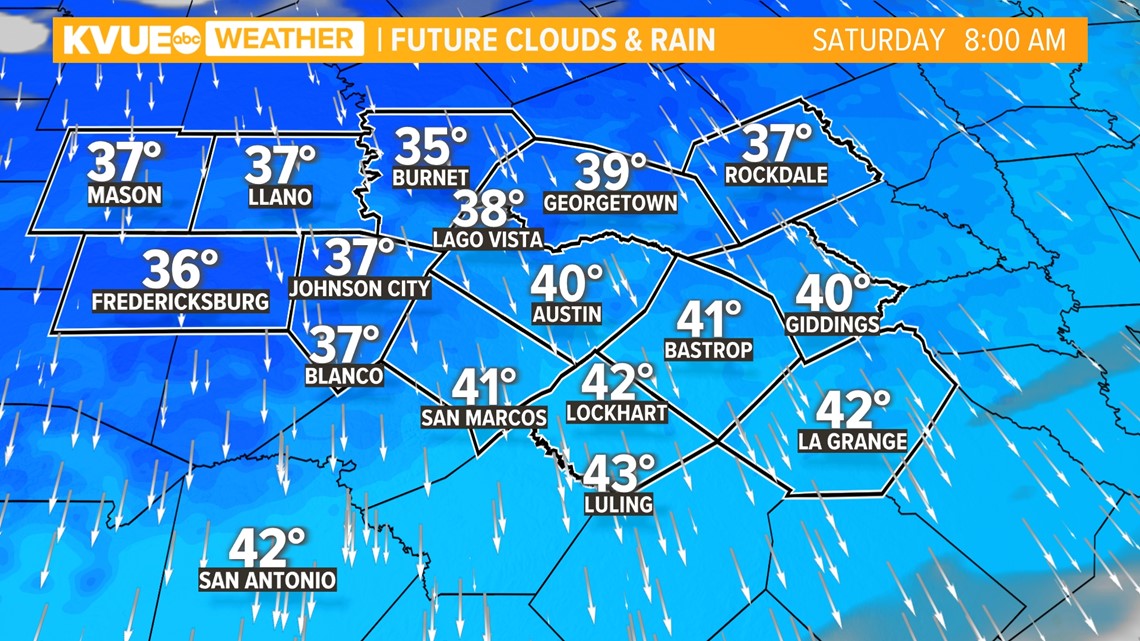 The biggest impact Saturday behind the cold front will be the strong winds. Winds will be sustained at 25 to 35 mph. Gusts will reach 50 mph Saturday afternoon. Make sure you secure the lawn furniture and trashcan.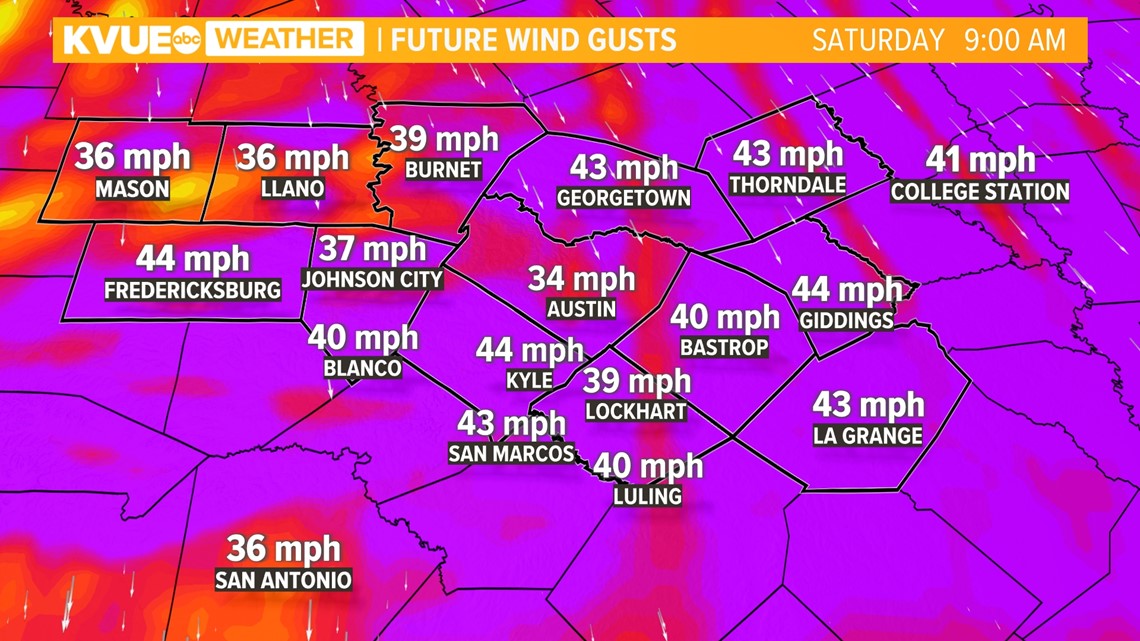 A Wind Advisory has been issued for all of Central Texas. This goes into effect at midnight.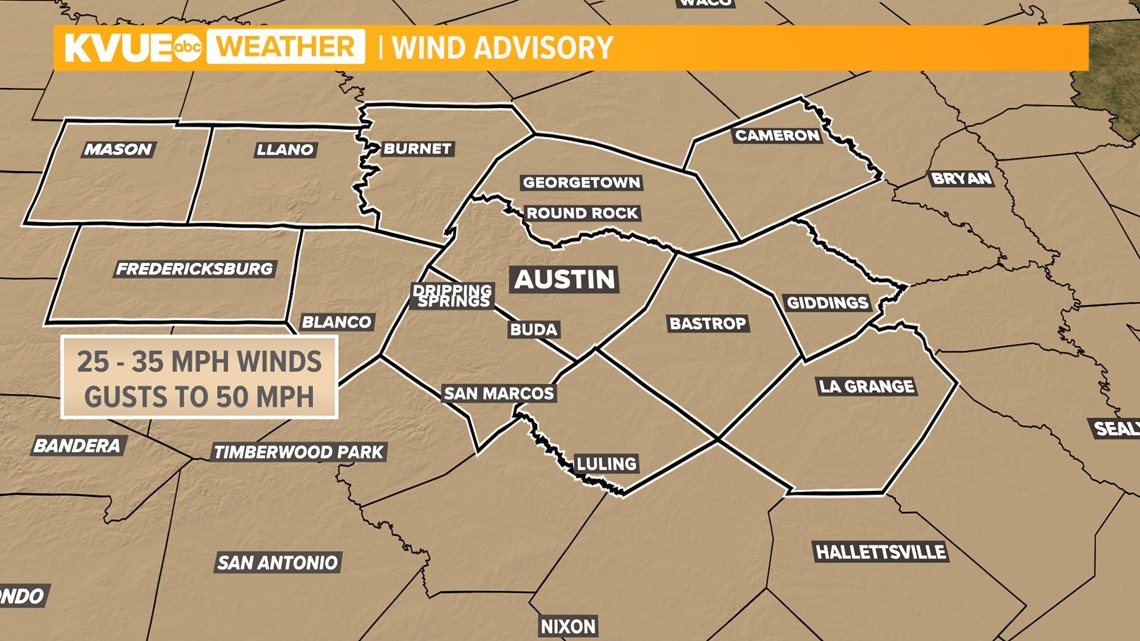 The strong winds paired with low relative humidity will create an uptick in the fire danger for all of Central Texas. To the west of our area there are Red Flag Warnings and Fire Weather Watches.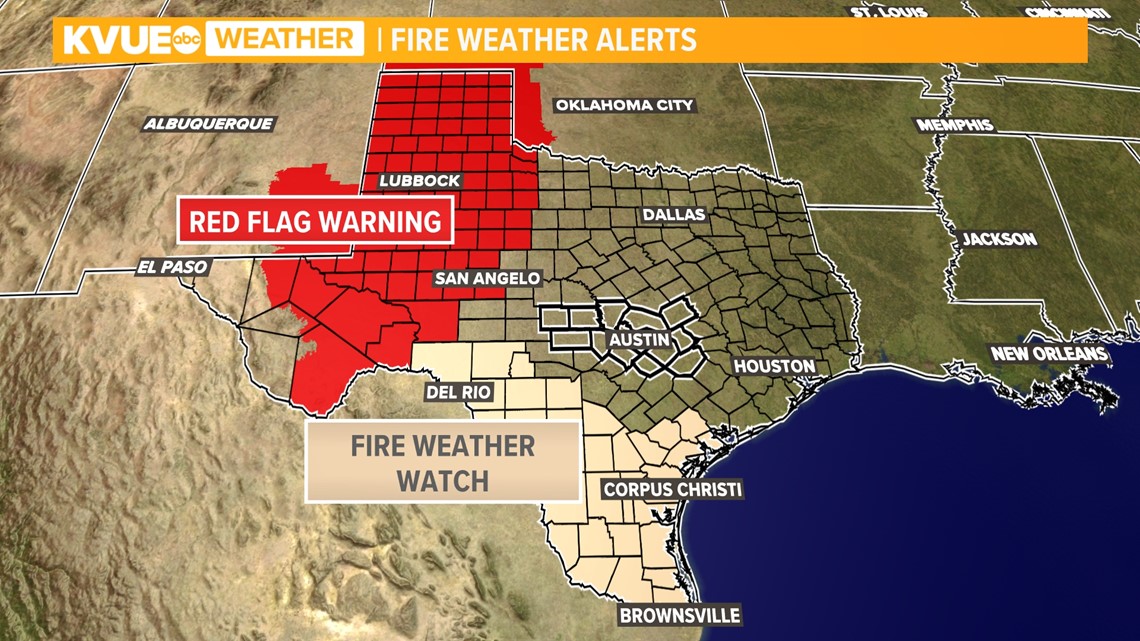 A widespread freeze is in the forecast Sunday morning for Central Texas, so bring the pets inside. Temperatures will fall into the 20s for the Hill Country with lower 30s possible for the I-35 corridor and the Coastal Plains. The winds will relax a bit but will be gusty enough to drop wind chills into the 10s for the Hill Country and 20s elsewhere across Central Texas.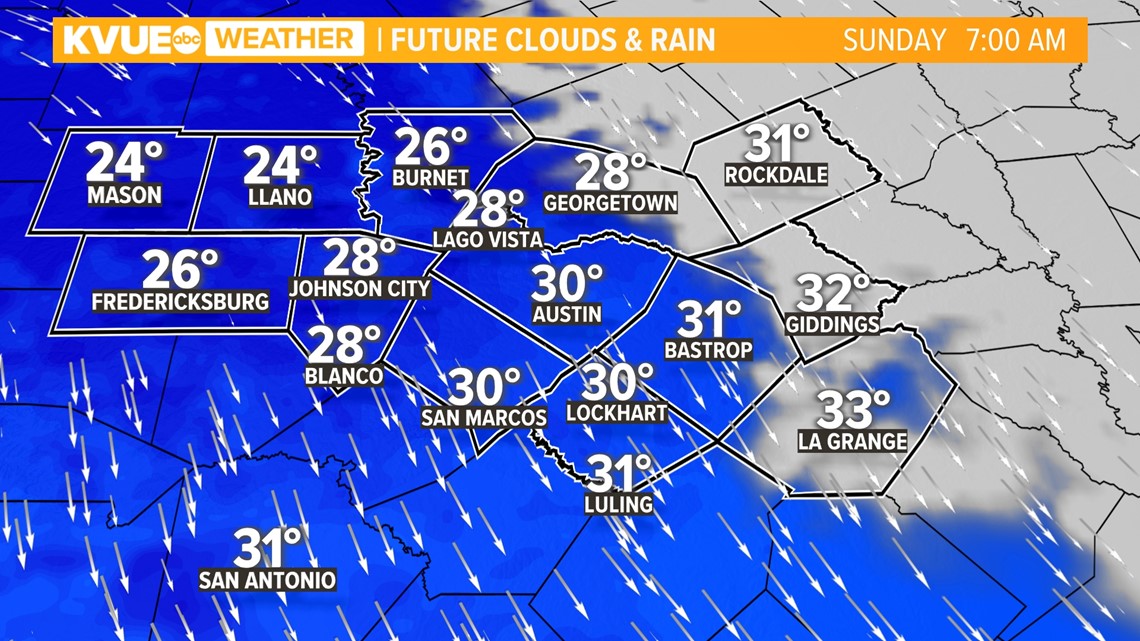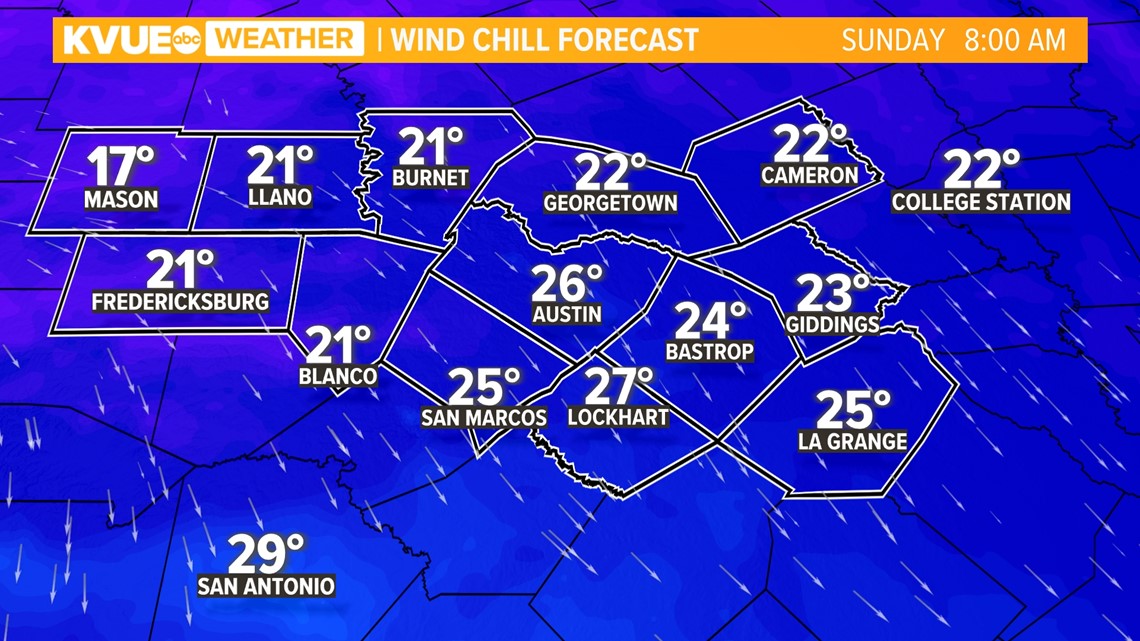 The KVUE Weather Team will continue to closely monitor this developing forecast.
In the meantime, the extended forecast can be found below: