AUSTIN, Texas — Following the rain and storms from Wednesday, we now look ahead to a drier forecast through the weekend. Thursday morning will be chilly, with temperatures ranging from mid-30s to low 40s. Some patchy fog is possible, especially along and east of Interstate 35.
The afternoon on Thursday is briefly warmer ahead of our next cold front. Afternoon temperatures soar into the lower 70s with a warm southwest wind. The front will then move through without any rain Thursday night.
By Friday morning, we wake up to a colder and windier weather pattern. Wind gusts upwards of 30 mph will be possible through the day with afternoon highs only in the low to mid-50s. Due to breezy conditions, we'll be monitoring the potential for elevated fire weather concerns.
Both Saturday morning and Sunday morning will drop down to the 20s and 30s, with some areas seeing a freeze both nights. The afternoon highs will be in the upper 50s to low 60s.
A more active weather pattern returns early next week with rain and storms looking likely for Monday night into Valentine's Day as another cold front arrives.
THURSDAY MORNING:
Cold with patchy fog possible. Calm wind.
LOW: 40
THURSDAY:
Sunny skies with morning fog. Southwest wind at 5-10 mph with gusts around 20 mph possible.
HIGH: 73
THURSDAY NIGHT:
Cold and windy. South-southwest wind shifting northwest wind at 10-15 mph, gusting around 25 mph.
LOW: 43
FRIDAY:
Windy and chilly. North-northwest wind at 15-20 mph with gusts around 30 mph possible.
HIGH: 54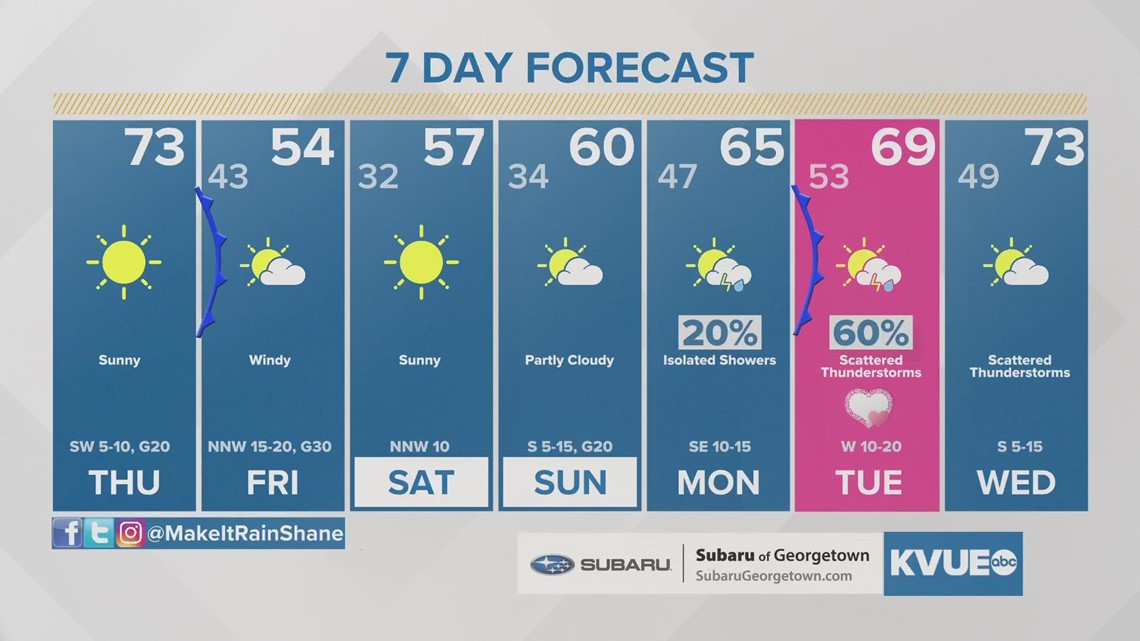 Check out the live radar for what you can expect the rest of the day and into the workweek.