The Duke of Sussex was wearing a black three-piece set of tails and military medals on his chest. He arrived ahead of the ceremony alongside his cousins, Princess Eugenie, Princess Beatrice, and their spouses.
Harry was seated two rows behind his brother and heir to the throne, Prince William, and the two did not appear to have any interaction. It's unknown whether they have met at all during Harry's trip from California to London for the coronation.
After weeks of speculation over whether he would attend, Buckingham Palace confirmed Harry would be there but his wife, Meghan, the Duchess of Sussex, would not.
She stayed behind in California with their young children. Saturday also marked the fourth birthday of Harry and Meghan's son Archie.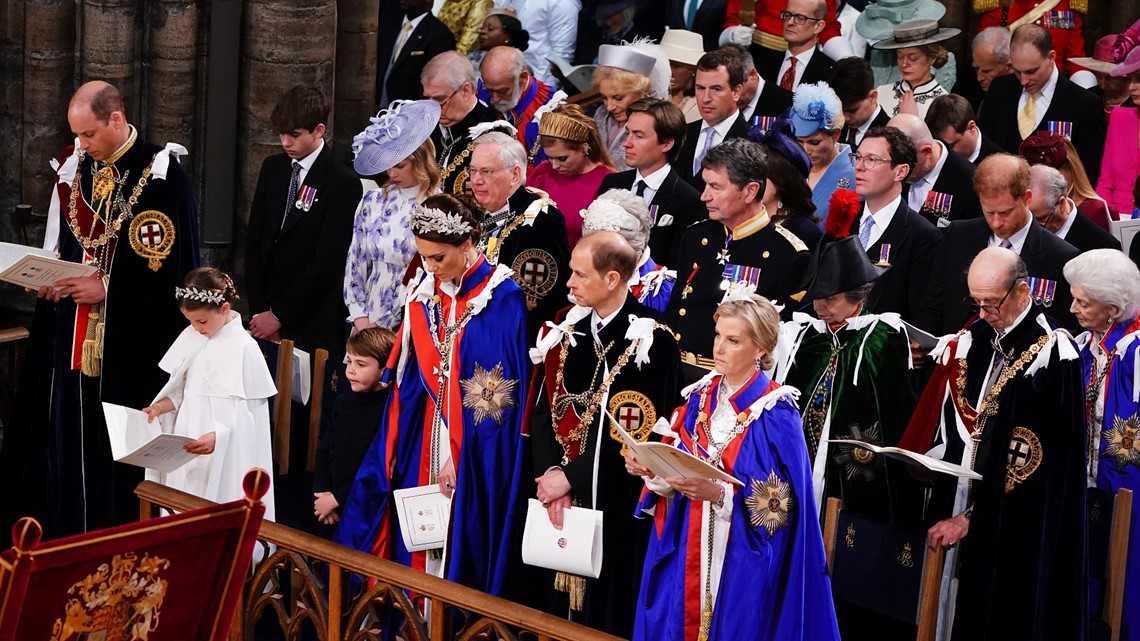 Harry, who quit his official duties with the royal family over intense scrutiny from the British media, is not playing a role in the coronation service.
The prince was further alienated when he published his explosive bestselling memoir, "Spare," in which he detailed his accounts of private conversations with other royals.
Despite stepping away from royal duties in 2020 and moving to the United States, Harry remains fifth in the line of succession for the throne.
1. Prince William, Prince of Wales: first-born child of Charles and Princess Diana.
2. Prince George: first-born child of William and Catherine, Duchess of Cambridge
3. Princess Charlotte: second-born child of William and Catherine.
4. Prince Louis: third-born child of William and Catherine. Until a few years ago, Louis would have been ahead of Charlotte because preference was given to male siblings regardless of when they were born. The Succession to the Crown Act, passed in 2013, removed that rule.
It's a safe bet that nobody below this point on the list will ever take the throne. William and his three children, his grandchildren and so-on would either have to pass away or abdicate their right to the monarchy. Abdicating the throne has only happened once in history. And if George were to become a father, his children, grandchildren and great-grandchildren will all be ahead of Charlotte in the line of succession.