AUSTIN, Texas — Get ready for a pretty big shakeup in the weather pattern here in Central Texas, and it all starts with our next cold front on Tuesday. This front brings a chance for scattered showers and storms and a modest cooldown for midweek, then a much stronger push of cold air moves in for late week.
First things first, let's start with our Tuesday storm chance. By Tuesday morning, we have showers, drizzle and patchy fog possible once again. Scattered showers and perhaps a few storms develop along and ahead of the front first across the Hill Country, then push eastward through the late morning and early afternoon.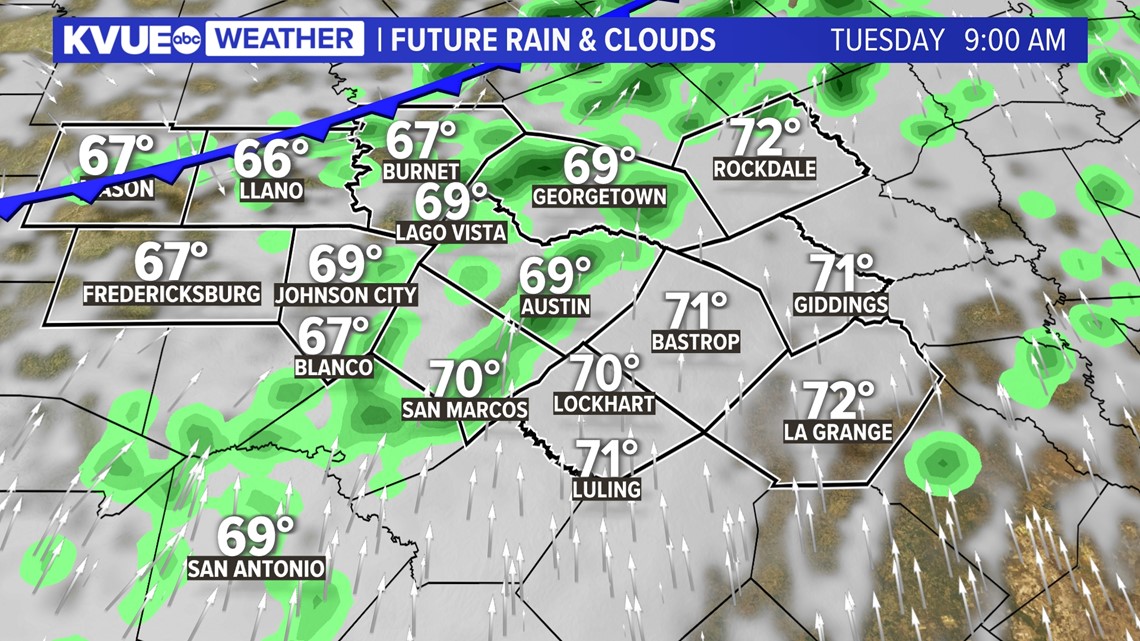 The highest storm chances will be north and east of Austin, but overall our models continue to show that the threat for severe weather is pretty low in the KVUE area.
If one or two strong storms do manage to develop, gusty winds and hail would be the primary concern. We also have the potential for some minor flooding southeast of Austin coming off the heavy rain from the weekend.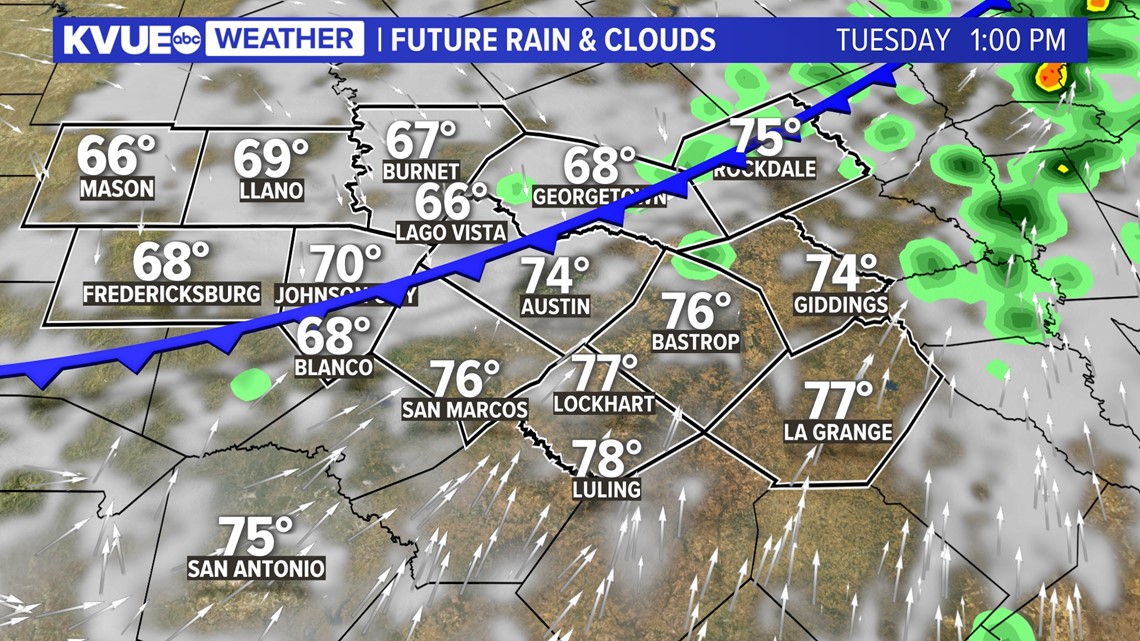 The primary severe weather risk will be well to our east, where parts of east Texas and Louisiana are under an "enhanced" – level 3 of 5 – risk for severe storms.
Locally, parts of the KVUE area are included in the "marginal" – level 1 of 5 – risk for severe storms.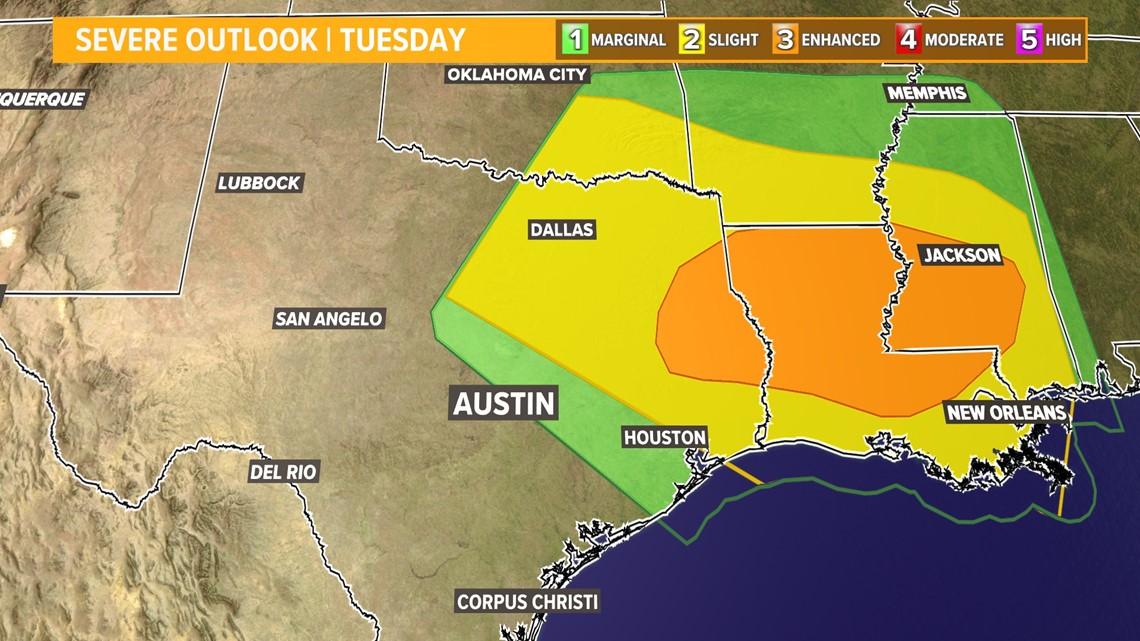 Behind the cold front, things get cooler for the middle of the week with a few lingering showers Wednesday morning, but the significant chill gets here in time for the weekend with afternoon highs dropping to the low 50s for Saturday and Sunday.
It also looks like this cold air has some staying power, with chilly weather likely for most of next week through Christmas Day. We'll of course have more specifics in the coming days.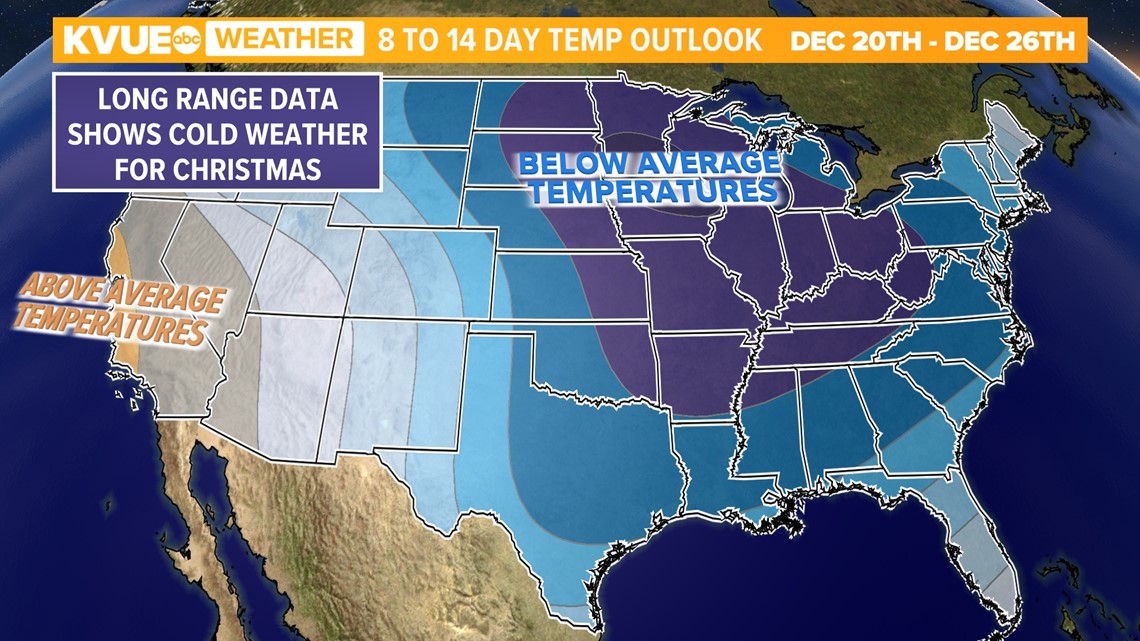 The KVUE Storm Team will continue to monitor this developing forecast.
In the meantime, the extended forecast can be found below: