AUSTIN, Texas — Editor's note: This blog is no longer active.
Nicholas was upgraded to a Category 1 hurricane late Monday night during the 10 p.m. update from the National Hurricane Center. Nicholas made landfall at 12:30 a.m. on Tuesday, Sept. 14, near the Matagorda Peninsula with maximum sustained winds of 75 mph.
The eastward shift in its track prompted the National Weather Service to cancel the Tropical Storm Watch which was issued for Fayette County.
The latest forecast shows Nicholas remaining around Central Louisiana late in the week. Nicholas will continue to weaken, but the flood threat continues across parts of Louisiana and Mississippi.
Here in Central Texas, we remain on the dry side of the storm with no additional rain chances between now and the end of the workweek. Afternoon temperatures will also start to ramp up with low to mid-90s through Friday. Some could reach the upper 90s over the weekend.
Some forecast models have started to indicate the eventual remnants of Nicholas could shift toward the west, increasing rain chances for the eastern side of the KVUE viewing area, especially in the Coastal Plains. Heavy rainfall is not expected at this time.
Additional rain chances return to the forecast on Sunday and continue through the start of next week as southerly flow returns. As of now, any additional accumulations should stay under a quarter inch for the next week.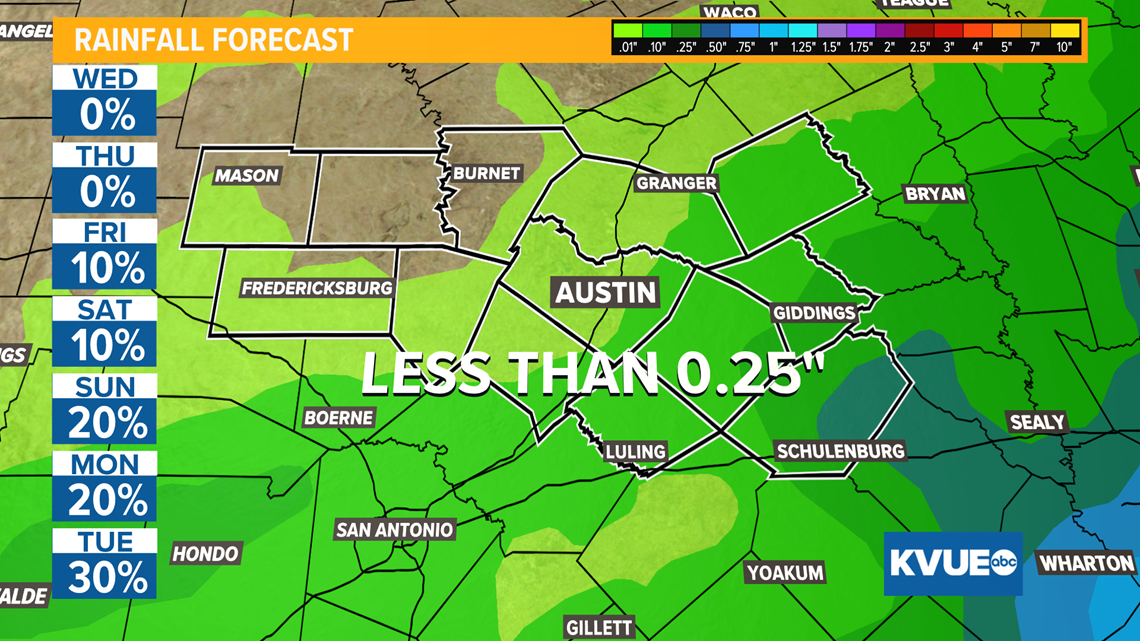 The KVUE Storm Team will continue to closely monitor this developing forecast.
In the meantime, the extended forecast can be found below: