AUSTIN, Texas — The 2021 Hurricane Season is officially underway, and now we have our first Gulf storm of the season. The National Hurricane Center is now issuing advisories on an area of storms in the northern Gulf that is expected to strengthen into a weak tropical storm by Friday evening.
Outer rain bands from this disturbance have been reaching the northern Gulf coast through Friday afternoon, but the center of the storm continues to slowly organize offshore.
The current forecast calls for the system to briefly become a weak tropical storm before making landfall along the Louisiana coastline overnight. If this disturbance does in fact become a tropical storm, the name will be Claudette.
We are not expecting local impacts from this storm here in the KVUE area. Our local forecast remains quite hot and mainly dry through the Father's Day weekend.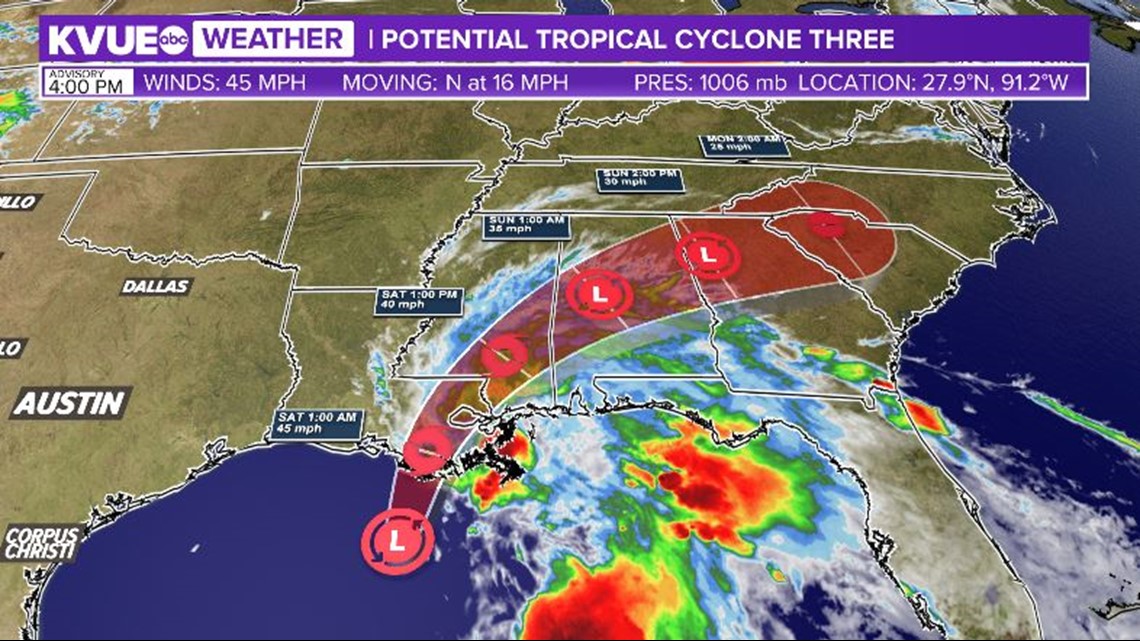 After making landfall, the system is expected to move inland across parts of Mississippi, Alabama and Georgia. As is typical with early-season Gulf systems, the primary threat will likely be heavy rainfall for portions of the Gulf Coast and the Southeast.
Some locations could pick up a half-foot or more of rainfall. Riptides and elevated storm surge will also be possible along the coast. There will be an inland threat for a few brief, spin-up tropical tornadoes.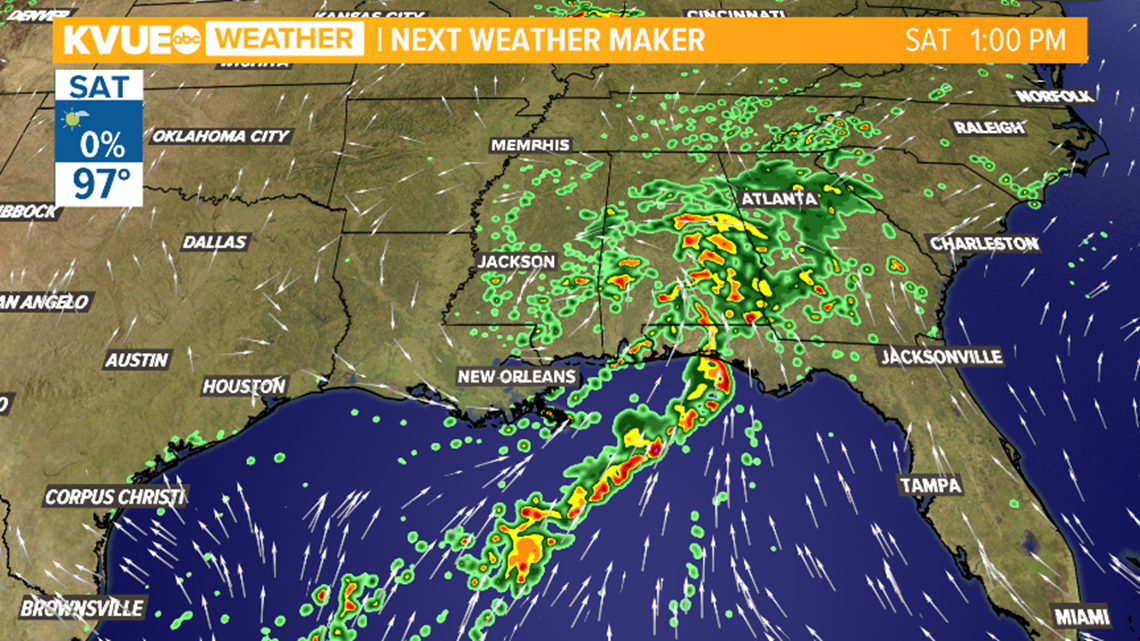 Central Texas will stay well removed from any direct impacts from this system as it passes to the east. This puts the KVUE area firmly on the dry side of the storm, so our rain chances stay very limited through the weekend.
Indirectly, this system may actually contribute to even hotter weather for Central Texas as temperatures once again approach the triple digits on Monday. It is common to see a process called "subsidence" take place on the western side of these tropical systems. This corresponds to sinking air and warmer than normal temperatures.
So plan on more heat this weekend with feels-like temperatures in the triple digits. It appears that the heat will peak on Monday afternoon as air temperatures once again near the triple digits. It's possible that Monday could reach Heat Advisory criteria for parts of Central Texas.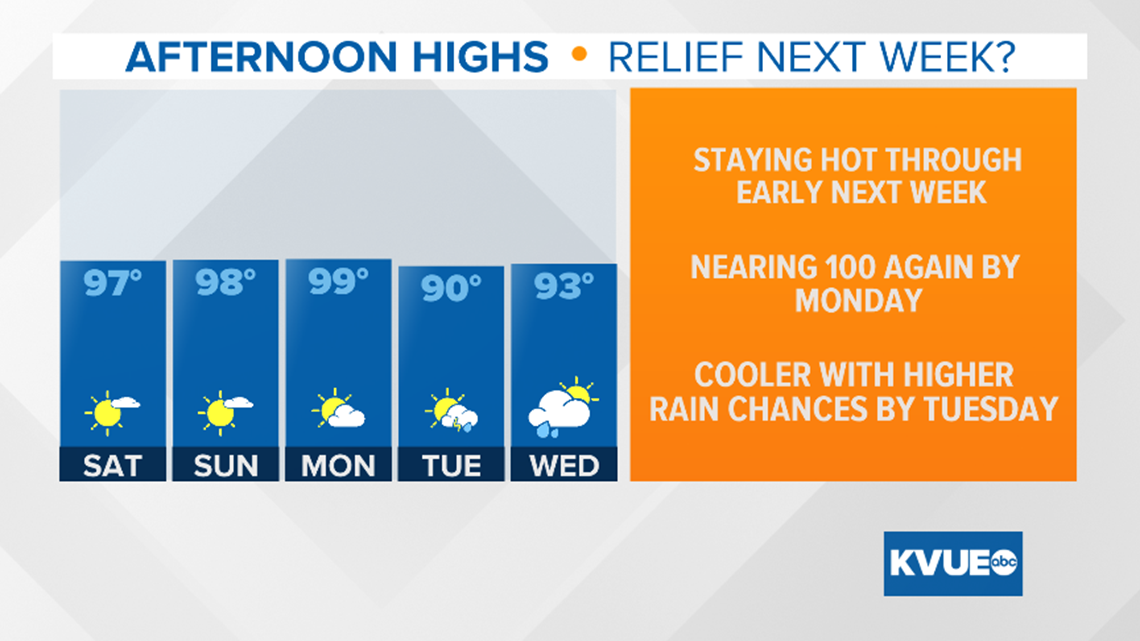 By Monday night and Tuesday, a late-season cold front will be approaching Central Texas. Computer models continue to show this front pushing through Central Texas by Tuesday afternoon, bringing with it rain chances and a cool down.
It's not a guarantee that the front is able to push completely through, but even if it stalls nearby, we would get rain chances and some heat relief.
The current thinking is for highs to drop to around 90 by Tuesday with a 40% chance of rain and storms. A quick return to southerly winds will swiftly bring highs back to the mid-90s by the end of the week.
Rainfall totals between a quarter-inch and one inch will be possible in the next seven days.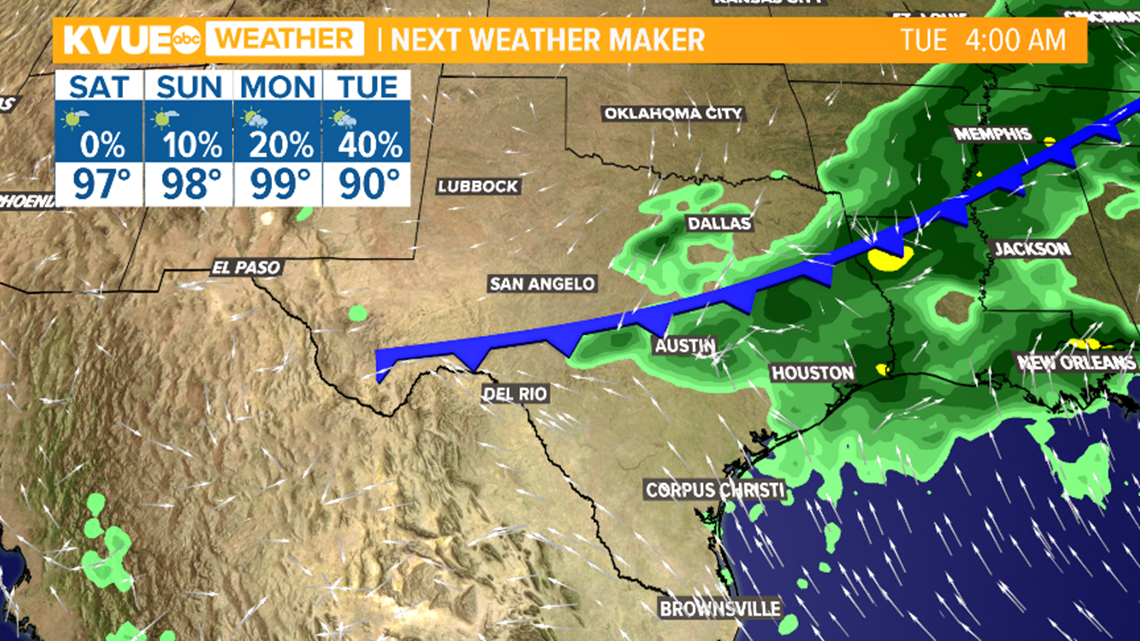 The KVUE Storm Team will continue to closely monitor this developing forecast.
In the meantime, the extended forecast can be found below: