AUSTIN, Texas — Big weather changes are in store for Central Texas just in time for Thanksgiving.
To start your holiday week, a gradual warming trend is expected Tuesday and Wednesday as southerly winds increase across the area. These southerly winds will not only allow for a warming trend with highs reaching the mid-70s by Wednesday, but they will create an uptick in moisture ahead of our next weather maker.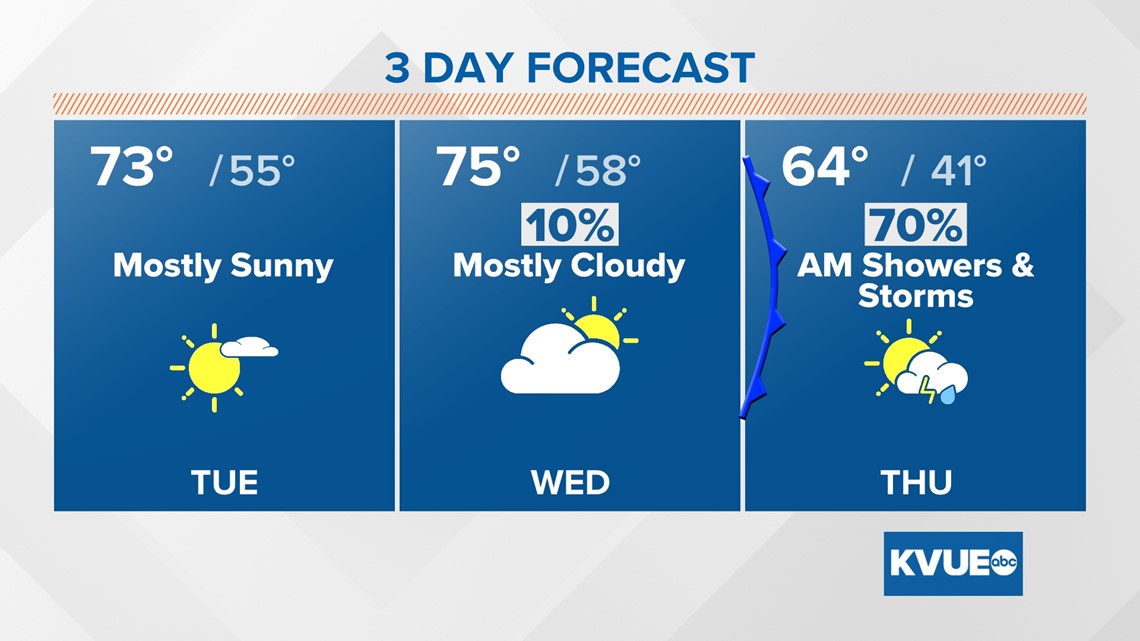 The next weather maker is a strong cold front that will race south across the state on Wednesday and Thanksgiving Day, bringing a good chance for showers and storms and eventually some colder temperatures to Central Texas. If you have any travel plans on Thanksgiving, intend to have your delicious Thanksgiving meal outdoors, or want to participate in this year's Turkey Trot, you will want to plan accordingly.
Patchy drizzle is possible on Wednesday with increasing rain chances Wednesday night. The uptick in rain showers continues on Thanksgiving morning with numerous showers across the area. A few rumbles of thunder are also possible with some of the heavier rain along the cold front.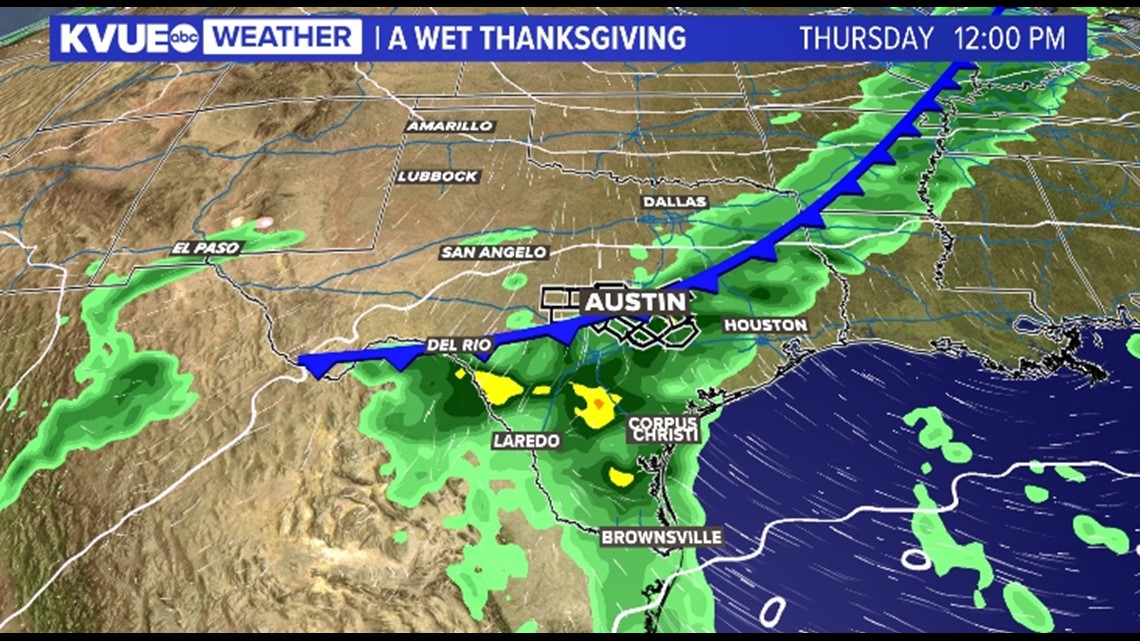 The good news is that it appears the cold front will move through Central Texas rather quickly. This is important because this will limit the flood and severe risk and allow for the possibility of a drying trend by Thanksgiving evening. Recent guidance does suggest this is a possibility with most of the rain departing the area by the early afternoon hours. Keep in mind, a slower movement of the cold front would keep rain showers around a little bit longer on Thanksgiving.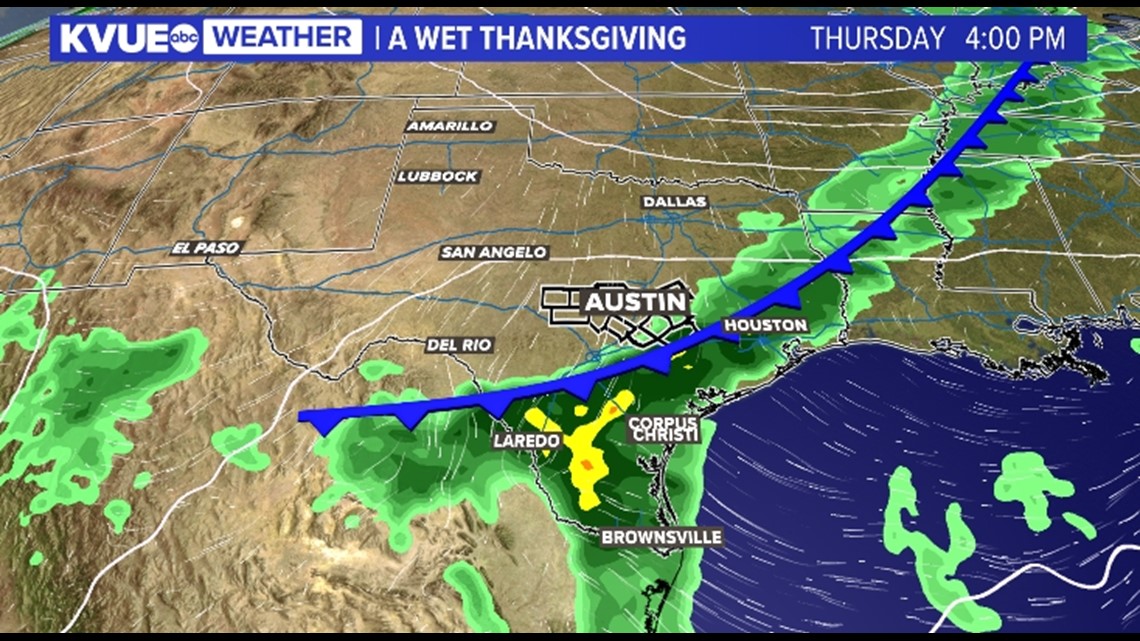 The rain will be moderate to heavy at times, with the heaviest rain falling along and to the east of the Interstate 35 corridor. These areas will be favored to see 1 to 2 inches of rain. Farther west in the Hill Country, amounts will be lighter, with rain amounts of around 0.10 to 0.25 inches. In Travis County and along the I-35 corridor, expect around 0.50 inches. The flood risk is low but, as always, if you come across a roadway covered by water, make sure you turn around.
A few embedded storms are expected along the cold front early Thanksgiving morning, but the severe threat is very low. Severe weather is not expected in Central Texas on Thanksgiving.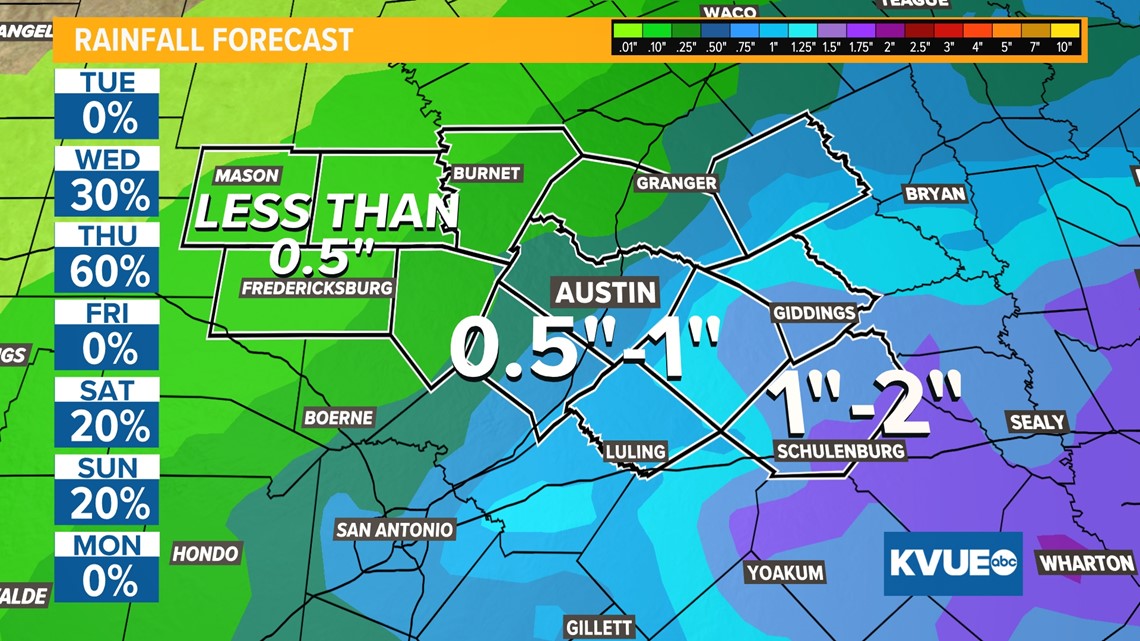 Once the cold front moves through the area, the rain will decrease and the temperatures will drop. This will set the stage for a cooler Friday, extending into the first half of the holiday weekend.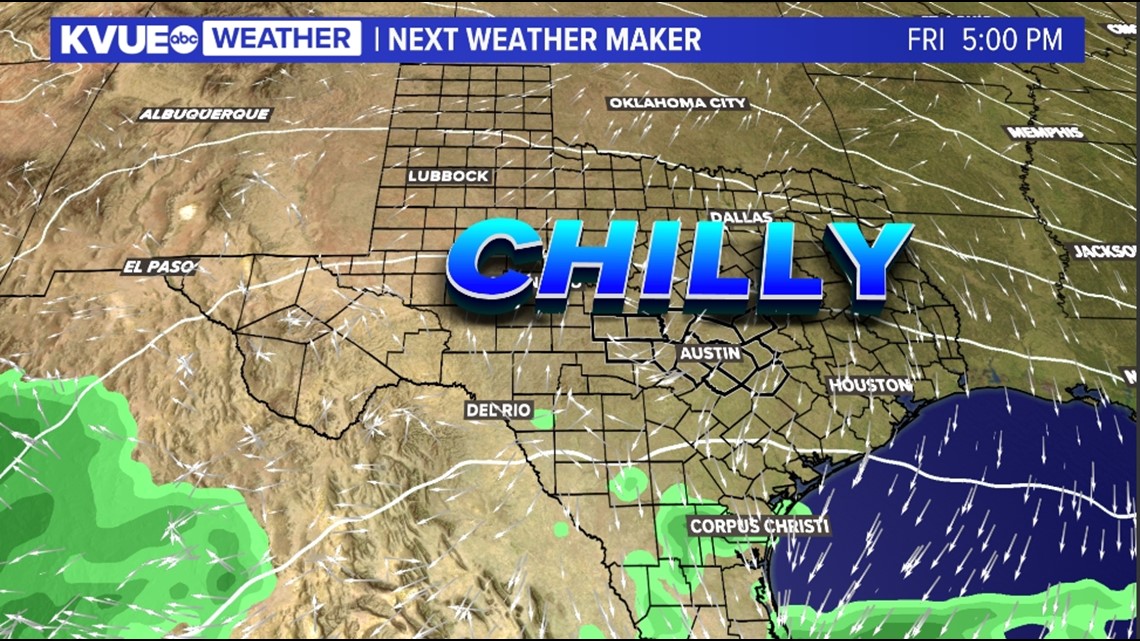 If you have plans to shop Friday morning, make sure you dress accordingly. It appears temperatures will be in the upper 30s and lower 40s on Friday morning with a gusty northerly wind. This is far out, so changes are likely as we get a clearer picture of the weather setup. Get the latest 7-day forecast for Austin here!
The KVUE Storm Team will continue to monitor the forecast closely and provide updates throughout the week. Here is a look at your extended forecast: