LAKEWAY, Texas — Even though there has been quite a bit of rain this spring, some environmental groups say they're worried about lake levels as the summer approaches.
Lake Travis is one lake that needs rain and some flooding to happen to actually see levels return to normal.
Kids and families enjoying a day at Lakeway City Park is a common site, but it looks a lot different than it did three years ago.
"Three years ago, you could drop your kayak right here. You could come sit out and jump in the lake," Shannon Hamilton said.
Hamilton is the executive director of the Central Texas Water Coalition. She said Lakeway City Park is just one place you can see the low levels in Lake Travis.
Brendan Crouch, who has lived in the area for a decade, said he sees the levels rise and fall.
"While it is worrying, what was really worrisome the first time I saw it this low, it's remarkable how fast it comes back," Crouch said.
A statement that's rung true for years: water levels drop, then flooding events and water flowing in help bring them back up.
This year, however, that hasn't happened – yet.
The water levels at Lake Travis are so low that they are actually under 50%. The lack of water inflow right now makes it seem that these low levels might be the new normal, but advocates say this is not something that we should settle for.
"We have all the tributaries that come in that give us water, and unfortunately, the land is so dry that the rain we have been getting is saturating. And it's not adding, and that's what we need. We need to add," Hamilton said.
The chart below shows inflow averages dating back to 1942. Compare the 2023 inflow numbers from just January, February and March. These numbers are drastically lower than even the dark blue line which shows averages between 2008 and 2015.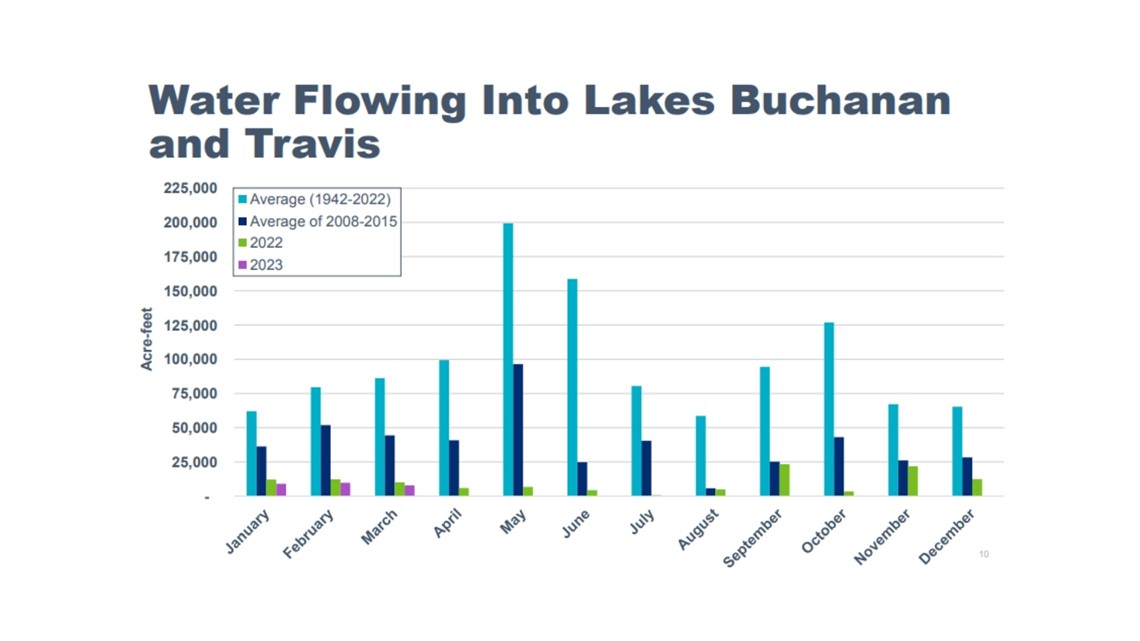 A spokesperson with the Lower Colorado River Authority (LCRA) told KVUE in a statement, in part, "Our drinking water supply is in good shape. While it may be concerning to see lakes at their current levels, from a water supply standpoint we have about half our supply, or a million acre-feet in lakes Travis and Buchanan."
Hamilton said the LCRA is banking on a wetter El Niño weather pattern. But if there isn't major rainfall, she said the drinking water supply could be in serious trouble.
"Our hydrologist has done multiple iterations and really, [in] five years, if we stay the way we are today, that we're in real, real trouble," Hamilton said.
Both organizations said that water conservation in our own lives should be top of mind as summer approaches.
Below is the LCRA's full statement:
The Highland Lakes are a series of lakes on the Colorado River north of Austin. Only two of those reservoirs, lakes Travis and Buchanan, are water supply reservoirs. Together they provide drinking water for more than a million people, as well as businesses and industries.
As water supply reservoirs, lakes Travis and Buchanan are designed to fluctuate, capturing water during rainy times and holding it for people, businesses and industries to use during drier times. That is exactly what is happening now. The lakes have provided a reliable water supply for Central Texans since Lake Travis was completed in the 1940s.
This is a serious drought, and recent inflows have been historically low. The good news is that our weather pattern has recently changed, as the rare three-year La Nina cycle that brought us such hot, dry weather over the last few years has exited the region. Weather forecasters say we are headed toward a wetter El Nino pattern. With that change in the weather pattern, we have reason to believe we could see wetter weather later this year.
As a regional water supplier, LCRA closely monitors lake levels and is always concerned about the storage in our water supply reservoirs. As we sit in the heart of Flash Flood Alley, we know the next drought or next flood is always right around the corner.
Beginning last July, LCRA cut off stored water from the Highland Lakes sent downstream to agricultural customers in Wharton, Colorado and Matagorda counties. LCRA did so again in March for the 2023 crop year.
Our drinking water supply is in good shape. While it may be concerning to see lakes at their current levels, from a water supply standpoint we have about half our supply, or a million acre-feet in lakes Travis and Buchanan, remaining in storage going into the summer.
In addition, LCRA has implemented water conservation measures with our firm water customers, mostly cities and industries, and many local water suppliers have begun instituting mandatory water conservation measures. If this drought continues, additional water conservations measures will kick in.
We encourage everyone to make water conservation a way of life, and to use water wisely regardless of whether we're in a drought. Don't wait for mandatory restrictions to begin. Instead, we should all do our part to reduce water waste throughout the year.
A major driver for summertime water use is water used on landscapes. Some utilities report that more than half of the water taken from their water treatment plants is used on outdoor watering. As you are making decisions on your landscape, please incorporate water-efficient habits in watering your lawn, and considering using use native plants that are heartier can survive hot Texas summers better than plants that came from wetter parts of the world.