The announcement was made on Tuesday by District General Manager Tim Loftus. It means that customers served by facilities that use groundwater wells will be required to follow restrictions. These restrictions typically include not watering lawns and landscaping. Water usage should be limited to essential indoor uses only.
Drought status ranges across four stages and are determined by how low water drops in either of two monitoring sites:
Stage I - No Drought
Stage II - Alarm Drought
Stage III - Critical Drought
Stage IV - Exceptional Drought
According to the Barton Springs/Edwards Aquifer Conservation District, the two sites used for determining the drought status are the Lovelady Monitor Well and Barton Springs. In order for a drought to be declared, only one of the two sites must drop to the threshold. Water levels dropped into the Stage III threshold at the Lovelady Monitor Well on Oct. 17.
While it only takes a single site dropping below a threshold for the drought to be declared, water levels at both sites must be above a drought status in order for the district to come out of a drought stage.
The following reductions in monthly pumpage are expected for all district permittees:
100% - Edwards Conditional Class C and Class D permittees
75% - Edwards Conditional Class B permittees
30% - Edwards Historical and Conditional Class A permittees
30% - Trinity and Alluvial/Austin Chalk Historical permittees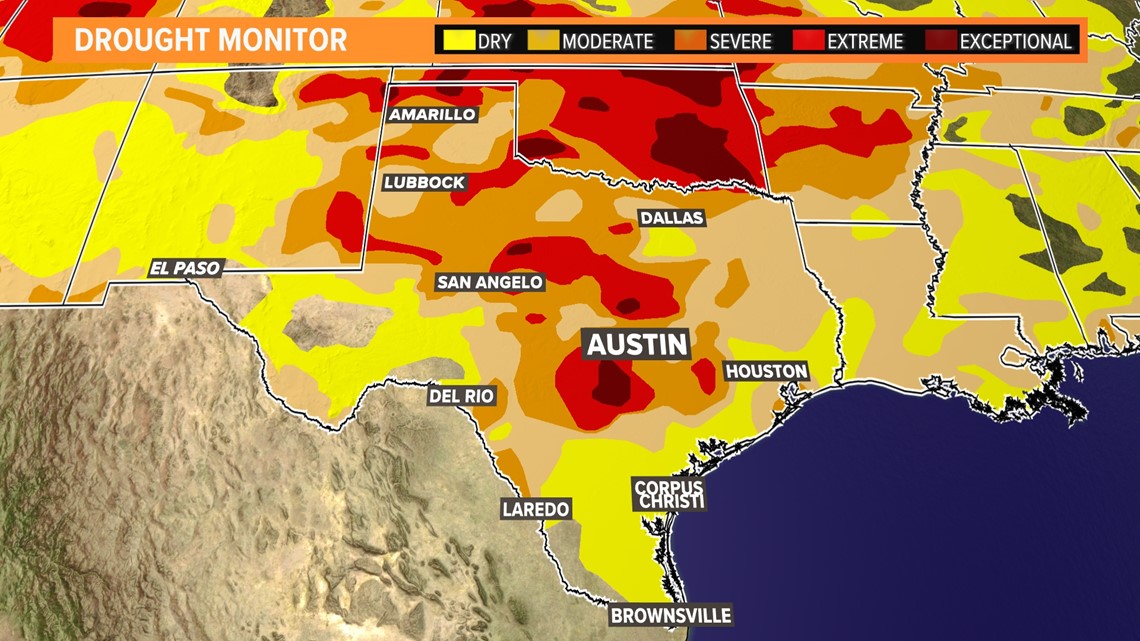 A new drought monitor was released Thursday morning detailing updates on drought conditions across the entire state. Overall, rain from earlier in the week helped bring improvements for levels of "moderate," "extreme," and "exceptional" drought. Levels of "severe" drought slightly increased.
The next best rain chances for Central Texas arrive for the beginning of next week as a cold front moves in. The KVUE Weather Team isn't expecting this system to bring drought-busting rain, but every drop is beneficial.