Editor's note: This blog is no longer being updated. Click here for the latest forecast.
** Tornado Watch has been cancelled for Travis, Williamson, Hays, Burnet and Blanco counties.**
7 p.m. – Williamson County officials reported that two separate tornadoes were possible. One was north of Florence, spotted at 5:25 p.m. and the other north of Jarrell spotted at 5:36 p.m.
The sheriff's office closed northbound and southbound traffic on Interstate 35 at mile marker 278 as the tornado appeared to be about to cross the highway.
No injuries were reported, though some have reported minor damage to homes.
6:15 p.m. – The Tornado Warning for Williamson County has expired.
5:40 p.m. – A tornado has been confirmed in northern Williamson County in the Florence area.
5:26 p.m. – A Tornado Warning is in effect for northern Williamson County until 5:45 p.m.
4:51 p.m. – A Severe Thunderstorm Warning is in effect for Burnet and Williamson County until 5:15 p.m.
4:13 p.m. – A Tornado Watch is issued for Travis, Williamson, Hays, Burnet and Blanco counties until 11 p.m.
3 p.m. – A Severe Thunderstorm Watch is issued for Mason County.
Previously
We're off to a cloudy and muggy start on this Tuesday morning. Gulf humidity continues to surge into Central Texas, setting the stage for a severe weather chance for this afternoon and evening.
Unfortunately, this remains a tricky forecast. We know that the ingredients for strong storms will be in place, however, it is unclear if storms will be able to develop because of warm, stable air aloft in the atmosphere. In the weather world, we call this a "cap."
We can get into the weeds all we want, but the bottom line is that we want everyone to be weather aware from 3 p.m. to 9 p.m. Tuesday due to the potential for severe storms capable of large hail, damaging winds and a low threat for tornadoes.
The Storm Prediction Center includes areas north of Austin in the "enhanced" – level 3 of 5 – risk for severe storms, and areas to the south of Austin in the "slight" – level 2 of 5 – risk.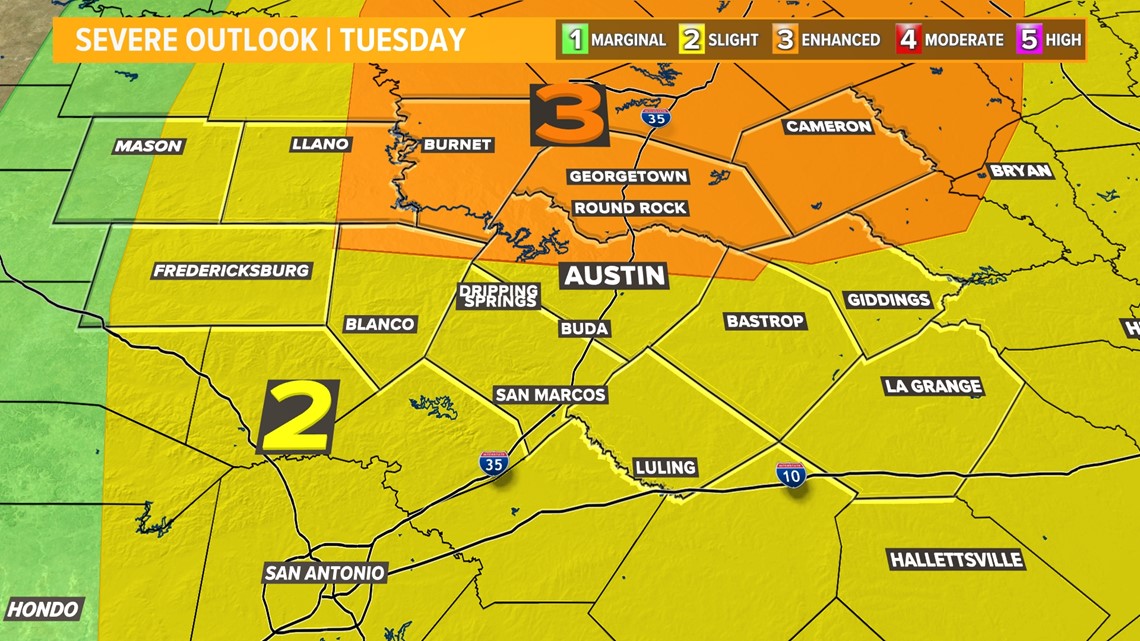 Timeline: Severe storms in Austin could impact the rush hour commute
Through this morning, we could have some spotty mist or drizzle or even a few showers or downpours, but there will not be any severe weather through the morning or afternoon.
The window for severe storms will open up at 3 p.m. as a dry line pushes into the Hill Country. This would be the focal point for storms if they are able to develop, but again there is some uncertainty in the coverage of storms due to the "cap" in place.
If the "cap" holds all afternoon, then it's possible that storms could miss us entirely to the north. However, if the "cap" breaks, then expect strong to severe storms to develop quickly west of Austin. As of right now, we are putting the chance of storms developing Tuesday right around 40 or 50%.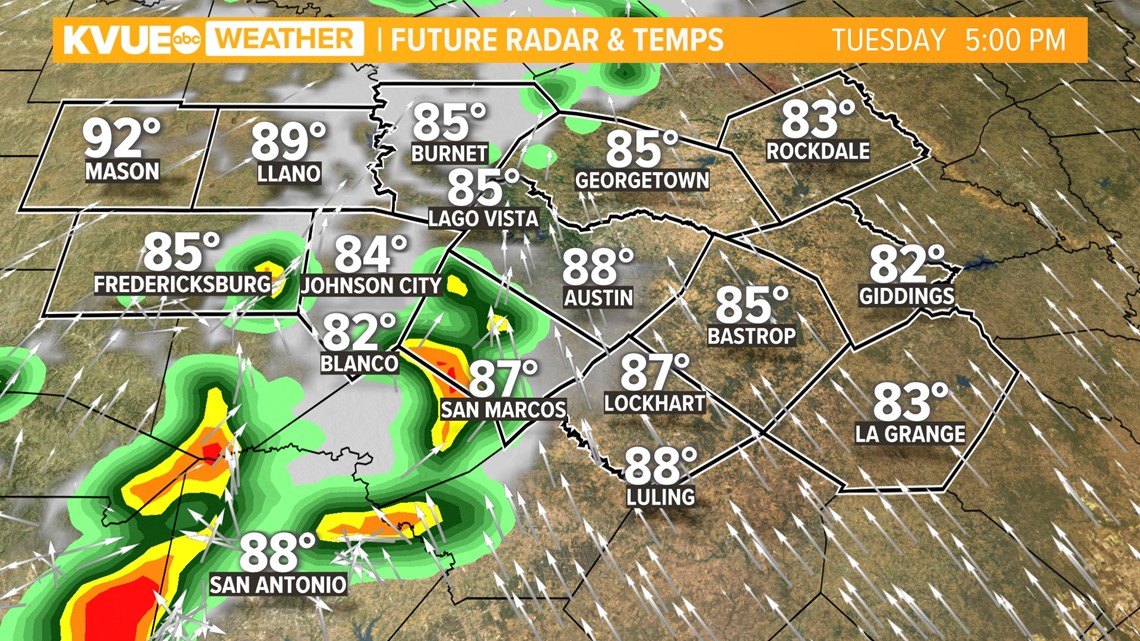 If these storms develop, then they could be rolling into the Austin area right around 5 or 6 p.m. during the heart of the rush hour commute.
Please check in with us before leaving work or school. The last thing we want is a bunch of people leaving work and driving into a severe storm.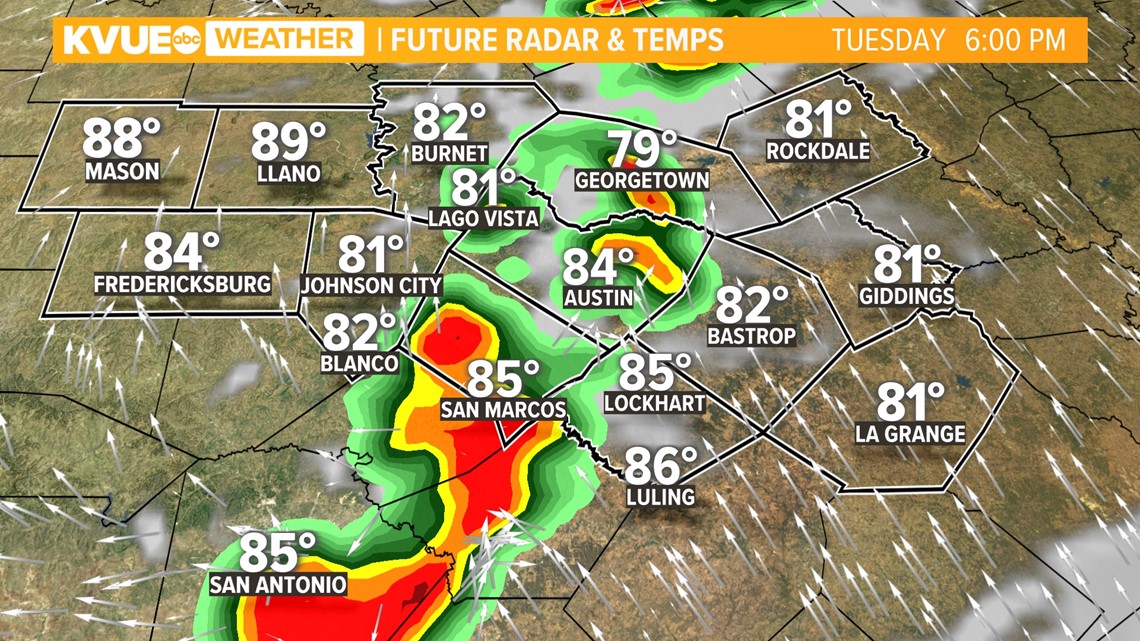 Storms would continue moving eastward into the early evening hours with the continued threat for hail and gusty winds, and perhaps a brief tornado or two.
The storm risk should shift to our east by about 9 p.m. Tuesday evening.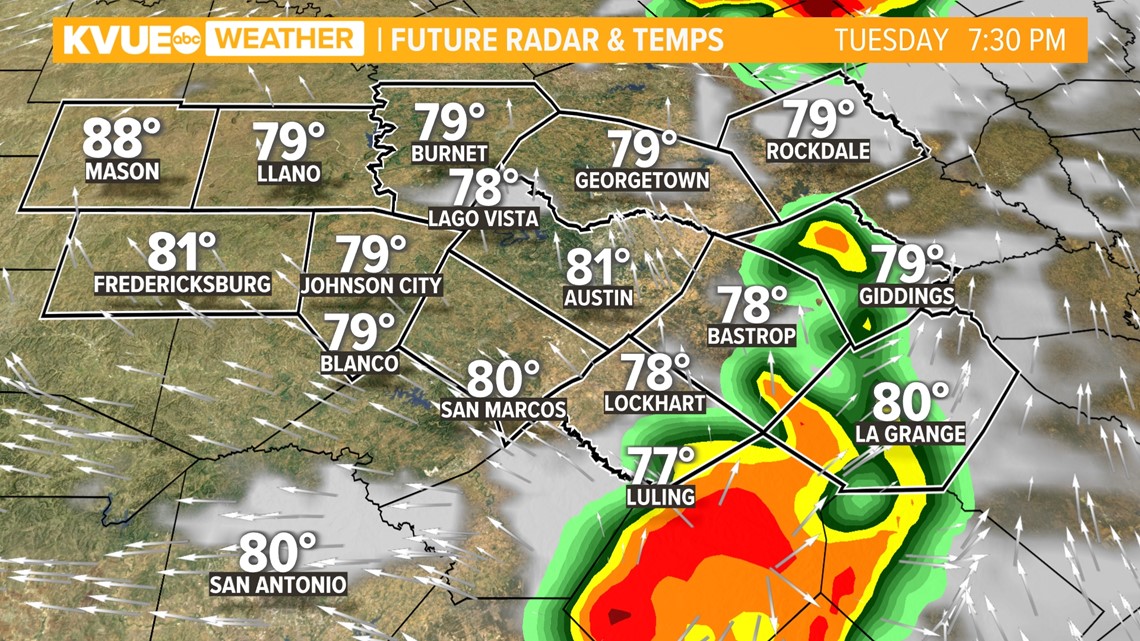 Storm threats: Hail is the main concern
Large hail will be the primary concern with any storms that develop in the afternoon or evening. Damaging wind gusts will also be possible, and there is a non-zero tornado threat that we'll have to watch.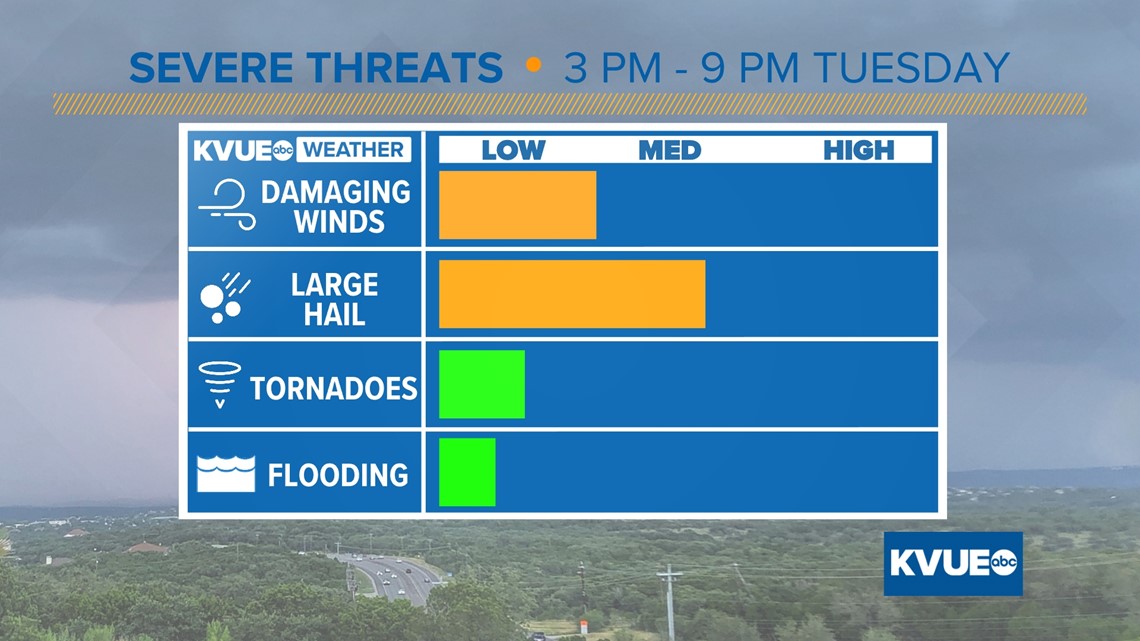 The KVUE Storm Team will continue to closely monitor this developing forecast.
In the meantime, the extended forecast can be found below: