AUSTIN, Texas — All eyes are on a strong Pacific cold front sweeping into Central Texas Friday afternoon, bringing an increasing likelihood of severe storms.
The Storm Prediction Center has now shifted the "enhanced" risk for storms toward the northeast, but this still includes Milam County. A majority of Central Texas is under a "slight" - level 2 out of 5 - risk for severe weather. The primary threats will be damaging winds and tornadoes, including the possibility of one or two significant tornadoes. Pockets of large hail will also be possible.
Make sure you have a way to get weather alerts between 6 p.m. and midnight. This is the overall severe weather window, but we have a detailed breakdown of the timeline below: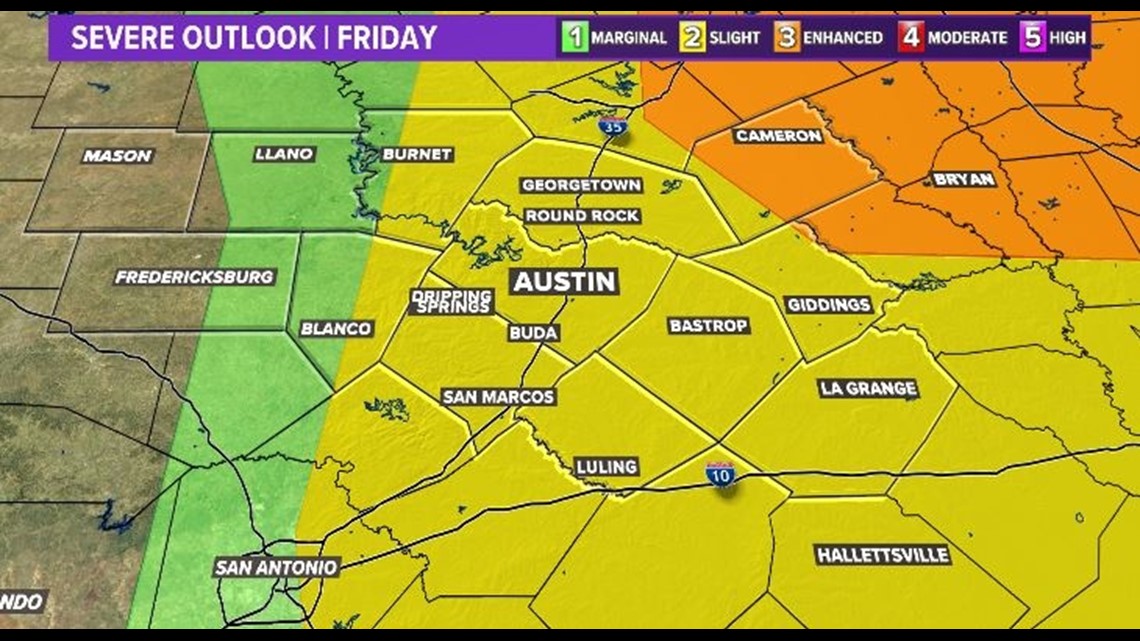 Watch live updates on the incoming storms here:
Timeline: When to expect the storms
Storms will develop along a cold front that moves in during the afternoon and late evening, but the crucial part of the forecast is where exactly the storms first develop. Do they develop west of I-35 and push right into the metro? Do they develop right over the I-35 corridor with a glancing blow and then move eastward? Or do they develop just east of I-35 and miss the heart of the metro altogether?
These are all realistic scenarios, but right now, our most reliable computer models show storms developing by early evening along I-35, with the threat for wind, tornadoes and some pockets of hail.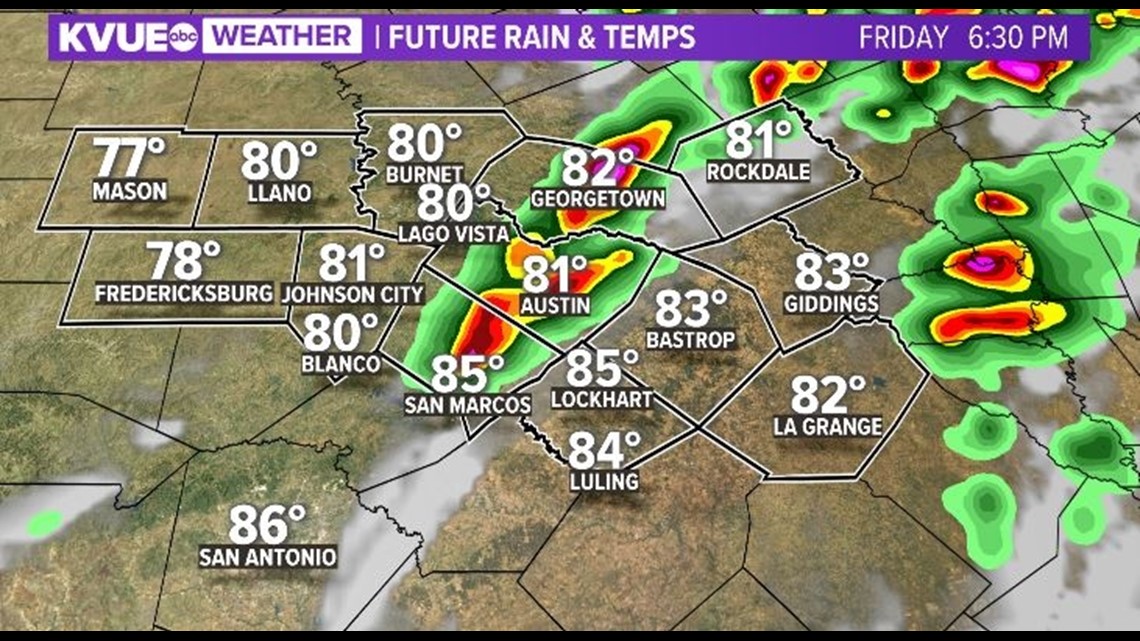 The storms then push east of the I-35 corridor during the later evening hours, with the main concern perhaps shifting to damaging winds as an organized line of storms develops.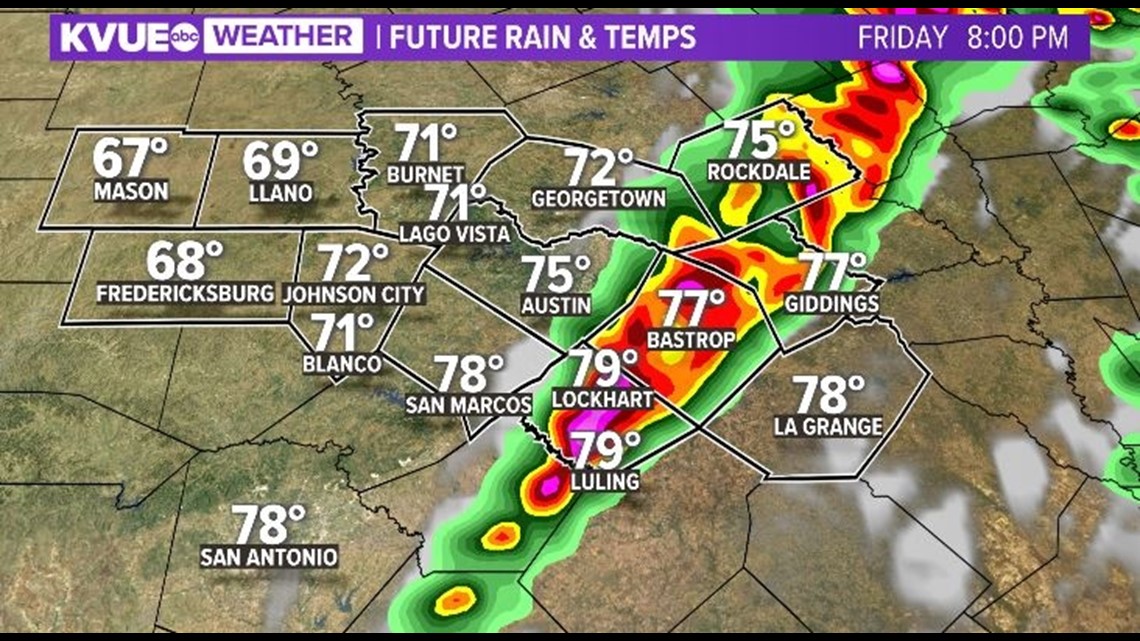 By midnight, the storms should be pushing out of Fayette and Lee counties, ending our threat for severe weather.
Cooler and drier air rushes in by Saturday morning as temperatures drop to the 40s and 50s.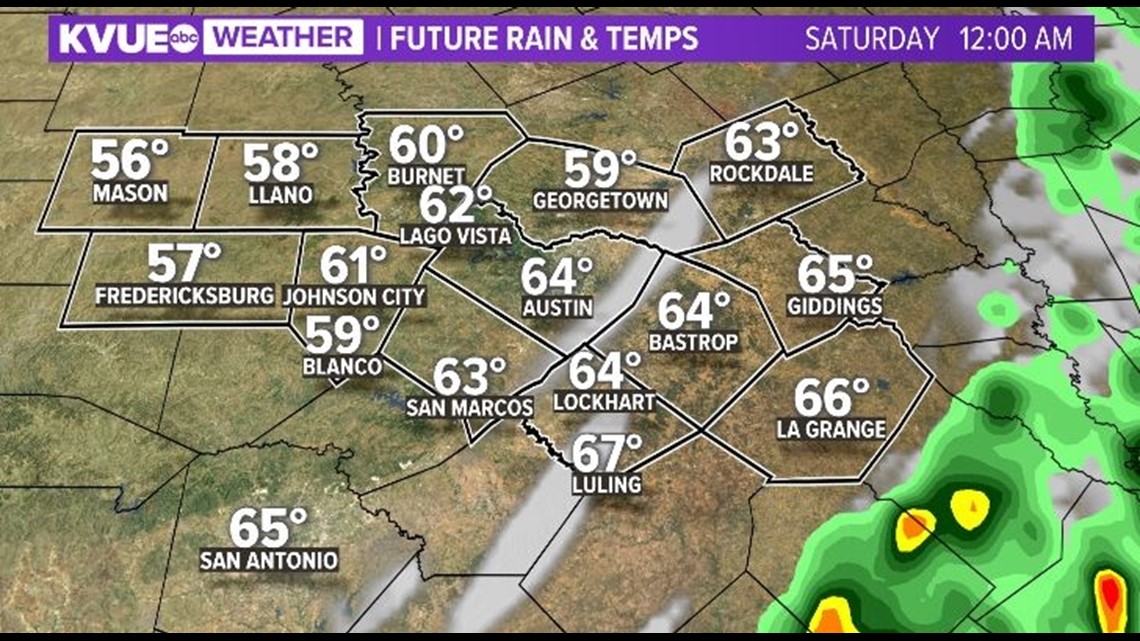 Following the storms, the rest of the weekend will be pleasant and mainly dry. Temperatures are back in the 80s for most of next week with some small rain chances but no major storm threats.
Stick with the KVUE Storm Team for the latest on this developing situation.
In the meantime, the 7 Day forecast is below.