AUSTIN, Texas — Latest updates:
1:37 a.m. – Severe thunderstorm watch has been canceled for Williamson, Travis, Hays, Caldwell and Bastrop counties. Severe thunderstorm watch remains in place for Lee and Fayette counties until 4 a.m.
12:45 a.m. – Austin Energy is reporting large outages in the northeast corridor, with more than 4,800 customers without power.
12:40 a.m. – The severe weather threat for those west of Interstate 35 has lowered as the storm moves east.
12:15 a.m. – A 52 mph wind gust has been recorded at the Austin airport.
12 a.m. – Three low water crossings are closed in southwest and South Austin, with four to use caution around. For more information visit atxfloods.com.
11:30 p.m. – A severe thunderstorm warning for parts of Central Texas has expired. The warning was issued until 11:30 p.m. for parts of Williamson, Hays, Travis, Blanco, Llano, Burnet and Comal counties.
11:04 p.m. – A severe thunderstorm warning now includes Burnet, Blanco, Williamson, Travis, Hays counties. Line of storms moves east at 30 mph.
10:05 p.m. – A severe thunderstorm warning now includes Gillespie County until 11 p.m. as the storm moves northwest.
9:50 p.m. – A flash flood warning has been issued for southwest Travis County, including portions of Austin, until 12:45 a.m. The storm has produced more than 1.25 inches of rain in 15 minutes and is sitting over the area, producing additional rainfall.
A severe thunderstorm watch is in effect until 10 p.m. for Gillespie, Llano and Mason counties. A severe thunderstorm watch is in effect until 4 a.m. for the rest of the KVUE viewing area. A severe thunderstorm watch means conditions are favorable for the development of severe storms within the watch area.
PHOTOS: Severe storms pass through Central Texas on Friday night
The Storm Prediction Center (SPC) has placed most of the area under an "enhanced risk" (3 out of 5) for severe storms. The main concern will come from severe storms producing damaging winds and large hail. An isolated tornado cannot be ruled out.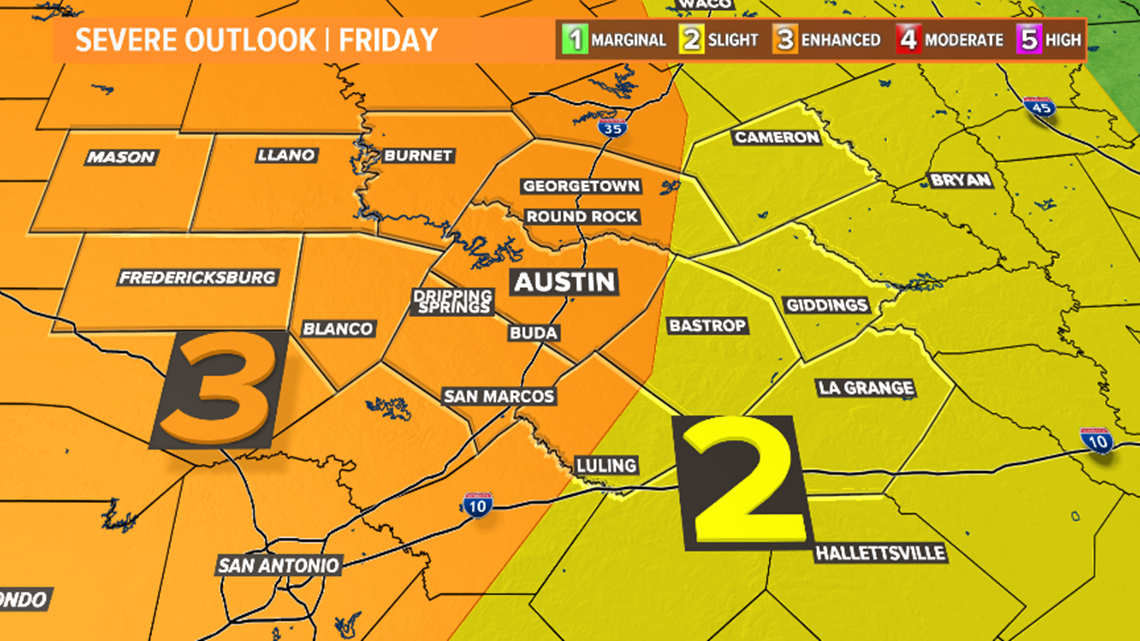 Timeline
9 p.m. – Storm chances increase, especially over the western Hill Country.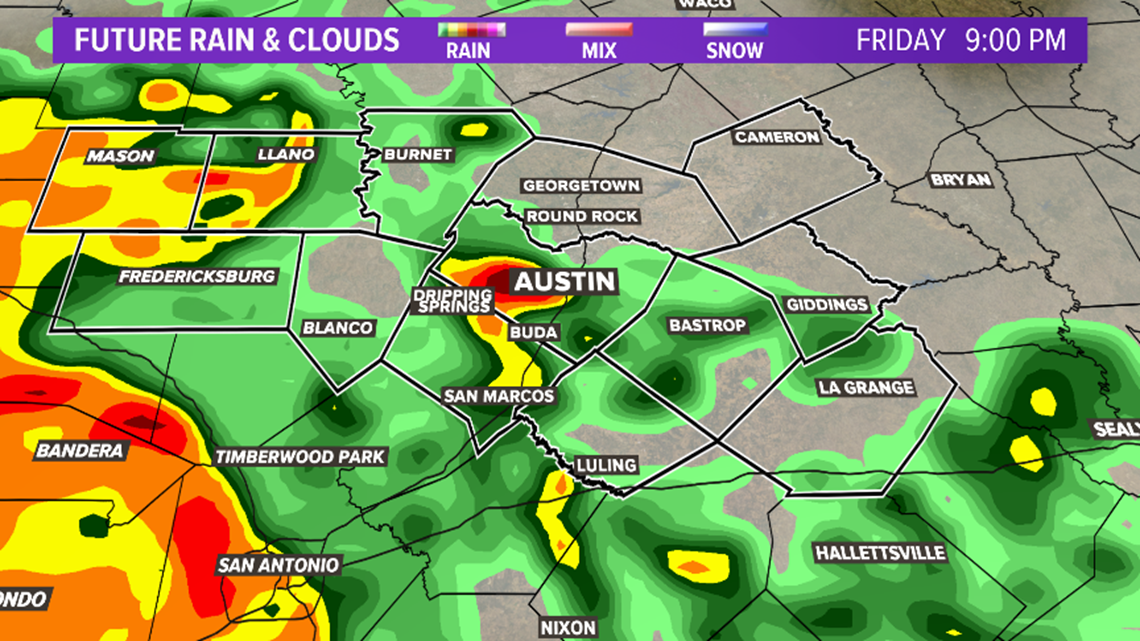 10 p.m. – Storms begin to approach the Austin metro.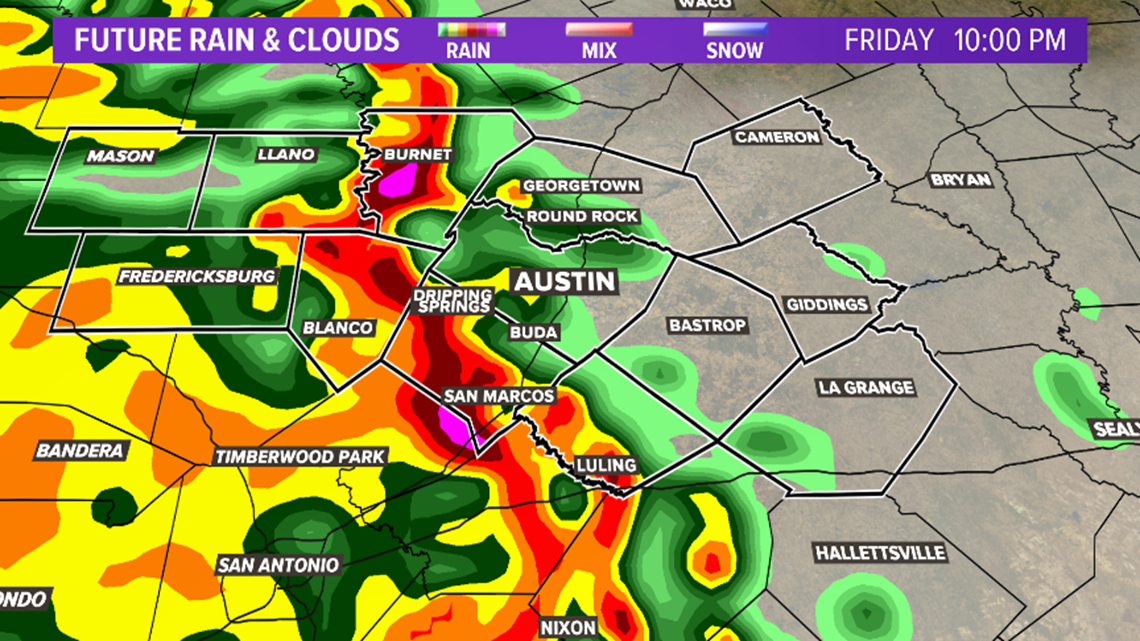 11 p.m. – Numerous showers and storms for the Austin metro and Hill County.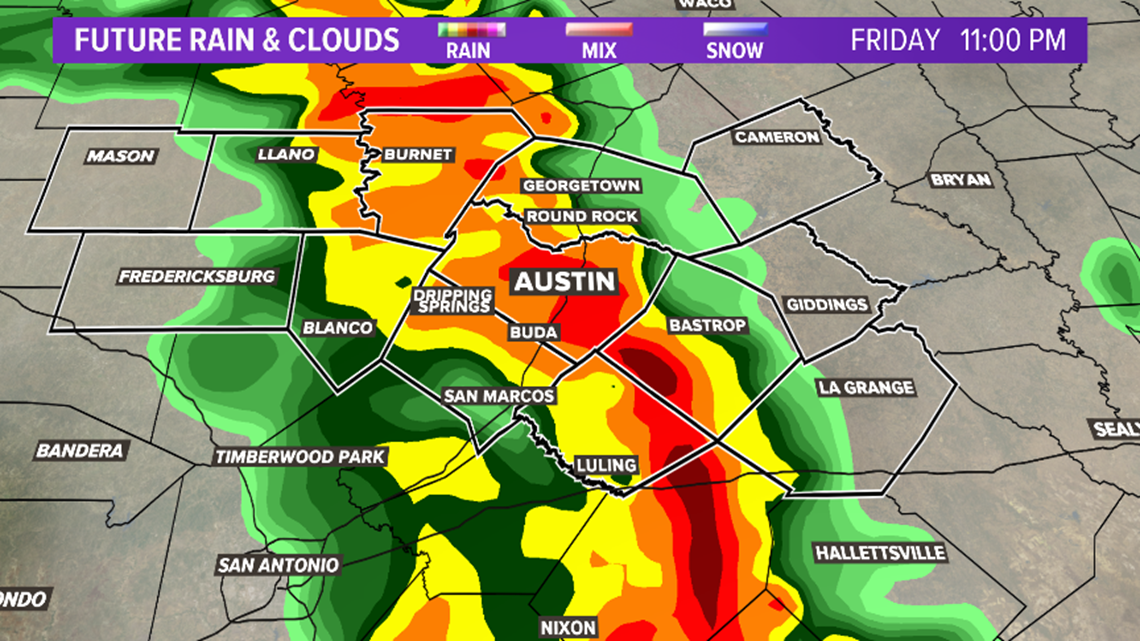 Midnight – Storms likely for Austin and for areas east of Interstate Highway 35.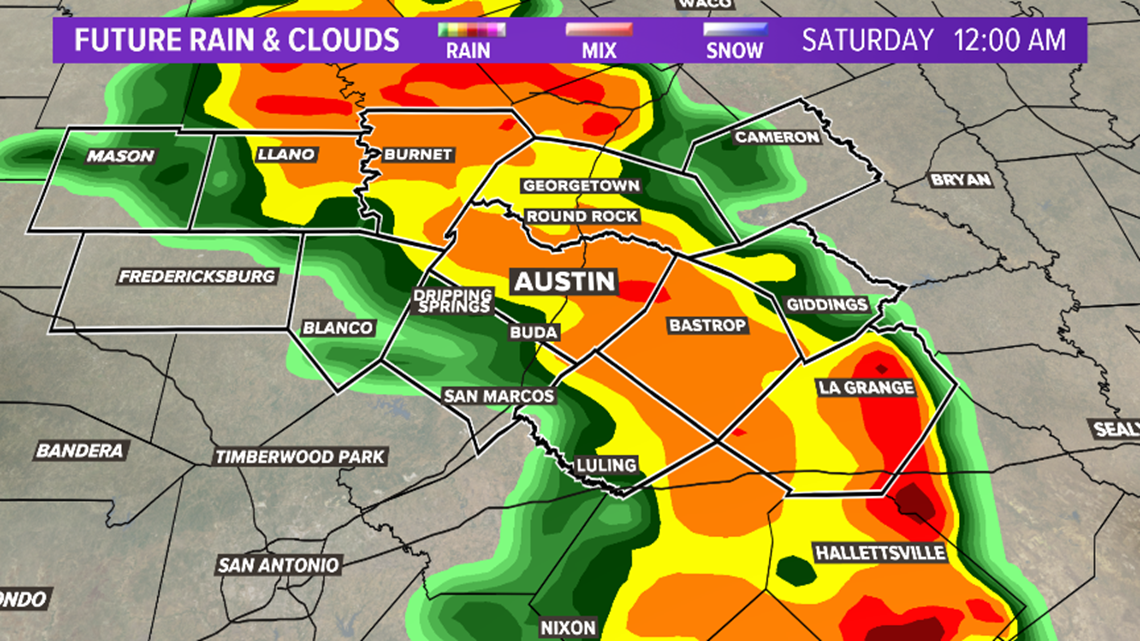 1 a.m. – Lingering showers and storms across the area, but the severe threat should be east of Austin.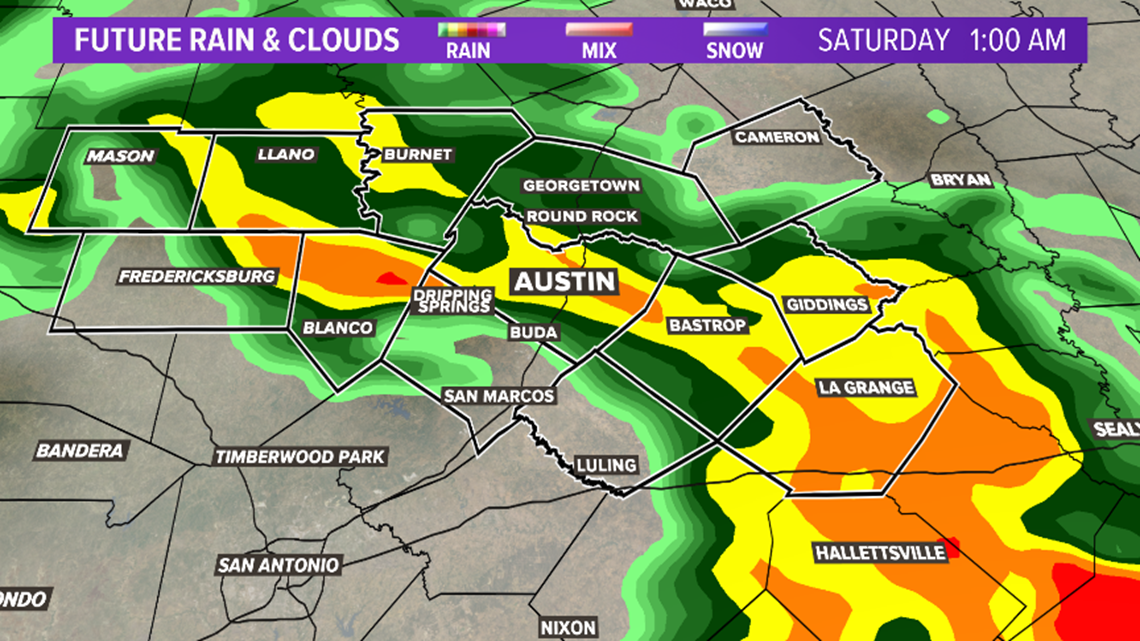 4 a.m. – Showers possible, but the severe weather threat will be over.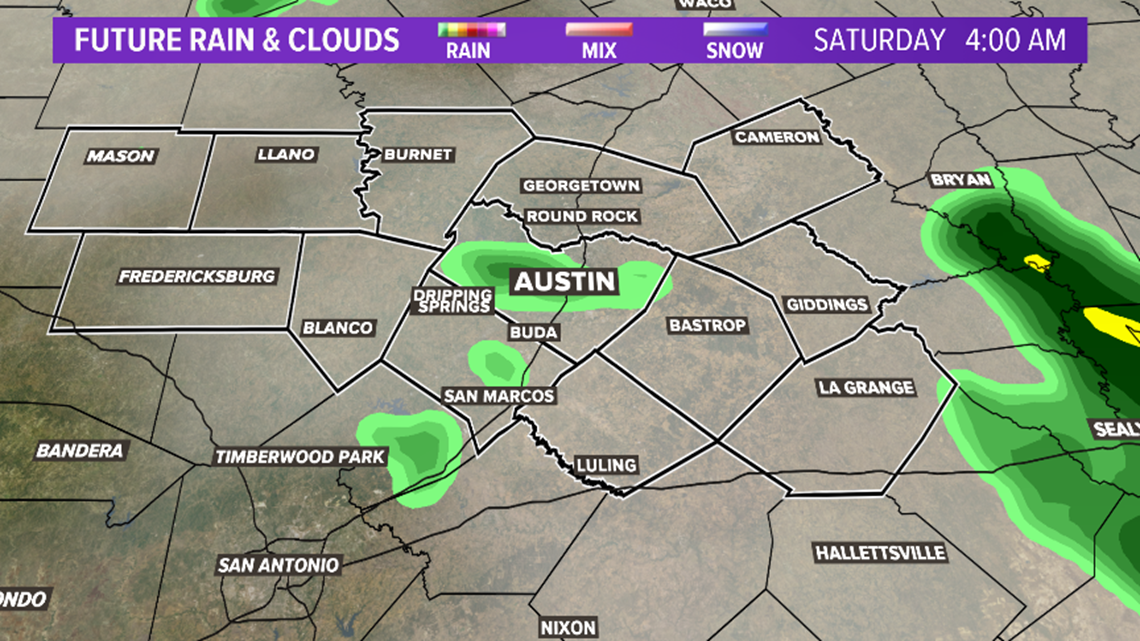 Scattered rain is possible on Saturday, with highs in the low 80s. It will be in the mid-80s and mainly dry for Sunday. Expect much warmer and drier weather for the next workweek.