AUSTIN, Texas — *A Heat Advisory will be in effect for Mason County from 1 p.m. to 9 p.m. on Wednesday.
Triple-digit heat arrived in Central Texas to start the workweek, and it doesn't look like it's going anywhere anytime soon.
In fact, we are not predicting a single day over the next seven when we will have highs fall short of 100 degrees.
Monday brought record-tying temperatures with a high of 103 degrees. This also brought our hottest day of the year so far – not to mention, we've already surpassed the hottest temperature we felt in 2021, which was 102 degrees.
We also broke Tuesday's daily record of 100 degrees set back in 2011 and 2008 with a recorded high of 103 degrees.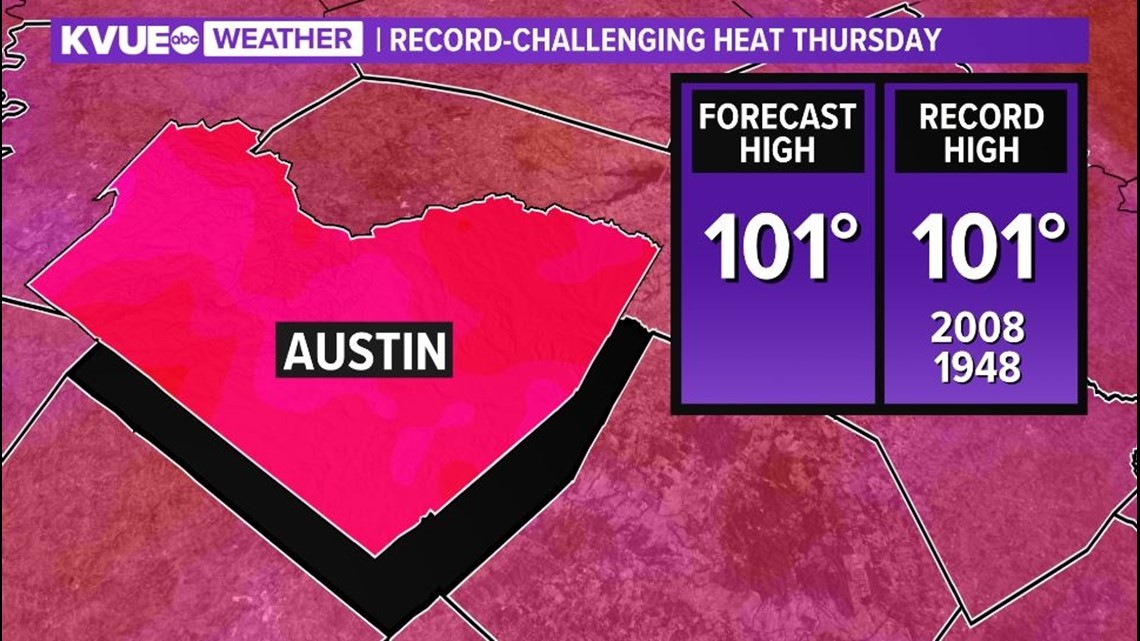 This is dangerous heat that could be high enough for heat illnesses to occur. These illnesses are caused mainly by dehydration, so it is important that you take all of the necessary precautions such as drinking plenty of water, limiting time outside and applying sunscreen if you're planning to be out on or in the water.
Some of these heat illnesses include heat exhaustion and heat stroke. These are two totally different illnesses on their own but have similar symptoms: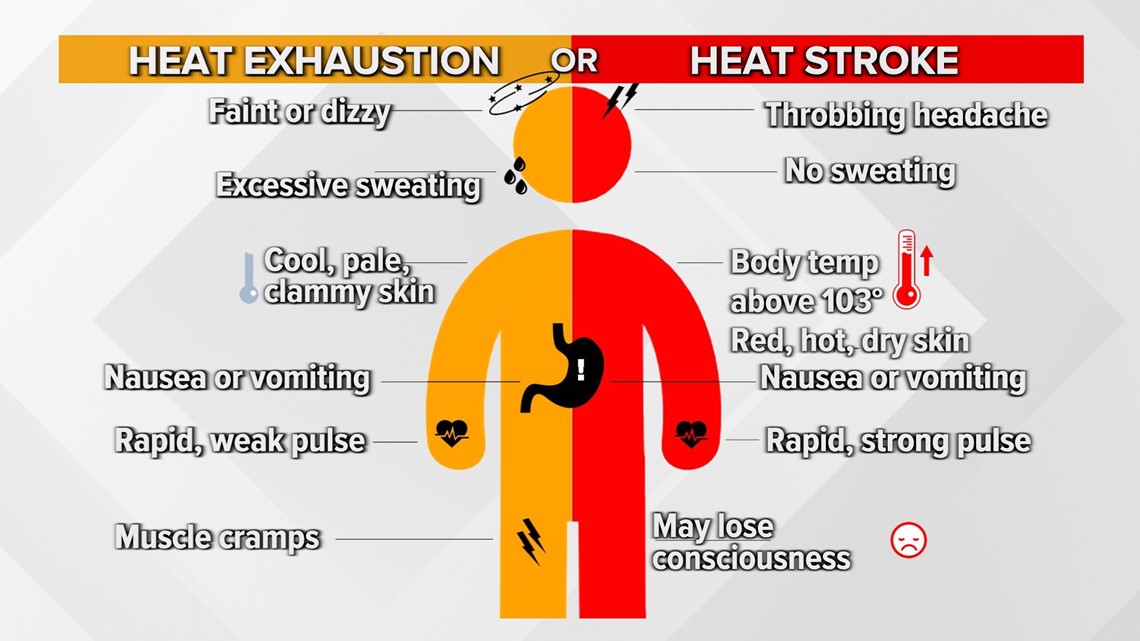 For example, when it comes to how the illnesses affect a person's head, in heat exhaustion, the person may feel faint or dizzy, whereas heat strokes are accompanied with throbbing headaches.
Additionally, only those with heat exhaustion will sweat, and they will do so excessively.
While both conditions involve nausea and vomiting, those with a heat stroke will have a stronger pulse and could lose consciousness. As a result, it is important that if you witness anyone potentially suffering from a heat stroke, immediately call 911 and make sure that you are taking cooling precautions with them until help arrives.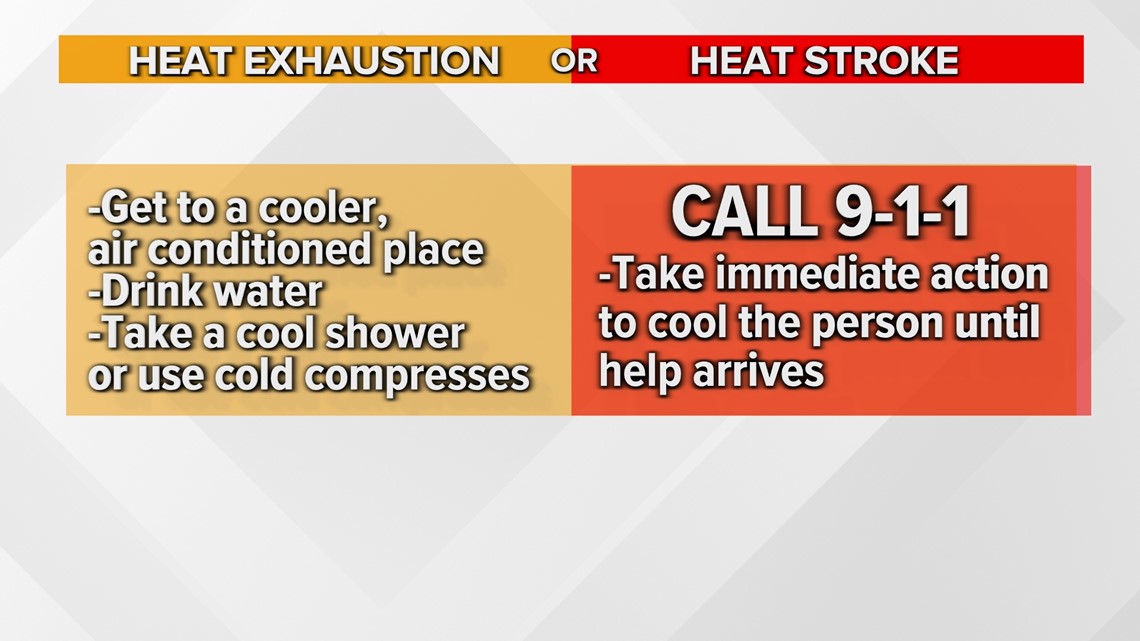 For those with heat exhaustion, immediately get to a cooler location with sufficient air conditioning, drink plenty of water and take a cool shower as well.
Austin Emergency Management said Monday that Austin Public Library (excluding St. Johns) and Austin Recreation and Senior Center locations will be open as cooling centers during regular business hours for people who need a safe place to cool off.
With all of this in mind, many may be asking this question:
When will we see cooler temperatures?
Unfortunately, this dry and hot pattern will continue for at least the next seven days, as an area of high pressure builds in from northern Mexico, bringing in what is called Continental Tropical air, a technical term for hot and dry air.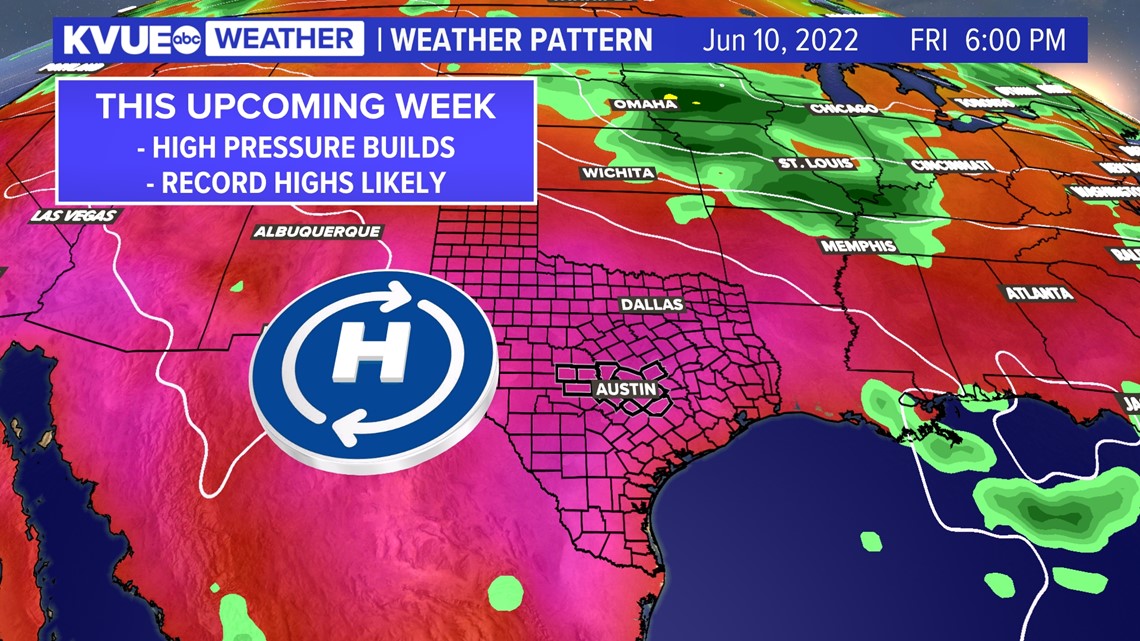 As a result of that air mass, we'll stay hot and dry over the next several days.
We'll continue to monitor the heat across Central Texas and provide updates on air and online. Here is a look at your extended forecast: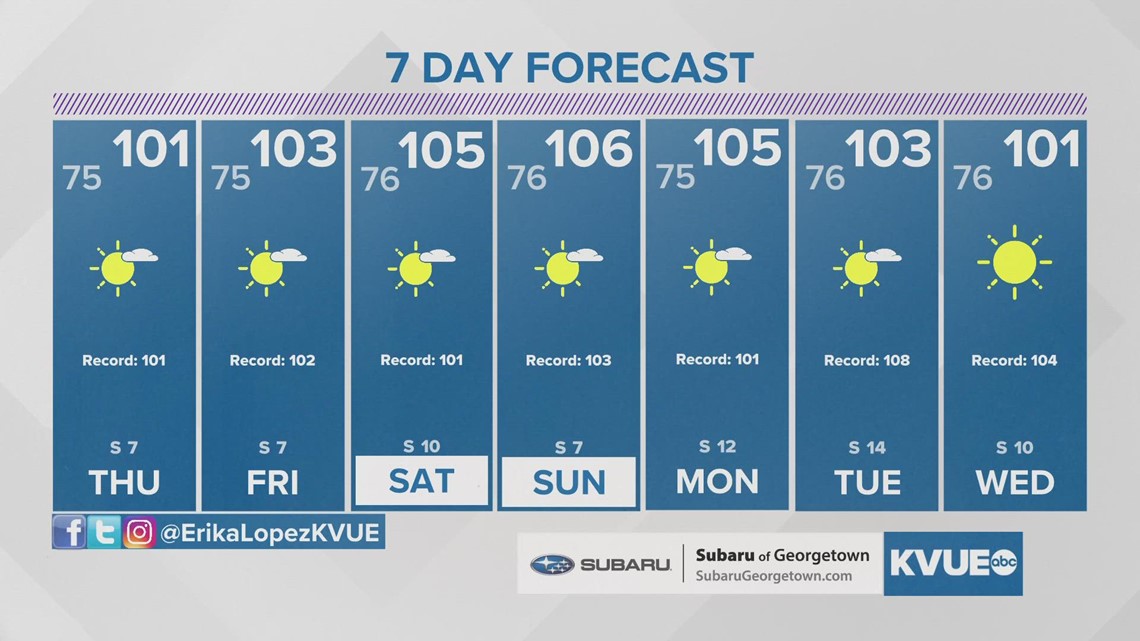 Stick with the KVUE Storm Team for the latest on this heat wave.