***THIS BLOG IS NO LONGER BEING UPDATED. FOR THE LATEST FORECAST, CLICK HERE.***
Strong to severe storms remain possible across Central Texas through the remainder of the afternoon.
A Tornado Watch has been issued for areas along and east of Interstate 35 through 5 p.m. due to the threat of storms capable of large hail, damaging wind gusts, and a few tornadoes. It was canceled for Travis and Williamson county just before 3 p.m.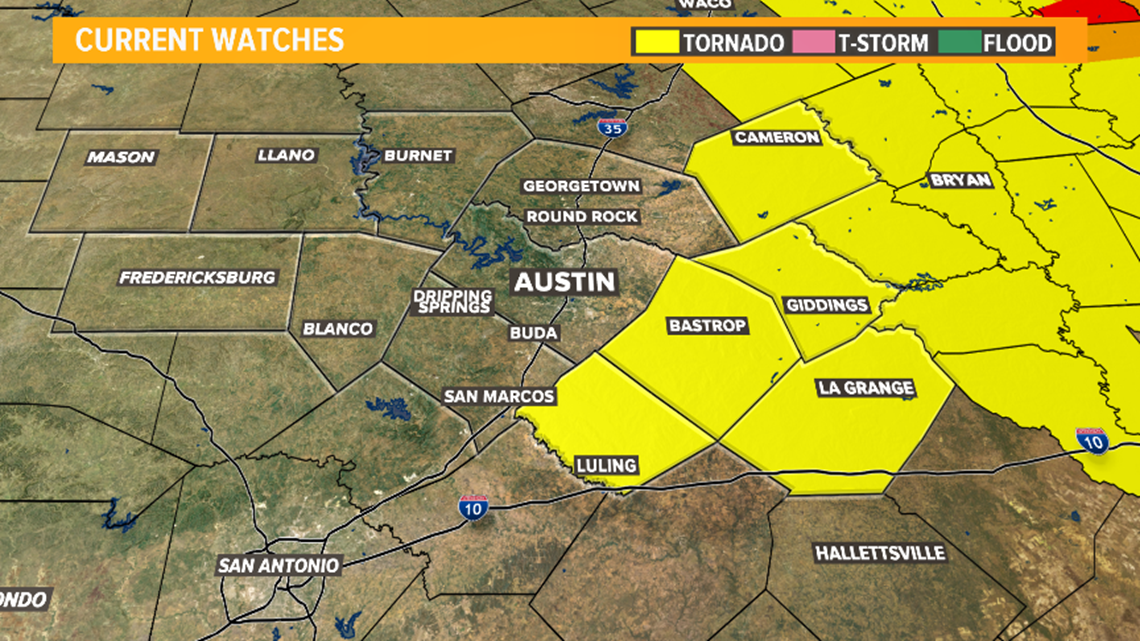 The latest outlook from the Storm Prediction Center maintains the 'slight' - level 2 of 5 - risk for severe storms for areas north and east of Austin.
The highest severe storm risk remains largely outside of the KVUE viewing area where the enhanced - level 3 of 5 - risk has been outlined.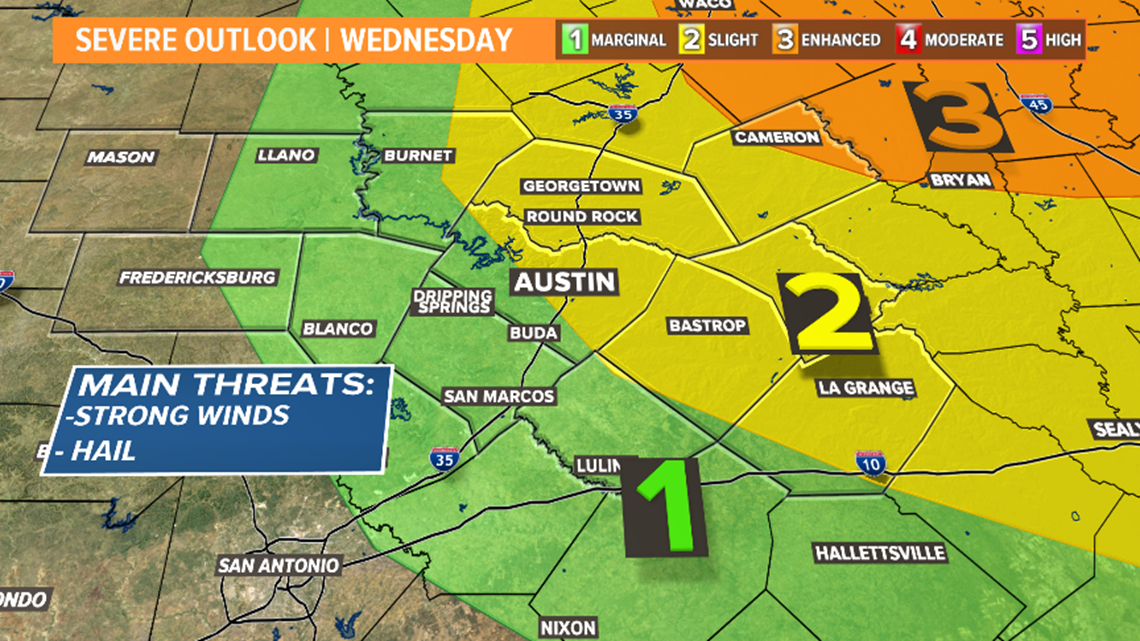 Here are today's live updates:
2:55 p.m. – The Tornado Watch is canceled for Travis and Williamson counties.
2 p.m. – While the severe weather risk is coming to an end for the Austin metro area, we're still keeping an eye severe storms that are possible in the eastern counties through 5 p.m.
12:22 p.m. – Another thunderstorm, which is not expected to be severe, is moving through eastern Williamson County. Taylor residents should expect more heavy rain and lightning.
11:56 a.m. – In anticipation of severe weather in Central Texas, along with North and East Texas Wednesday, Gov. Greg Abbott is preparing state resources.
"The Texas Division of Emergency Management (TDEM) has rostered Texas A&M Forest Service Saw Crews, Texas Parks and Wildlife Water Rescue Boats, Texas A&M Engineering and Extension Service Urban Search and Rescue and Swift Water Rescue Boat Squads, and Texas Department of State Health Services Ambulance Strike Teams," the governor's office said in a statement.
11:30 a.m. – All Warnings for the area have expired.
11 a.m. – A Tornado Watch has been issued for much of Central Texas until 5 p.m. Storms could be capable of producing large hail, strong wind gusts and a few tornadoes.
10:45 a.m. – Reports of hail in North Austin and Round Rock.
10:36 a.m.: Severe Thunderstorm Warning issued for Travis, Williamson counties until 11:30 a.m. Wind gusts of up to 60 mph and quarter-sized hail.
When to expect the storms
The atmosphere remains primed for additional scattered storm development through the late afternoon hours.
The latest hi-res guidance shows scattered storms trying to develop again by the mid afternoon hours.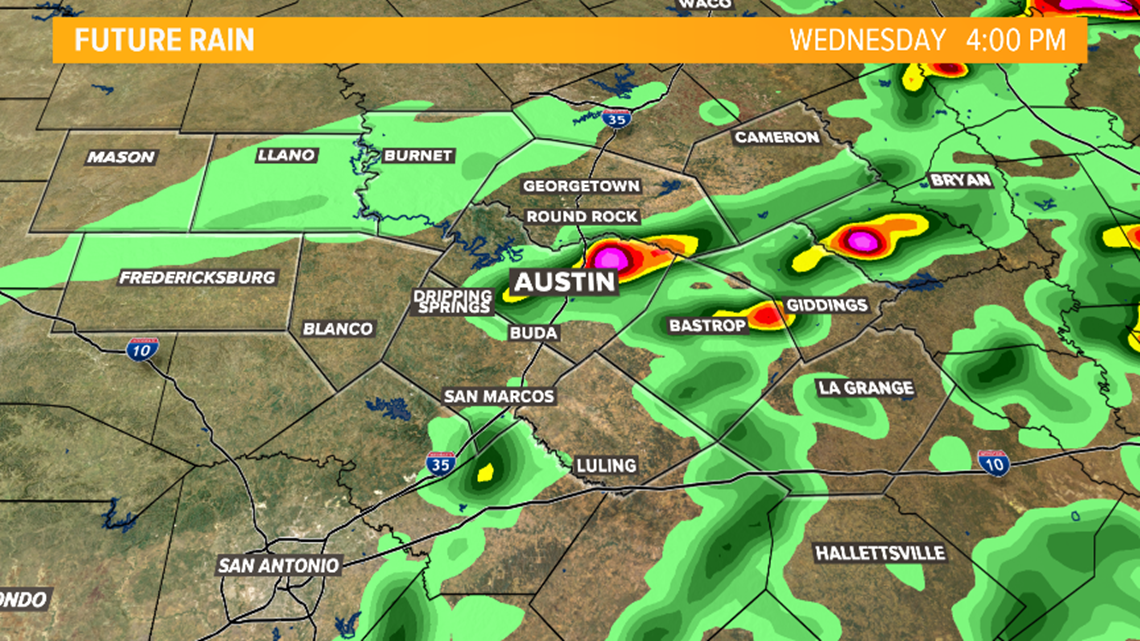 It's not a guarantee that these storms re-develop, but if they do they have the potential to be strong to severe.
Scattered storms remain possible through 5 or 6 p.m., but after that point the storm threat will end and a cold front will bring in a drier air mass overnight.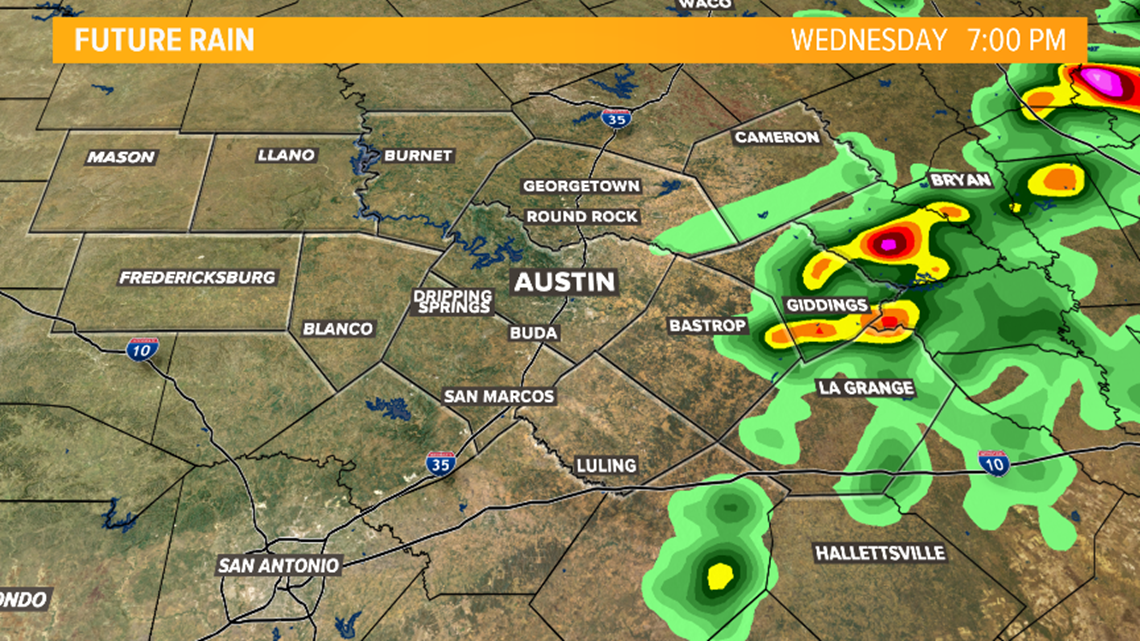 Hot and dry to end the week
The good news with the mid-week disturbance is that it will move through fairly quickly and, by Thursday and Friday, dry weather will return to the forecast.
It will also once again turn hotter with afternoon highs near 90 degrees by Friday.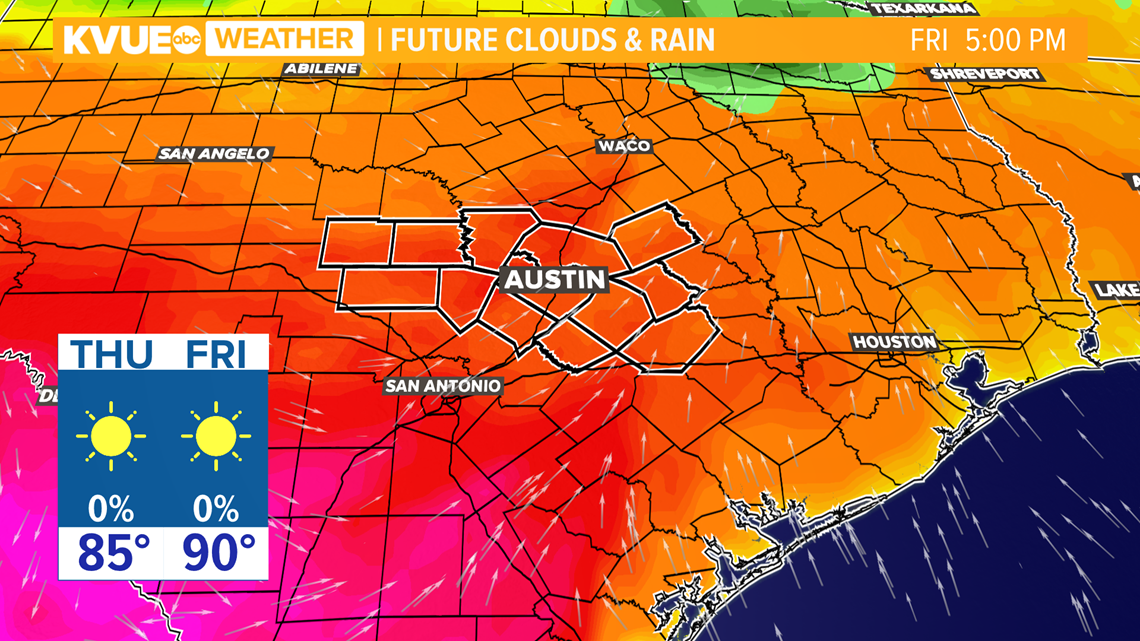 The KVUE Storm Team will continue to closely monitor this developing forecast.
The extended forecast can be found below: