AUSTIN, Texas — A Flood Warning has been issued for Onion Creek after heavy rain on Oct. 14.
According to the National Weather Service, a Flood Warning has been issued for the Travis County river at U.S. 183 until after midnight Thursday. At 7 a.m., the flood stage at the river was at 15 feet. The flood stage is 17 feet, so minor flooding is in the forecast.
The Onion Creek river is expected to rise above the flood stage Thursday morning and get to 19 feet in the afternoon. It will then fall below that level in the afternoon and remain below the flood stage.
For an idea of what to expect, the National Weather Service gave some context. When Onion Creek reaches 20 feet, minor lowland flooding threatens secondary roads, but neighborhoods along Onion Creek are not affected.
Upstream at the 12000 block of Old San Antonio Road, it is likely flooded and not passable, the NWS said.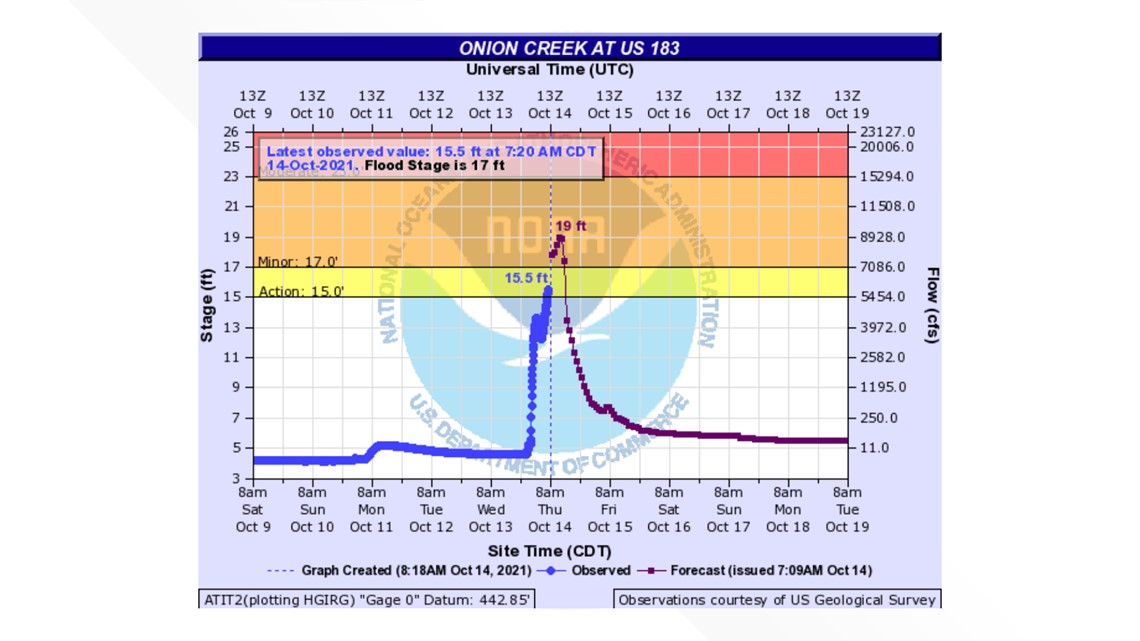 On June 4, 1987, Onion Creek reached a crest of 19.8 feet. On Oct. 31, 2013, the river crested at 40.15 feet, and on Oct. 20, 2015, Onion Creek crested at 39.22 feet.
Many roadways are flooded, with dozens of low-water crossings closed Thursday morning.