AUSTIN, Texas — It has been a week across the Austin metro and Central Texas!
The entirety of Central Texas was under a Winter Storm Warning as a result of freezing rain that reached over a half an inch in accumulation in many areas. Some areas, especially an area nine miles south-southeast of Llano, received over three-quarters of an inch of ice accumulation.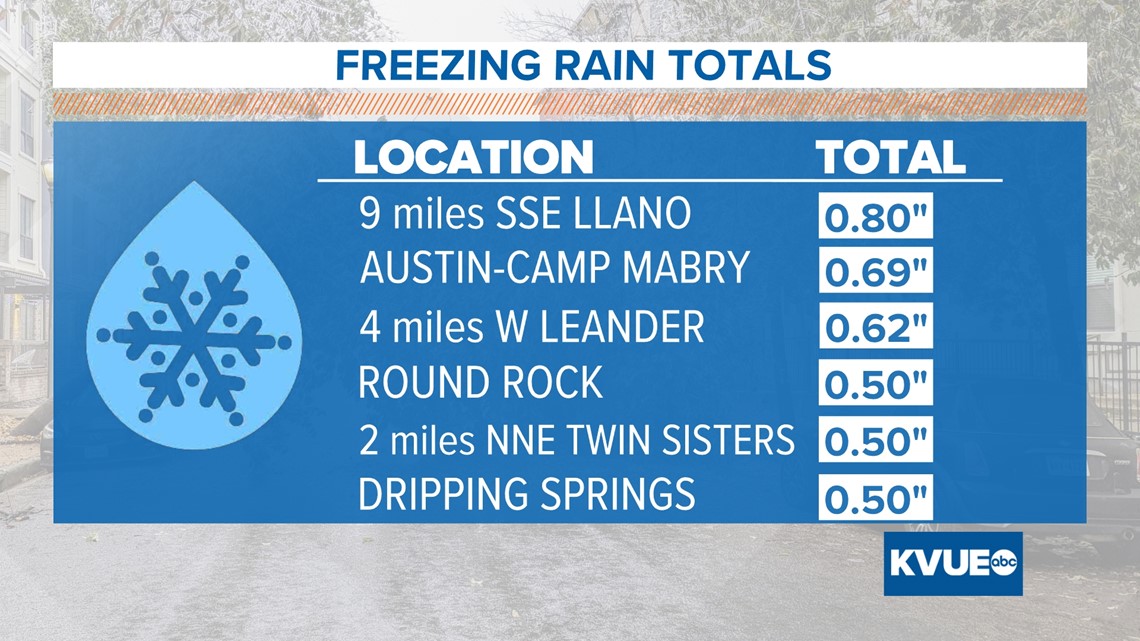 It isn't the first time Central Texas and the Austin metro has been hit with a ice storm.
Right before Christmas in 1998, just shy of a tenth of an inch of ice accumulation was recorded at Camp Mabry. This was enough to create treacherous driving conditions. These conditions led to roughly 400 crashes in the Austin area and three deaths in Travis County.
Then came the winter storm of late February 2003, when there was substantially more ice accumulation that accounted to over one inch in spots. Additionally, thundersleet and thunder-freezing rain were recorded as thunder accompanied the wintry mixture. The storm knocked out power to 11,000 homes in North Austin and caused Interstate 35 to be shut down, as many bridges and overpasses were caked in over one inch of ice accumulation.
Nearly four years later, from Jan. 15 through Jan. 17, 2007, a winter storm left between a half of an inch to three-quarters of an inch of ice accumulation. Much like the 1998 and 2003 events, this storm also caused numerous incidents across Central Texas, and schools and businesses were closed for days as a result. Additionally, over 150 flights were canceled at the Austin-Bergstrom International Airport, and the storm also caused 35,000 customers to lose power. The recovery cost the City of Austin nearly $1.6 million in crews and overtime.
Finally, who could forget the Feb. 11 through Feb. 18, 2021 massive winter storm, sometimes known as "Snow-Vid"? While this event is best known for its historic snowfall totals and the catastrophic failure of the Texas power grid that led to many deaths due to hypothermia, there was also a freezing rain component to this storm.
Central Texas reported ice accumulation totals around a quarter of an inch while some areas saw nearly three-quarters of an inch. This storm created dangerous road conditions, which caused a pileup on the interchange between US 183 and MoPac.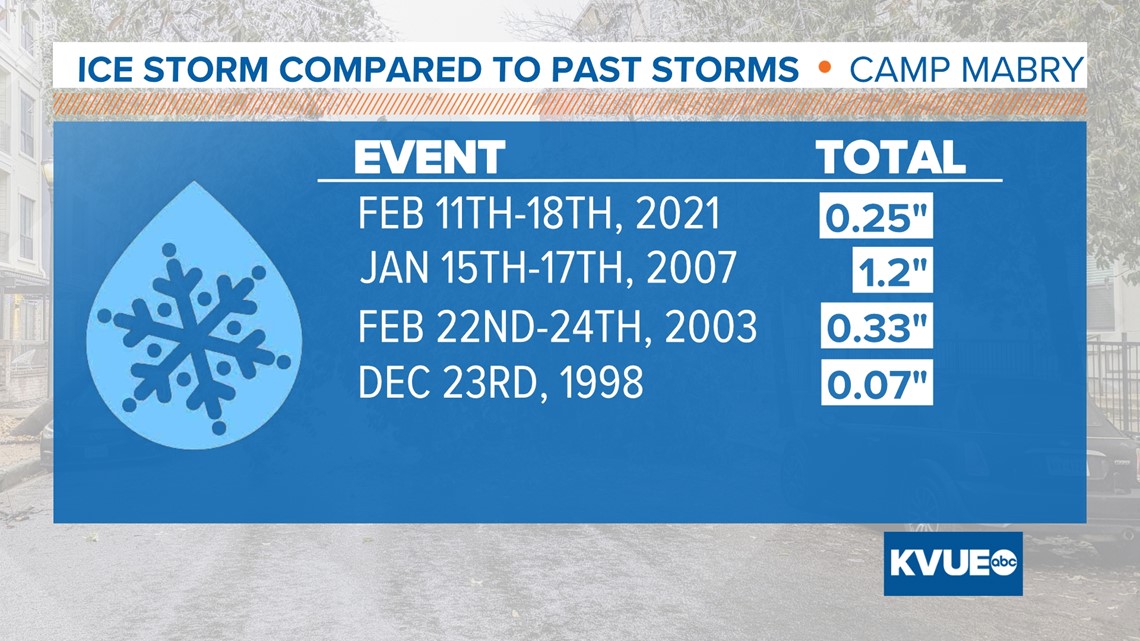 Cleanup and power restoration efforts are underway after this week's Winter Storm Warning expired at 10 a.m. on Thursday, Feb. 2. However, this storm serves as a reminder of how quickly weather can change in Central Texas during the winter.