AUSTIN, Texas — We're reached the midway point of the workweek, and it'll only get warmer from here as we head toward the weekend.
Thursday morning will be seasonable in the mid and upper 60s with patchy fog possible. By midday, cloud coverage should decrease as we eventually warm up into the lower 90s. As the summer months approach, it's important to remember to protect your skin outdoors. The UV Index will be a 10 on Thursday, which is considered "very high".
Wednesday through Friday will be just about completely dry while afternoon temperatures trend slightly warmer with each afternoon peaking in the low 90s.
Rain chances return for this upcoming weekend, beginning with an isolated storm chance on Saturday. Sunday looks like the wetter day as rain chances have now increased to 40 percent. It's not washout weather, but scattered storms will be possible Sunday and could potentially linger into early next week.
7-day rainfall totals are not overly impressive, but some across the Hill Country could pick up as much of a half inch to one inch of rainfall.
Hurricane season officially begins on Thursday and we're already monitoring an area of potential tropical development in the Gulf of Mexico. The chances of development are low and this system would not impact Texas.
WEDNESDAY MORNING:
Seasonable with patchy AM fog possible. Southeast wind at 5 mph.
LOW: 68
WEDNESDAY:
Mostly sunny afternoon and warm. Southeast wind at 5 to 10 mph.
HIGH: 91
WEDNESDAY NIGHT:
Mostly clear. South wind at 5 to 10 mph.
LOW: 69
THURSDAY:
Partly cloudy and warm. South wind at 5 to 10 mph.
HIGH: 91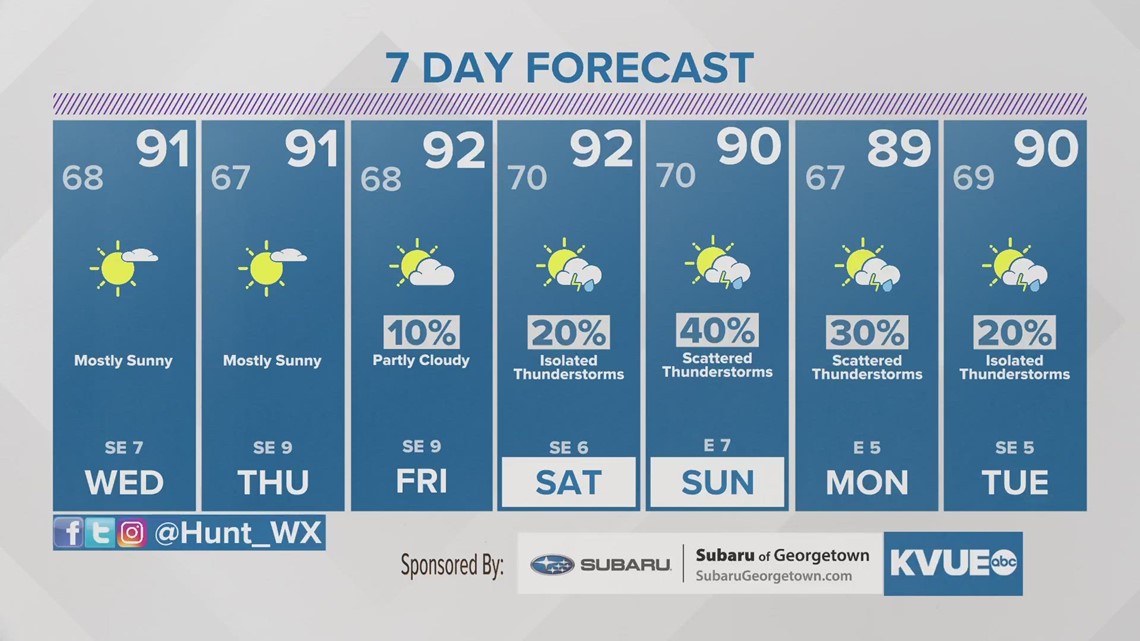 Check out the live radar for what you can expect the rest of the day and into the workweek.