AUSTIN, Texas — *An Ozone Action Day is in effect for Williamson, Travis, Hays, Bastrop and Caldwell counties on Saturday due to the possibility of elevated ozone air pollution. Those with chronic lung conditions should limit exposure outdoors.*
After a very refreshing Saturday morning, temperatures warm to the mid- and upper 80s for Saturday afternoon under a sunny sky. We continue to monitor elevated fire weather conditions for this weekend.
The weather will be great for the Texas vs. West Virginia game with kickoff temperatures in the low to mid-80s, falling to the 70s by the second half. Enjoy!
Sunday morning drops down to the 50s once again, with the coolest low-lying valleys in the Hill Country dropping to the 40s. Sunday afternoon will bring an increase in high clouds, but will still be pleasant with highs in the 80s.
With the exception of some added cloud cover thanks to upper-level Pacific moisture, next week is the same old same old. Afternoons will be slightly warmer in the low 90s, and mornings will be slightly cooler than average in the 50s and 60s.
Air moisture will slowly start to increase throughout the workweek as flow shifts from the southeast by the midweek.
Unfortunately, there is still no sign of rain over the next seven days. The last measurable rainfall for Austin was on Sept. 7.
SATURDAY:
Sunny and warm. East-northeast wind at 5-10 mph.
HIGH: 89
SATURDAY NIGHT:
Mostly clear. Cool. East wind at 5-10 mph.
LOW: 57
SUNDAY:
Partly cloudy and warm. East-northeast wind at 5-10 mph.
HIGH: 88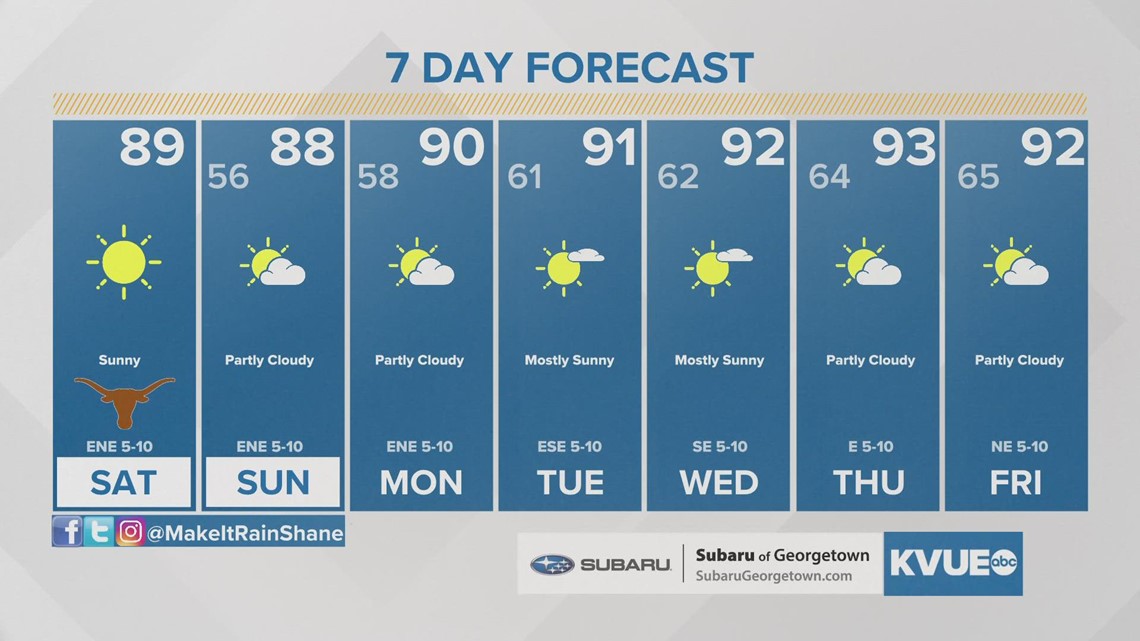 Check out the live radar for what you can expect the rest of the day and into the workweek.