AUSTIN, Texas — Rain has come to an end across Central Texas and the sky will gradually clear through the remainder of the morning and afternoon. The afternoon ends up quite nice with sunshine and cooler afternoon highs around 80 degrees.
With our beneficial rain now in the books, the rest of our forecast looks almost completely dry. The heat will quickly return to the forecast with low to mid-90s by Thursday and Friday.
We trend even hotter through the Memorial Day weekend. Saturday and Sunday will bring plenty of sunshine with highs in the mid-90s. An early look ahead to Memorial Day shows a partly sunny sky, but otherwise a dry day with highs around 95 degrees.
Cloud cover may increase slightly early next week with a small chance for rain by Tuesday. However, the overall pattern continues to look hot and mainly dry.
WEDNESDAY:
Afternoon clearing. Cooler. Northwest wind at 5 to 10 mph.
HIGH: 80
WEDNESDAY NIGHT:
Mostly clear. Cool night. Northwest wind at 5 mph.
LOW: 60
THURSDAY:
Sunny and hotter. Southwest wind at 5 to 10 mph.
HIGH: 91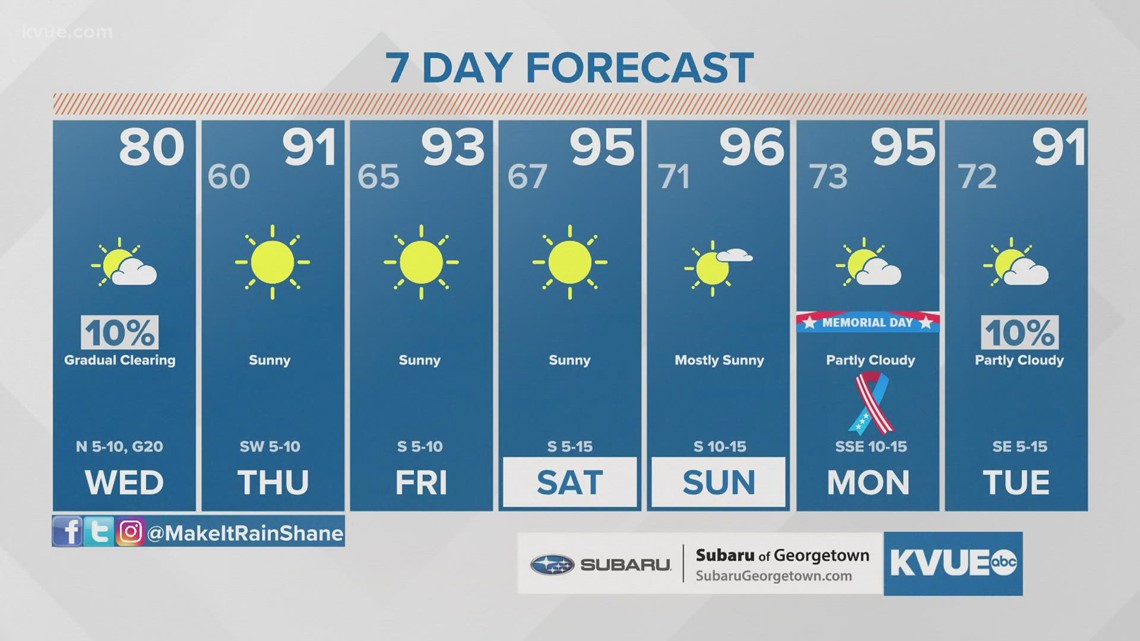 Check out the live radar for what you can expect the rest of the day and into the workweek.