AUSTIN, Texas — Storm chances have increased for Thursday, especially during the early to mid-afternoon. Some of these storms could be severe, with gusty winds and hail. There is also a chance for some locally heavy rainfall and minor flooding.
A Thursday morning update from the Storm Prediction Center upgraded the risk for strong storms mostly along and east of I-35 to the "slight" category for Thursday afternoon and early evening. The Hill Country remains under a "marginal" risk.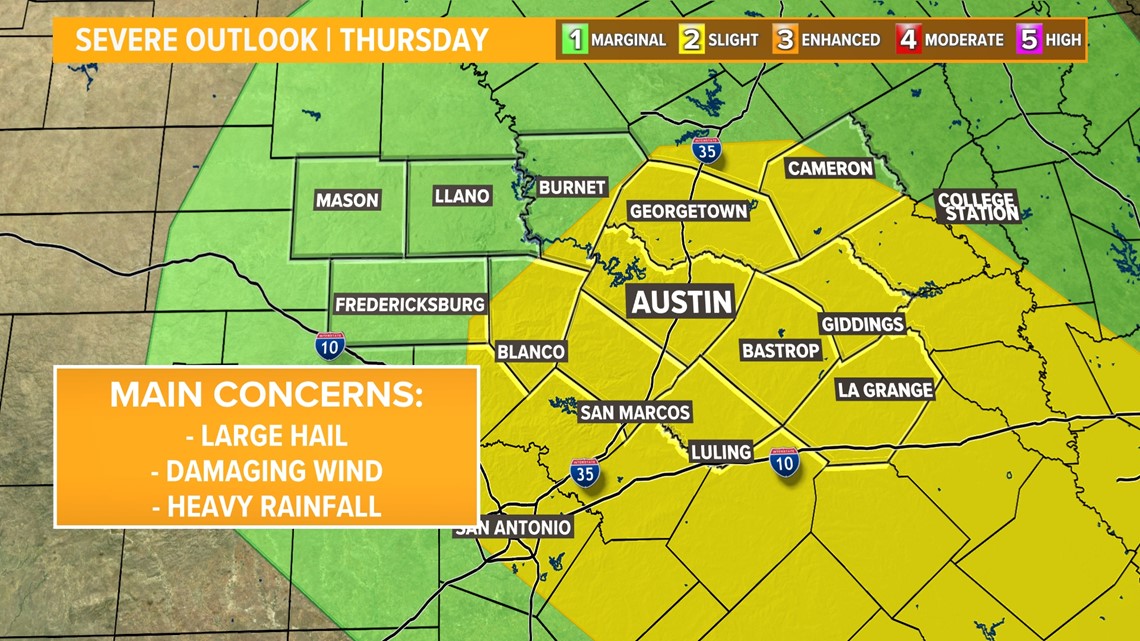 The exact placement of storms remains a little tricky with this forecast, and it's not a guarantee that everybody will see stormy weather. However, a new computer model is now showing fairly widespread coverage of storms. Here's how the timing could play out.
Timeline
Storms could initially move into the northern tier of the KVUE area around 12 p.m. or just before. Storms will be moving from north to south and again will bring the risk for some hail and gusty winds.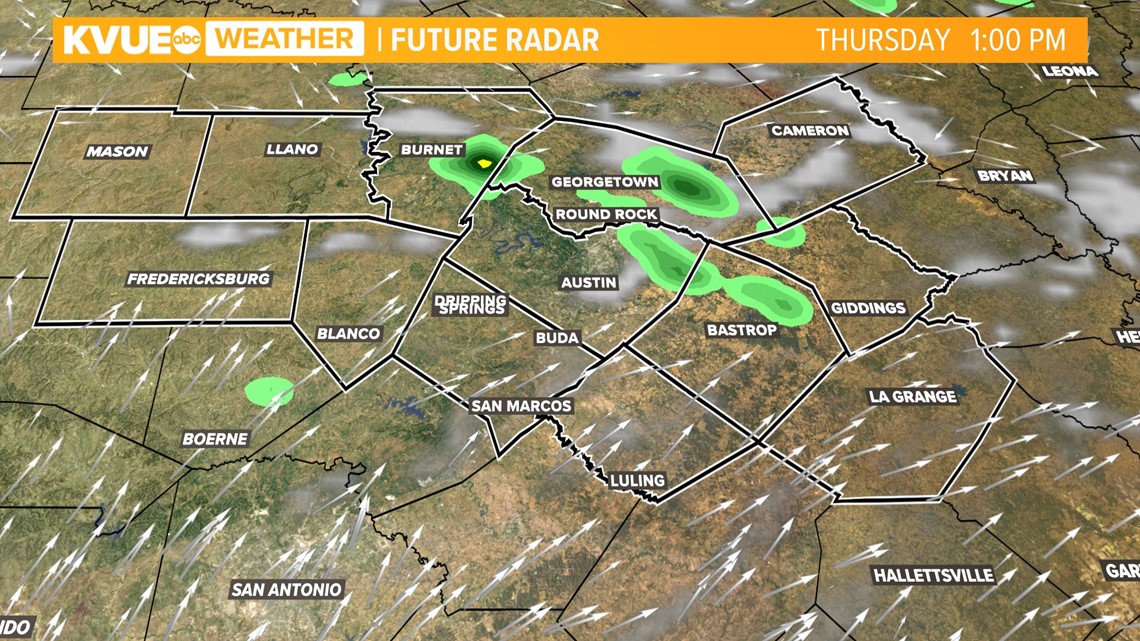 Storms dive southward through the early afternoon hours and could be impacting parts of the Austin metro between 2 p.m. and 5 p.m. on Thursday.
Keep this in mind if you have lunch plans, or if you'll be out and about during the early afternoon. Make sure to check the KVUE app before heading out.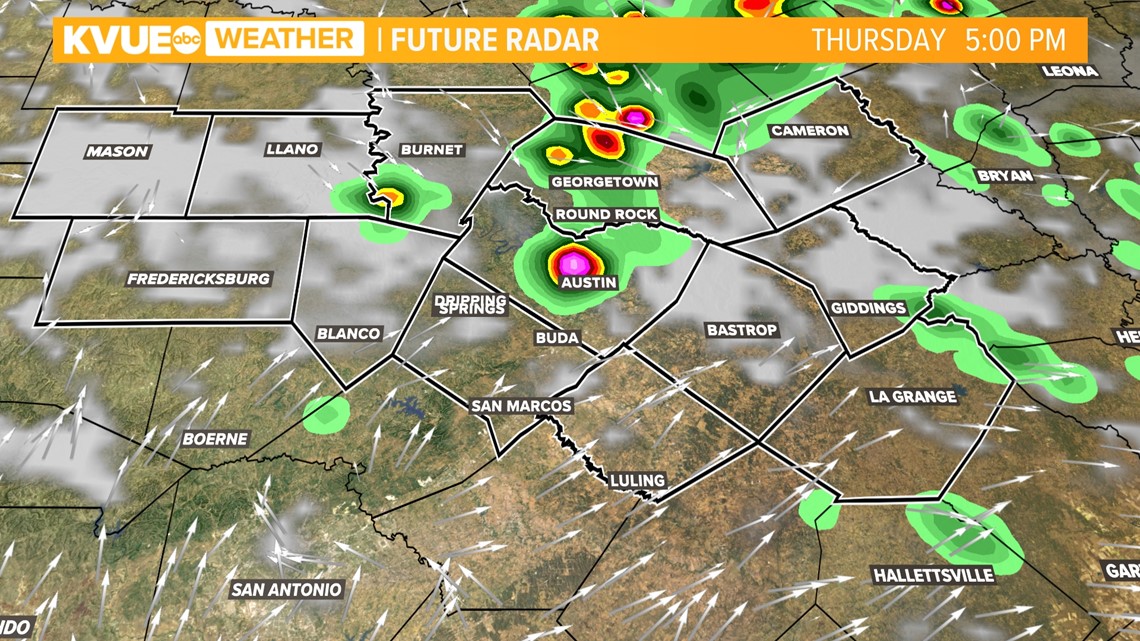 Storms continue to drift southward through the mid- to late afternoon and could be impacting places like Bastrop, Luling and La Grange at that point.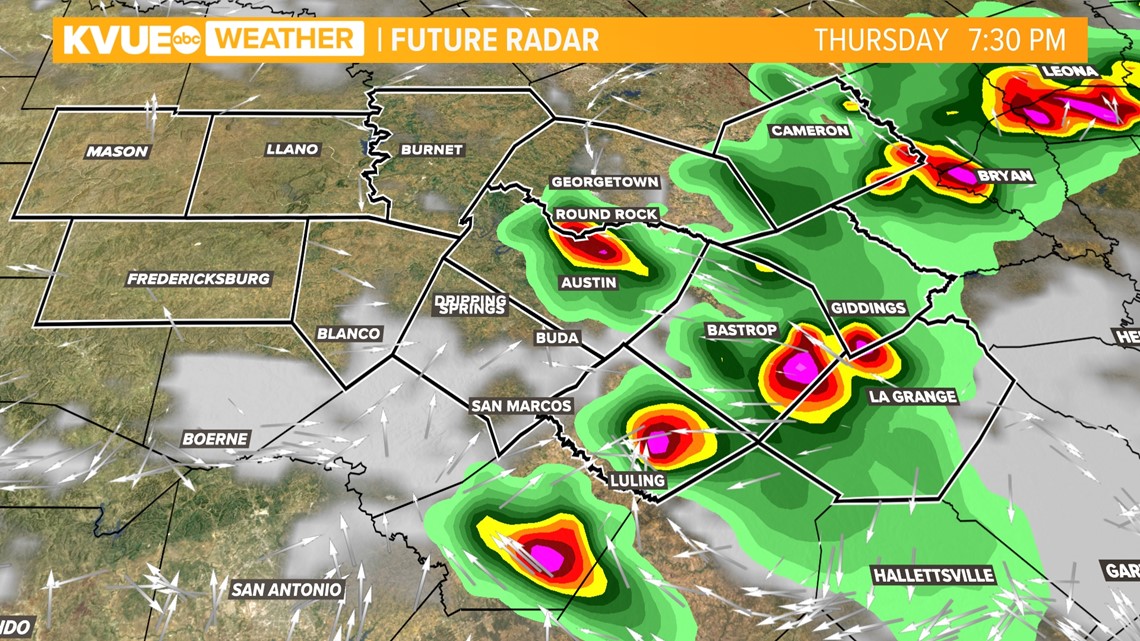 If storms are in fact this widespread, many areas will be on track for a quick half-inch to 1 inch of rain, with some locally higher amounts up to 3 or 4 inches.
We do not expect significant flooding due to the speed of the storms, but some minor flooding is possible.
The KVUE Weather Team will continue to closely monitor this developing forecast.
In the meantime, the extended forecast can be found below: