Good Saturday evening! All attention tonight and tomorrow will be on Sunday night's storm threat. We don't have anything to worry about tonight, or through much of the day on Sunday. After midnight Sunday night, our chances for strong storms will increase.
Strong storms possible Sunday night through Monday morning- A strong storm system will move through the southeast last Sunday through early Monday bringing the chance for heavy rain, strong gusty winds, and the chance for a few brief tornadoes.
Daytime Sunday: Expect showers to develop on Sunday. We may experience a few thunderstorms, but severe weather is not expected during the day. Notice how central Georgia remains north of the warm front during the daytime Sunday. That will keep our atmosphere stable and not favorable for strong thunderstorms during much of the day.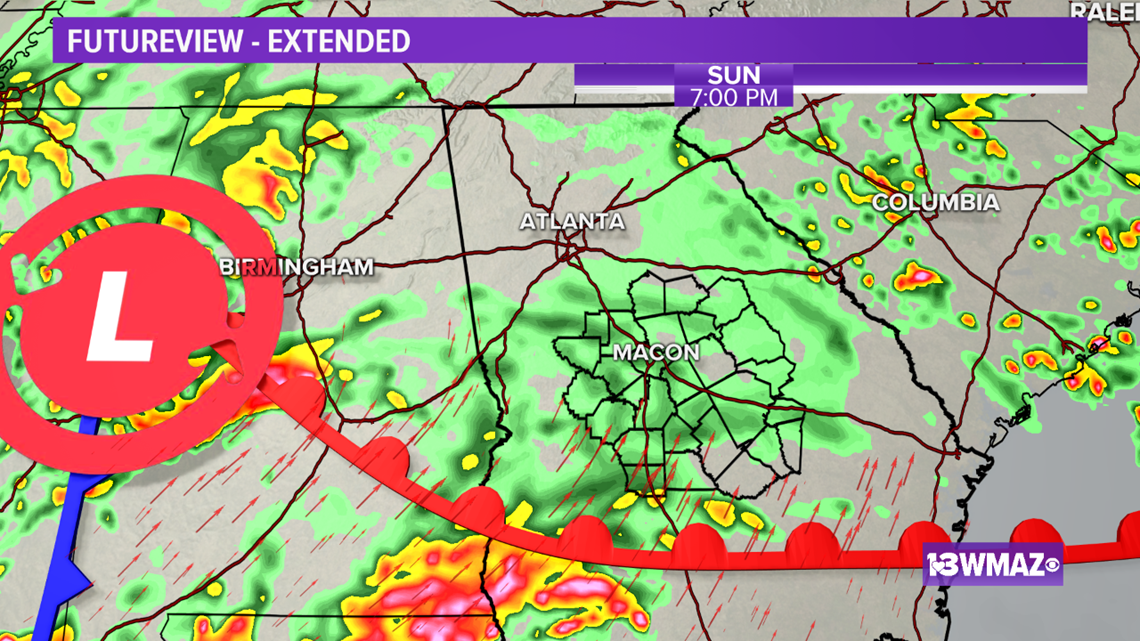 Sunday Night / Early Monday Morning: As the warm front lifts northward, central Georgia will be located in an area supportive of isolated severe thunderstorms. We'll have plenty of wind shear to work with, and just enough instability to get storms going. As of now, I expect periods of heavy rain. Isolated damaging wind gusts are possible with a few storms. A brief tornado or two cannot be ruled out.

Monday Morning: The isolated severe weather threat will persist through the predawn hours Monday. Same threats as earlier in the night continue through early Monday morning. After the cold front passes close to sunrise Monday our severe weather threat will come to an end.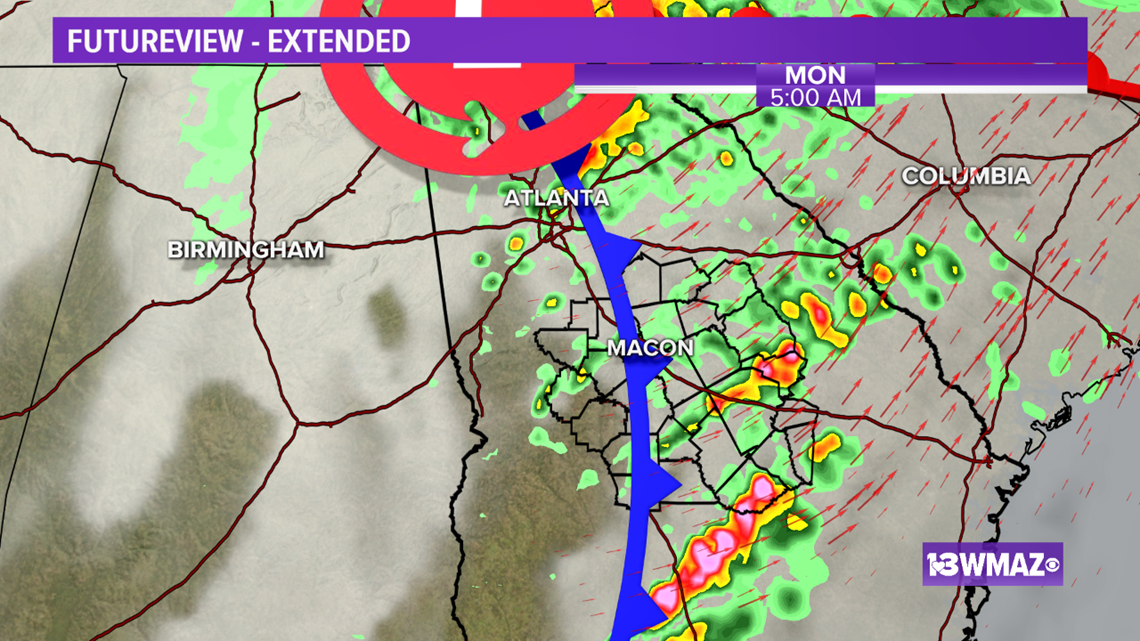 Severe Weather Outlook: The Storm Prediction Center currently includes central Georgia in their Sunday and Sunday Night Marginal risk for severe weather. This is a level 1 out of 5 risk from the SPC. While it isn't high, we shouldn't let our guard down, especially since storms will be moving through while most of us are sleeping. The SPC also mentions that part of the area may be upgraded to a level 2 out of 5 risk for severe storms.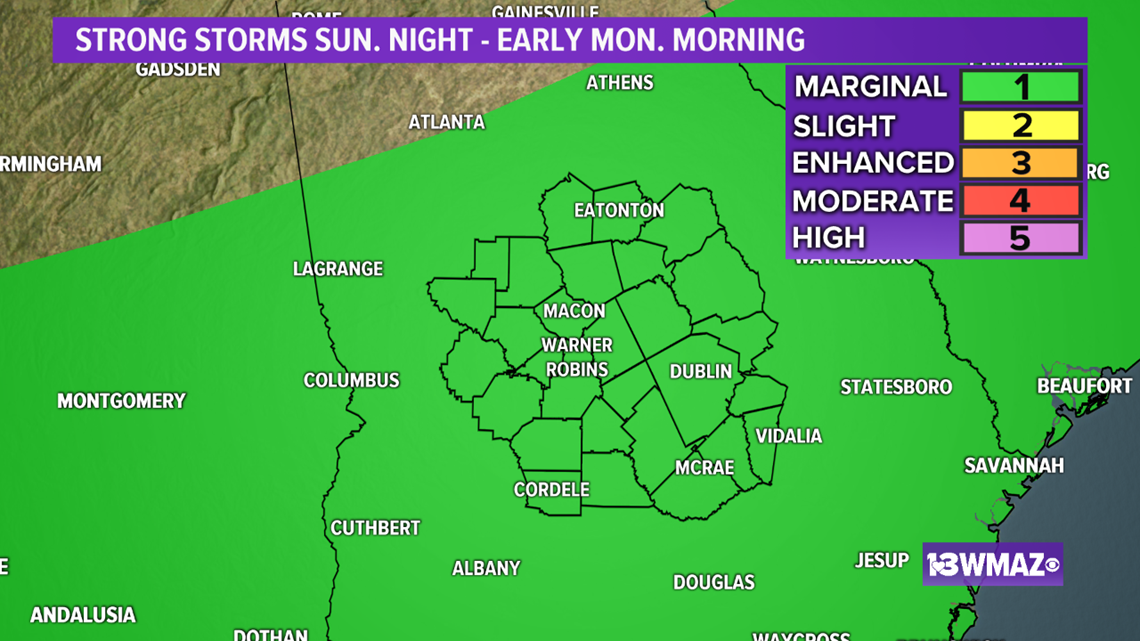 Storm Threats: Heavy rainfall will be the most widespread threat central Georgia will face. Of the storms that manage to get strong, damaging winds will be the primary hazard. While the tornado risk is low, it is not zero. Keep your phone or weather radio handy to wake you up in the event of a tornado warning Sunday night.

After this system passes by early Monday morning, our attention will shift to the coldest air so far this season expected to move into central Georgia.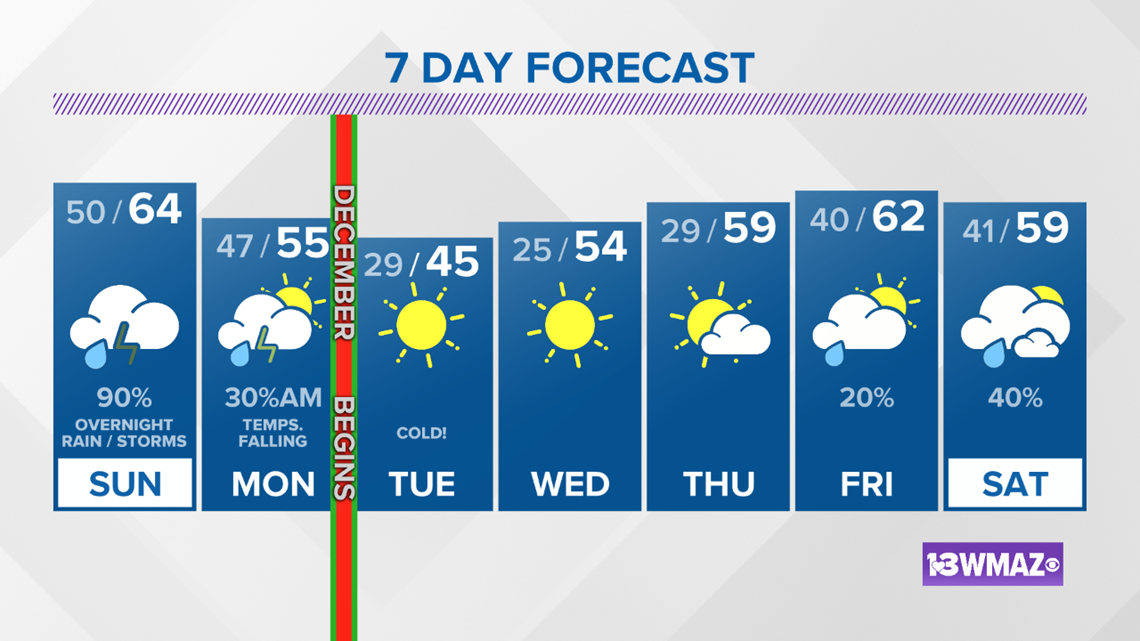 STAY ALERT | Download our FREE app now to receive breaking news and weather alerts. You can find the app on the Apple Store and Google Play.
STAY UPDATED | Click here to subscribe to our Midday Minute newsletter and receive the latest headlines and information in your inbox every day.
Have a news tip? Email news@13wmaz.com, or visit our Facebook page.