AUSTIN, Texas — ***Wind Advisory in place from 11 a.m. until 5 p.m. Winds can be close to 25 mph with wind gusts up to 40 mph.***
If you weren't a fan of the warm temperatures that started off the workweek, you won't have to wait long for some relief.
Fall-like temperatures return Wednesday and stick around through the Halloween festivities. However, we had to get through some severe storms before the nice weather.
Here's a live blog that tracked the stormy weather.
Real-time updates:
7:40 a.m. – The severe weather threat has significantly lowered for the KVUE viewing area, but we're still expecting some strong winds. Expect gusts close to 30 mph along I-35 with higher gusts in the Hill Country.
6:20 a.m. – A Wind Advisory is in place from 11 a.m. until 5 p.m. Winds can be close to 25 mph with wind gusts up to 40 mph.
6:06 a.m. – Some counties have been removed from the severe thunderstorm watch.
5:20 a.m – As of 5:20 a.m., Oncor Energy was reporting 226 outages affecting more than 16,600 customers. Oncor customers can view real-time outage updates here.
Austin Energy was reporting 41 outages affecting more than 6,400 customers as of 5:20 a.m. Click here to view Austin Energy's outage map.
4:55 a.m. – A Severe Thunderstorm Warning is in effect for southern Blanco and Hays counties until 5:45 a.m. Sixty mile per hour winds and penny-sized hail are possible. The storm is moving east at 45 mph.
4:15 a.m. – Severe Thunderstorm Watch was expanded to most of the KVUE viewing area.
4 a.m – A line of non-severe storms was continuing to move east from Burnet County into Blanco County. The storms are expected to reach the I-35 corridor between 5 a.m. and 6 a.m.
3:25 a.m. – Radar showed storms in the Hill County with heavy rain, lightning and gusty winds but nothing severe
2:20 a.m. – A Severe Thunderstorm Watch is in effect for Burnet, Llano and Williamson counties, including Cedar Park, Georgetown, Leander and Round Rock. That means the storms that are developing and moving into that area could become severe.
The main concern is strong winds up to 60 mph and isolated areas of hail.
12:22 p.m. - Conditions have cleared across Central Texas as storms continue to push east and enter into Louisiana. Winds and cool conditions will move in for the rest of the afternoon with plenty of sunshine.
***Previous reporting below***
Strong cold front pushing through Wednesday morning
We anticipate the stormy weather to kick off overnight early Wednesday morning for Central Texas.
We're currently tracking an 100% chance of showers and storms for Wednesday morning's commute, and some of these storms could be strong to severe, with straight-line damaging winds and large hail. An isolated tornado cannot be ruled out. The Storm Prediction Center placed portions of the KVUE viewing area under a Severe Thunderstorm Watch.
The threat shifts east by Wednesday mid-morning.
Projected timeline
Hill Country: Computer models are showing the stormy weather moving in after 1 a.m. on Wednesday. This brings an overnight strong-to-severe storm threat, which means we recommend multiple ways of receiving weather alerts overnight. The KVUE app is our No. 1 recommended method where you can receive weather notifications if any warnings are issued in your area.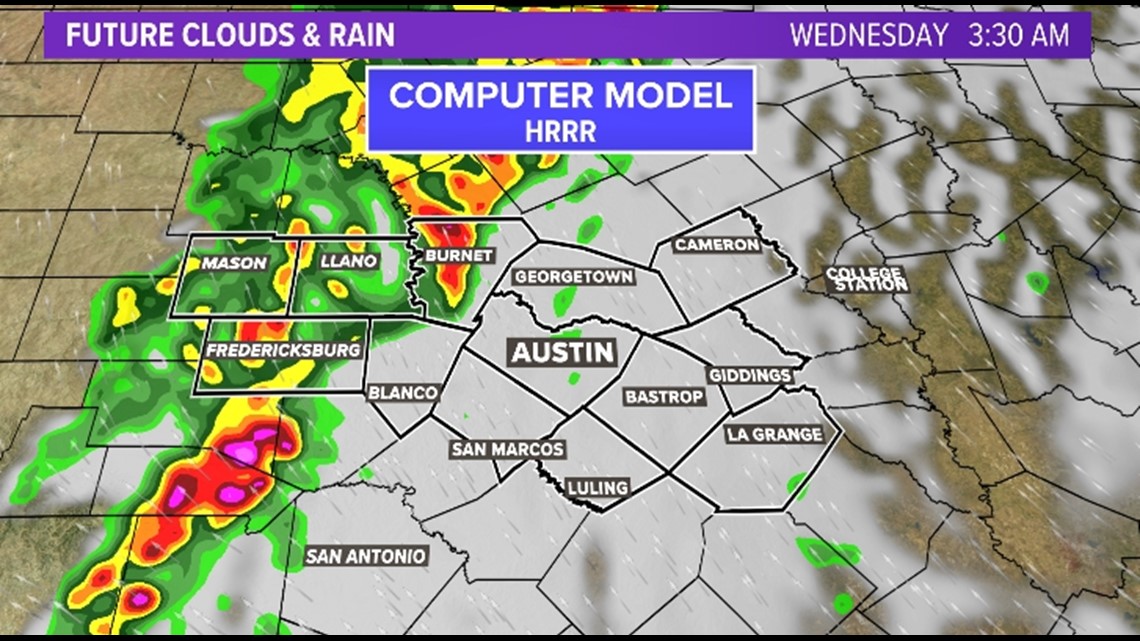 I-35 corridor: The line of strong-to-severe storms is expected to push through our central counties between 4 a.m. and 7 a.m. This means you can expect a wet and stormy commute. Make sure to check in with KVUE Daybreak before you walk out the door for live weather updates.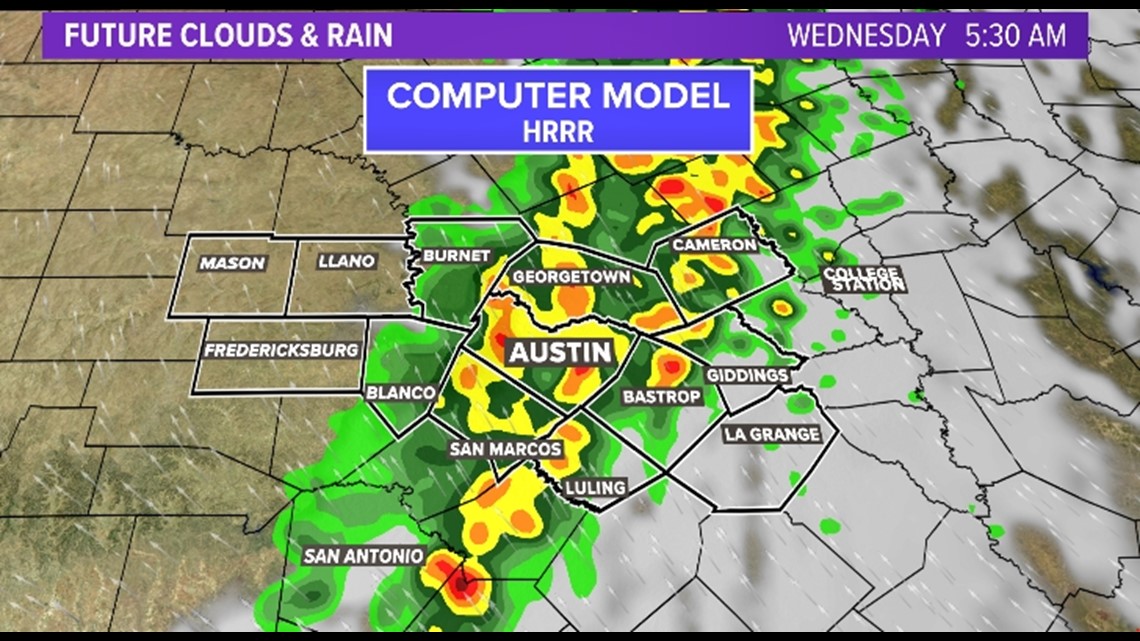 Eastern counties: The stormy weather will be pushing through areas east of I-35 between 6 a.m. and 9 a.m. with showers and thunderstorms that could still be strong at this time. The system should clear from the KVUE viewing area by 10 a.m. This will give us clearing skies for the second half of Wednesday and a windy northwest wind shift. Gusts could be as strong as 30 mph.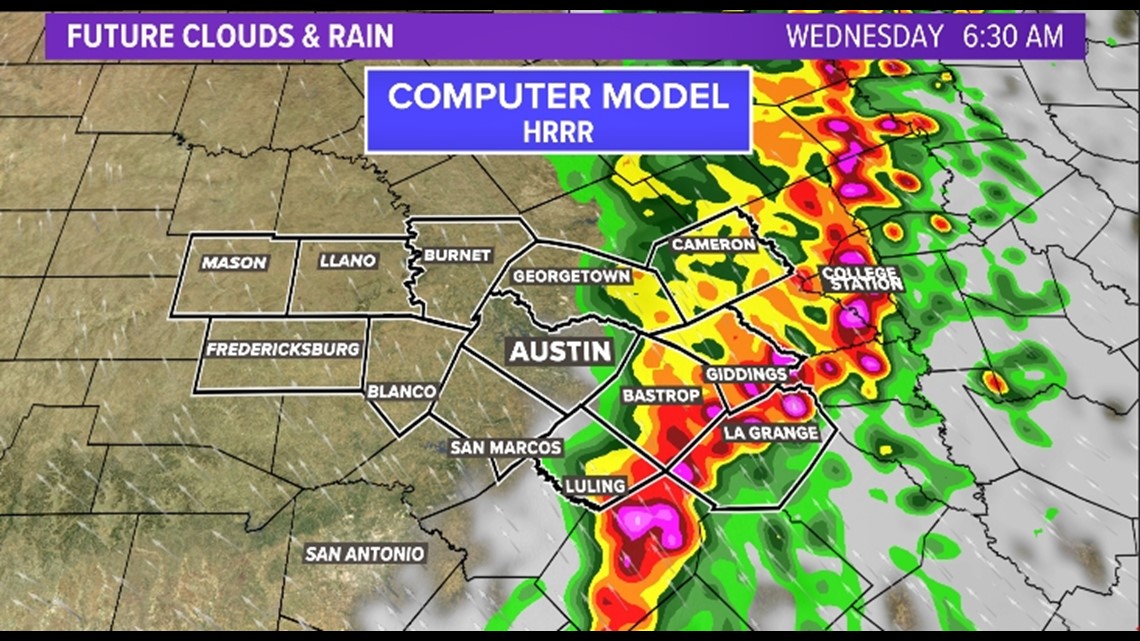 The most recent forecast calls for rainfall totals ranging from half an inch to 1 inch of rain, with the highest totals as you make your way further east.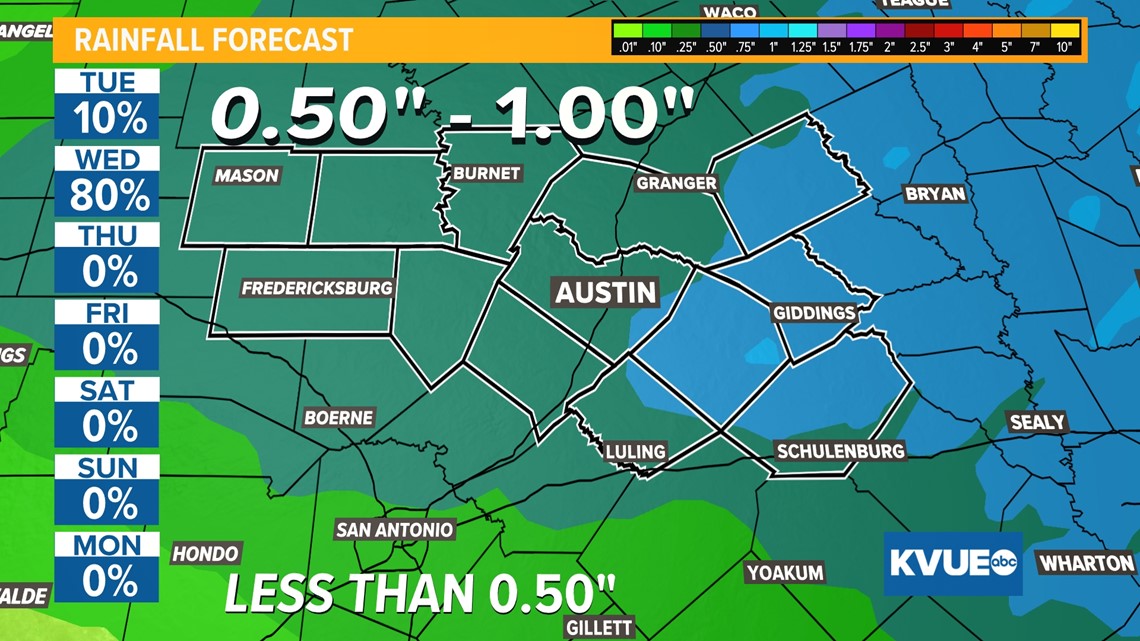 The wind shift will usher in lower humidity that will stick around through the rest of the workweek and into Halloween weekend. Dew points will drop to the 40s, which will allow for those cool and crisp fall-like mornings to return.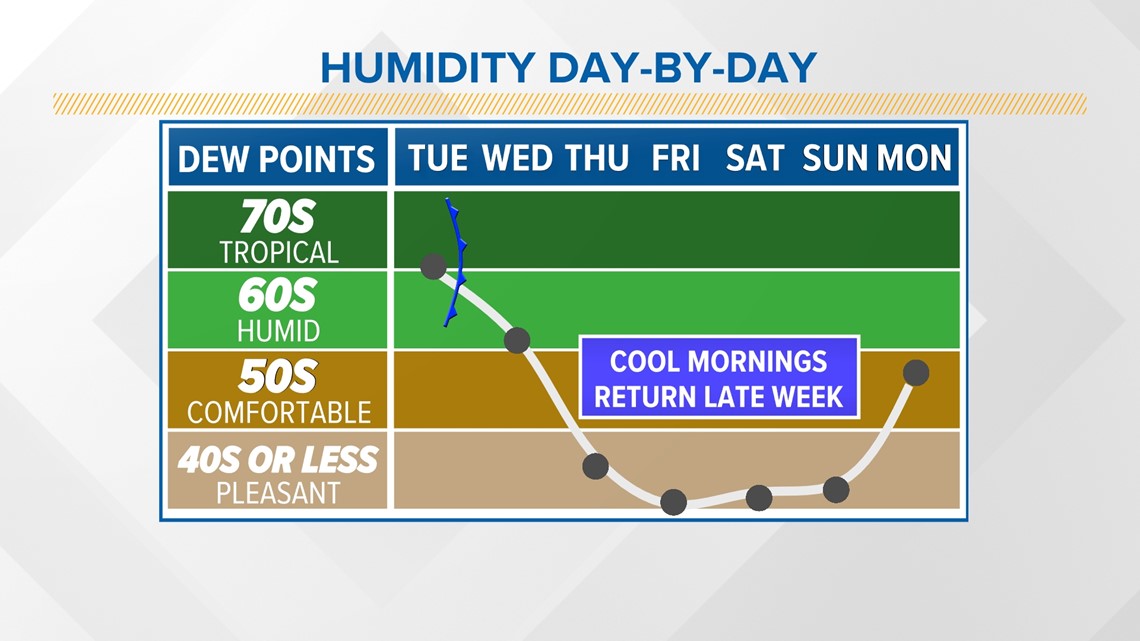 The seven-day forecast is looking mighty nice once we get through the stormy weather on Wednesday morning!
We're still about one week out from Halloween, but as of right now, high temperatures will be near 80 degrees with lows in the 50s.