AUSTIN, Texas — Editor's note: This blog is no longer being updated. Click here for the latest blog.
Camp Mabry in Austin has picked up more than 0.6 inches of ice over the past two days. Significant icing has caused widespread issues with tree damage and power outages.
One final round of precipitation moves through Wednesday night and will bring continued icing potential to parts of Central Texas. This won't be nearly as much ice as what moved through Tuesday night, but it could exacerbate ongoing icing issues in some locations.
A Winter Storm Warning remains in effect through 10 a.m. Thursday morning. Let's walk through the timing and talk about the areas positioned to see more freezing rain.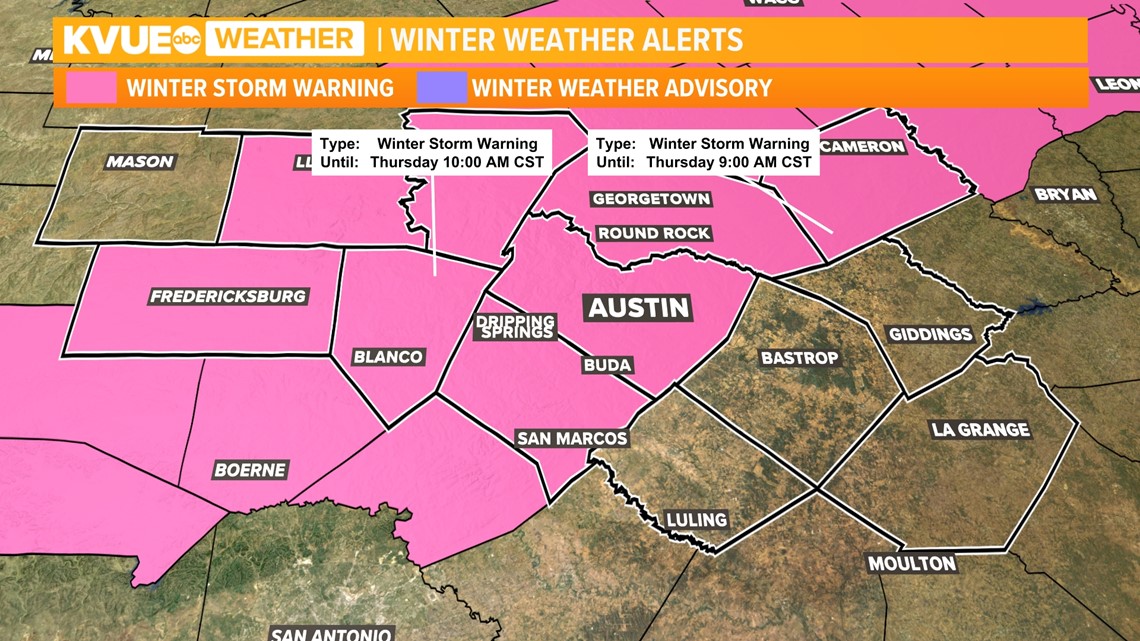 Widespread drizzle continues to produce light icing for many areas through this evening, but more widespread and steadier rain moves in by midnight Wednesday night. Light icing issues will initially exist over much of the northern Interstate 35 corridor and the Hill Country.
Through the rest of the morning, temperatures gradually warm and this likely moves Austin and points to the southeast above freezing by about 2 a.m. or 3 a.m. This will begin to ease any lingering icing concerns and will allow the melting process to begin.
However, colder areas from northern Travis and Williamson counties, west into the Hill Country, could continue to see sub-freezing temperatures and ongoing icing into the late morning.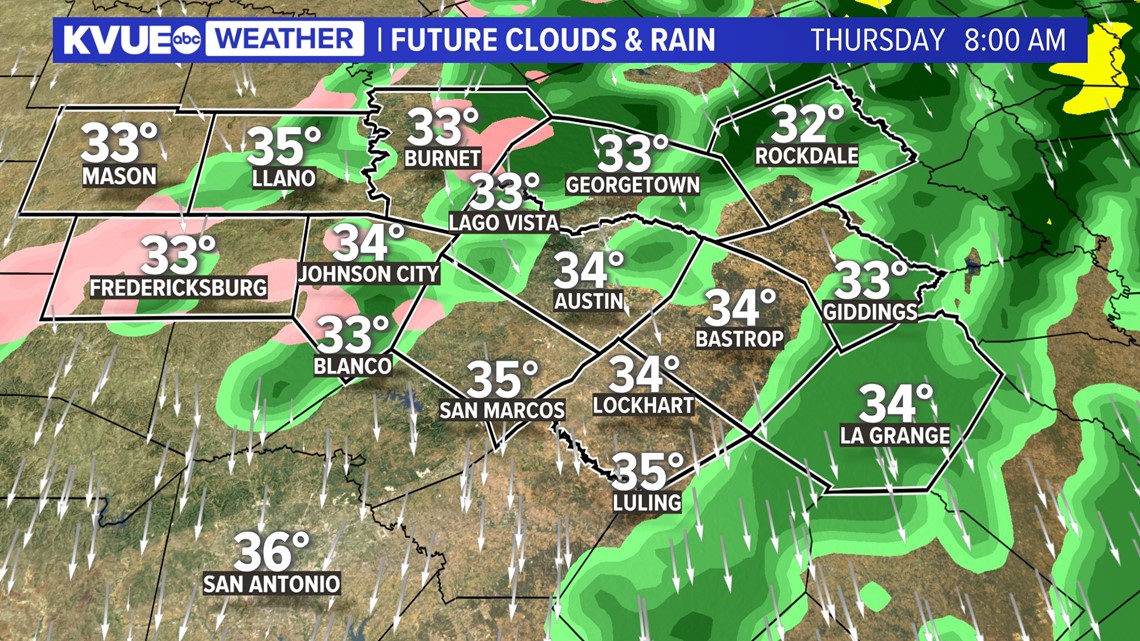 By sunrise, warmer air invades farther westward, and lingering plan rain showers will be moving out of the area.
So, how much more ice are we talking? The short answer is: not nearly as much as Tuesday night. For the immediate Austin area and points southeast, we're looking at only light icing potential, ranging from nothing to a 10th of an inch on the high end.
However, this could be enough in spots to cause further issues with trees that are already heavily weighed down.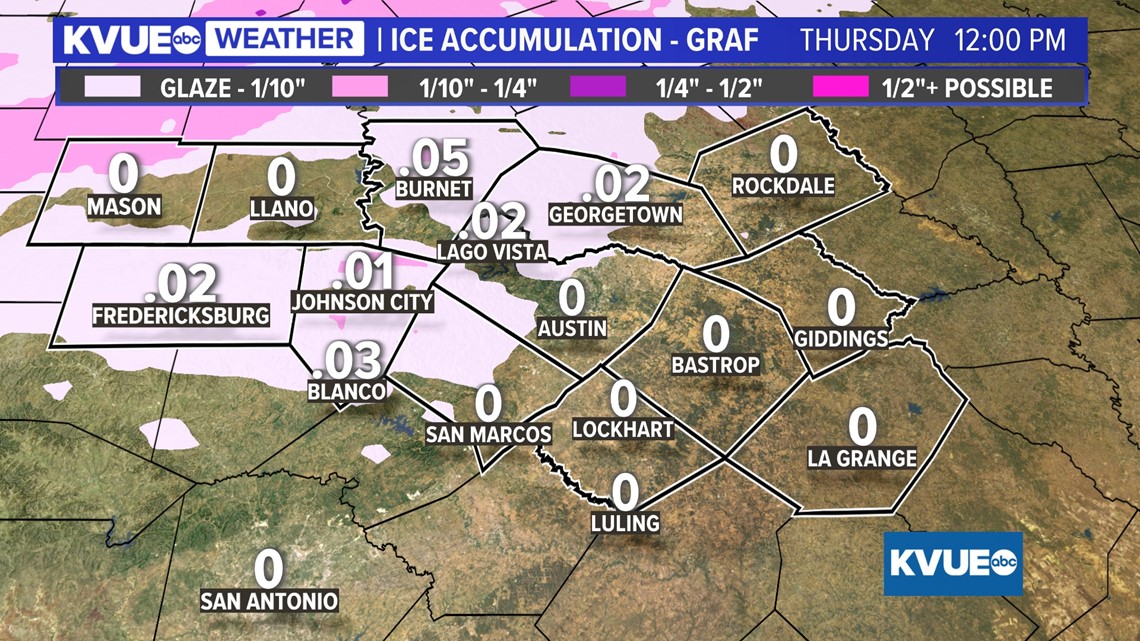 In colder locations from Williamson County, northwest Travis County and the Hill Country, there could be spots that pick up another tenth of an inch to as much as a quarter-inch of ice. This won't be everywhere, but again this will worsen icing problems for some.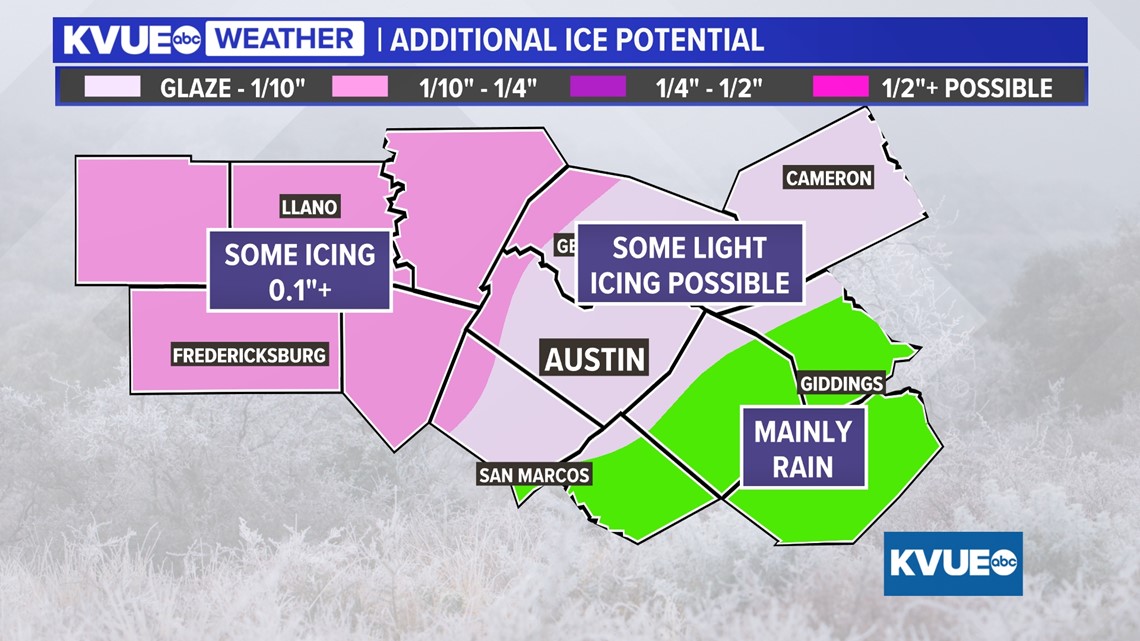 By Thursday mid-morning, any precipitation is moving out and temperatures will warm above freezing. This will put an end to any winter weather concerns. Much warmer weather moves in by the weekend.
The KVUE Weather Team will continue to closely monitor this developing forecast and will have frequent updates.
In the meantime, the extended forecast can be found below: