AUSTIN, Texas — During the spring of 2022, drought in Central Texas began to spread and decline rapidly.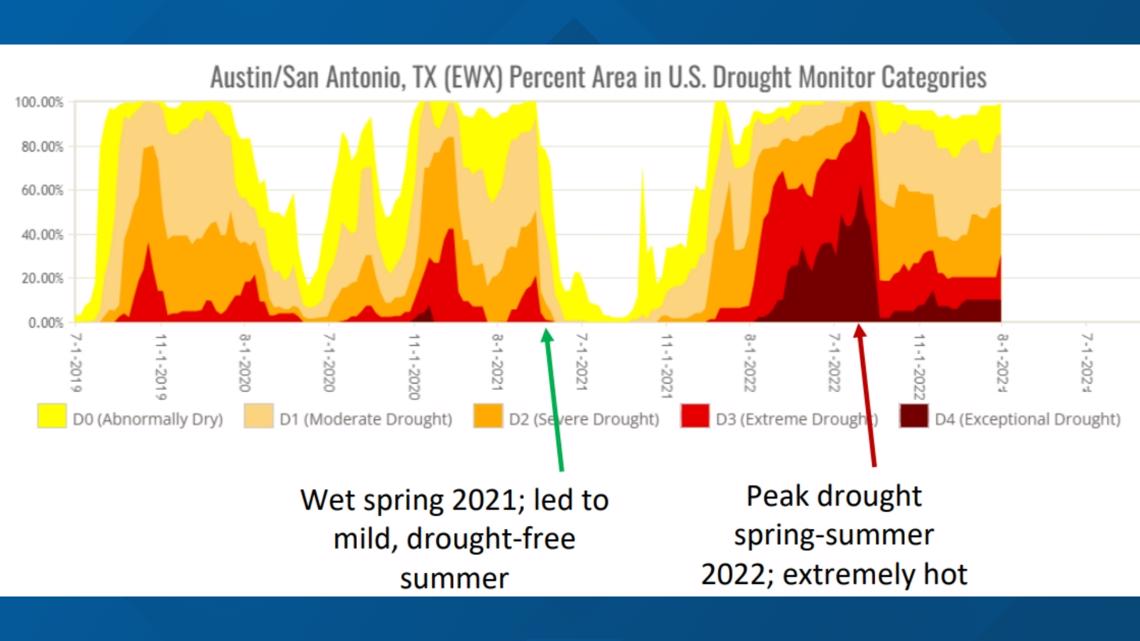 Throughout 2023 there has not been much in the way of major change in regards to the location or category of drought, from the Hill Country to the Coastal Plains.
Here is our most recent drought monitor for the KVUE region.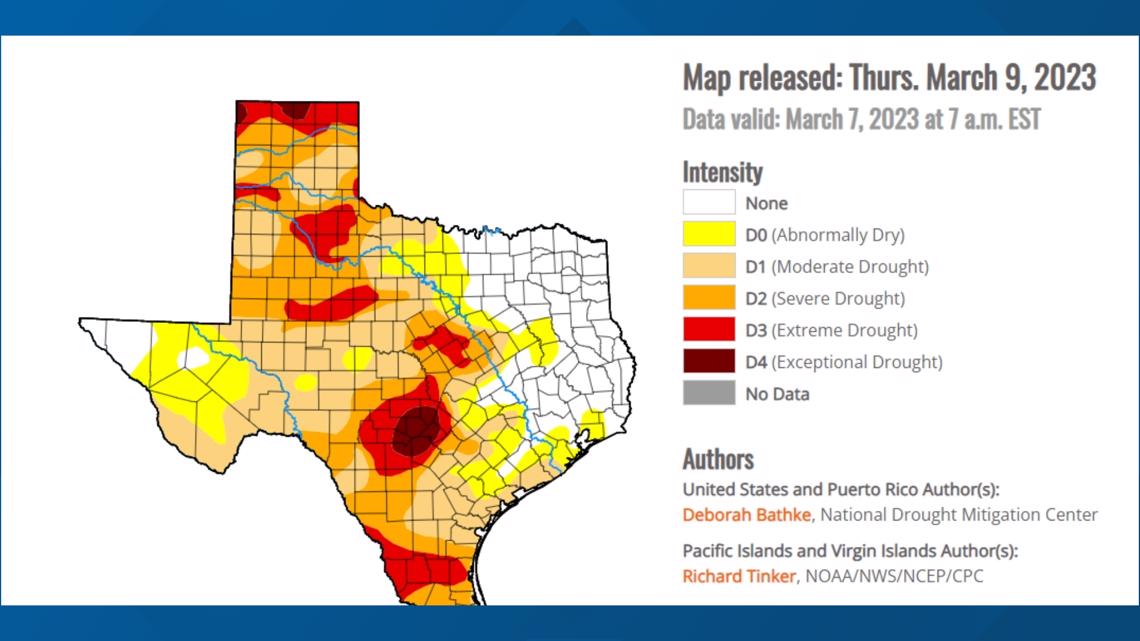 Compared to the same map from a month back, there has not been much improvement. In fact, there has been a small reversal of drought in areas of Milam, Williamson, Bastrop, northeastern Travis and Lee counties.
However, the little bit of relief on the eastern side has been offset by the expansion and deepening of drought on the western side of Central Texas. All Hill Country counties have at least a portion of the Extreme Drought category within their boundaries.
So when will we see improvements?
In January, climatologists were confident that while shifting toward spring, a global climate pattern called ENSO (El-Niño Southern Oscillation) would move from its La Niña phase back to an El Niño phase.
They were right. The La Niña phase has ended, and currently we are in what we call a "neutral" phase.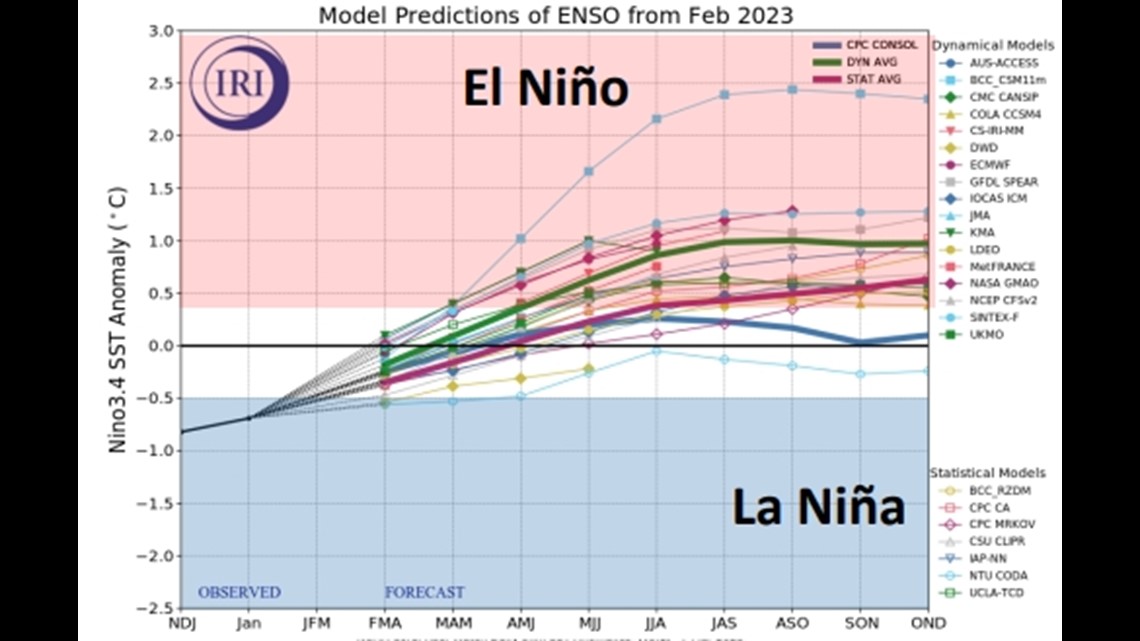 You can see that as we look forward to late spring and summer, there grows a higher confidence in the El Niño phase. The Climate Prediction Center predicts a 47% chance to return to El Niño by summer, and a 67% chance by fall.
But why is this good for drought?
Usually during an El Niño phase, more so during winter months, the southern half of the the U.S. will experience wetter and cooler weather conditions. This includes Central Texas.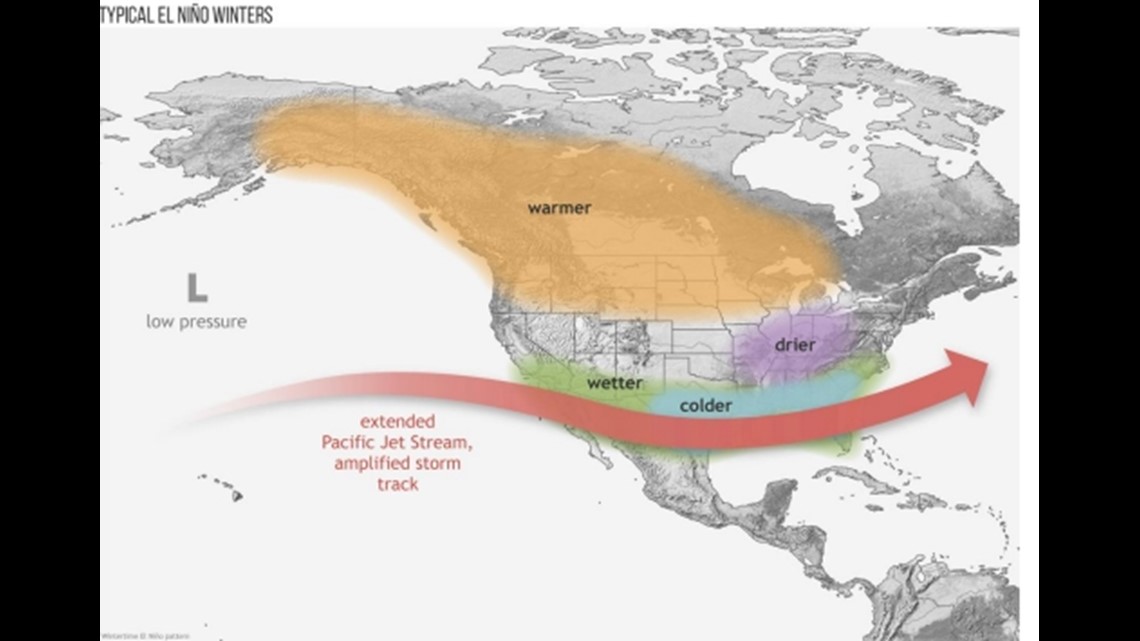 So if El Niño trends follow suit, the further we get into 2023, the stronger the El Niño phase will be, equaling a wetter overall year for Central Texas. However, the highest chance for El Niño isn't expected until fall. Meteorological fall wont begin until Sept. 1.
Another note to add is that long-range weather models suggest warmer-than-average temperatures throughout spring 2023. If we are unable to get a boost of moisture from El Niño, while dealing with warmer-than-average weather through the next three months, drought conditions might not be eased much, if at all, by summertime.
So while in theory wetter changes are "around the corner," Central Texans might have to wait another couple seasons for drought conditions to let up.