AUSTIN, Texas — Sunday, January 10, 2021, will go down as the day that Central Texas became a winter wonderland.
A low-pressure system dropped into Texas, bringing with it cool air and conditions that would give us a sense of escape, if even just for a day. Sunday morning started with heavy downpours moving in from the southwest. This brought some much-needed rainfall to Central Texas in the midst of drought conditions.
Just before 7 a.m., reports of flurries in portions of the Hill Country started to trickle in. The rain/snow line would continue to move south, eventually providing a majority of the KVUE viewing area with at least some amount of snow flurries. The largest reported snowfall near our area came out of Gause in Milam County, with a total of 6.5 inches.
Check out the image below for a look at some of the snowfall totals from across the region.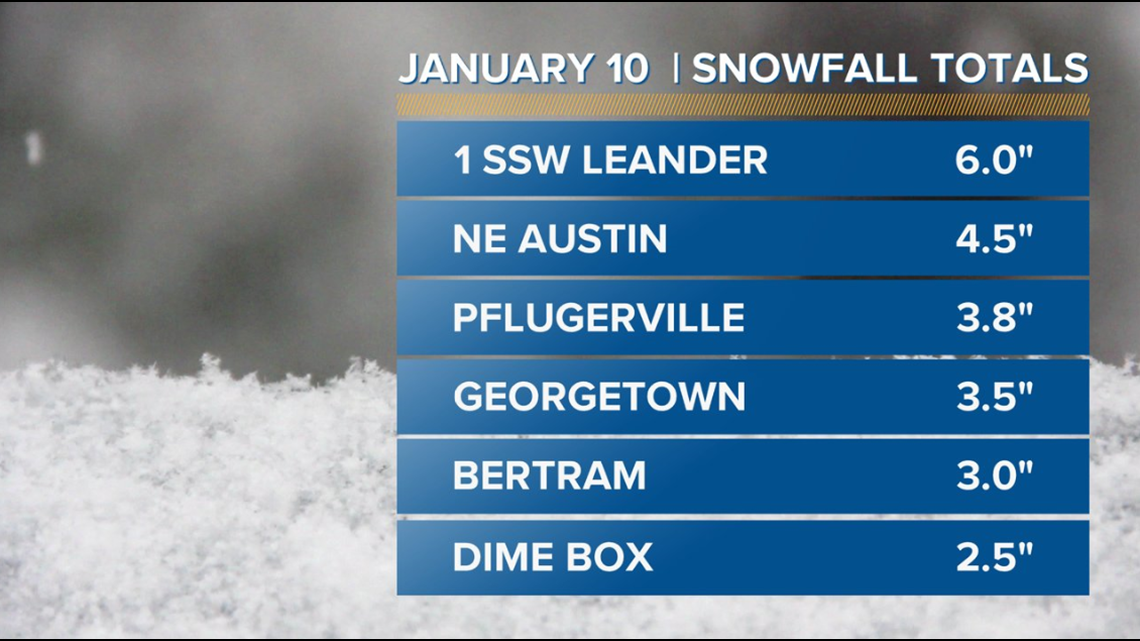 The largest snowfall totals occurred in Milam County, which aligned with numerous forecast model predictions for Central Texas. While not accumulating much snow, our southern counties were able to experience some of the winter magic as well. Areas in Caldwell County, such as Luling, measured about a tenth of an inch of snow.
The KVUE team wants to say thank you for sharing your snow day pictures and videos with us!
PHOTOS: Winter weather hits Central Texas