AUSTIN, Texas — Our weekend cold front has ushered in a much different air mass to begin the upcoming week. This air mass is not just cooler, but also much drier, meaning the humidity will be way down through Tuesday.
With regard to temperatures, plan on chilly mornings that are cooler than average lows for this time of the year, and pleasant afternoons that will still run a bit above average.
Monday morning is looking like the coldest of the week with temperatures widespread in the 30s and 40s. The Hill Country temperatures dropped to the mid-30s. In fact, a light freeze is not completely out of the question for the coldest locations.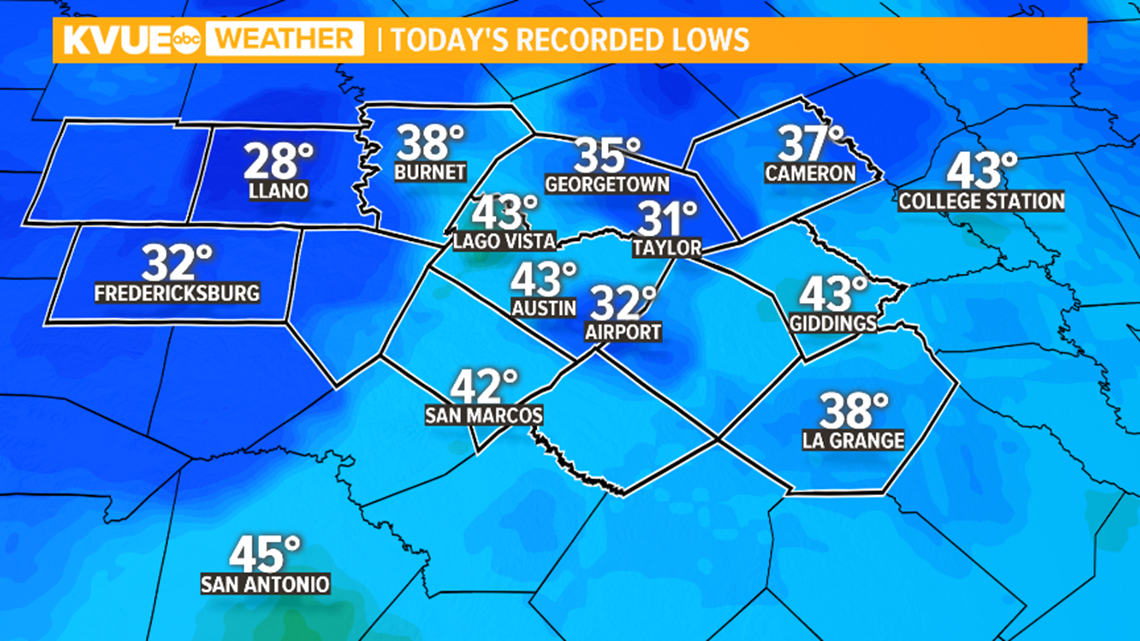 Following the chilly morning, the afternoon will be spectacular with sunshine and highs in the low-to-mid-70s. As opposed to Sunday, which was very windy, the breeze will be barely noticeable out of the east around 5 mph.
The forecast high of 75 for Austin will be above the average for this time of the year, but will still feel pleasant given the recently warm temperatures prior to the front.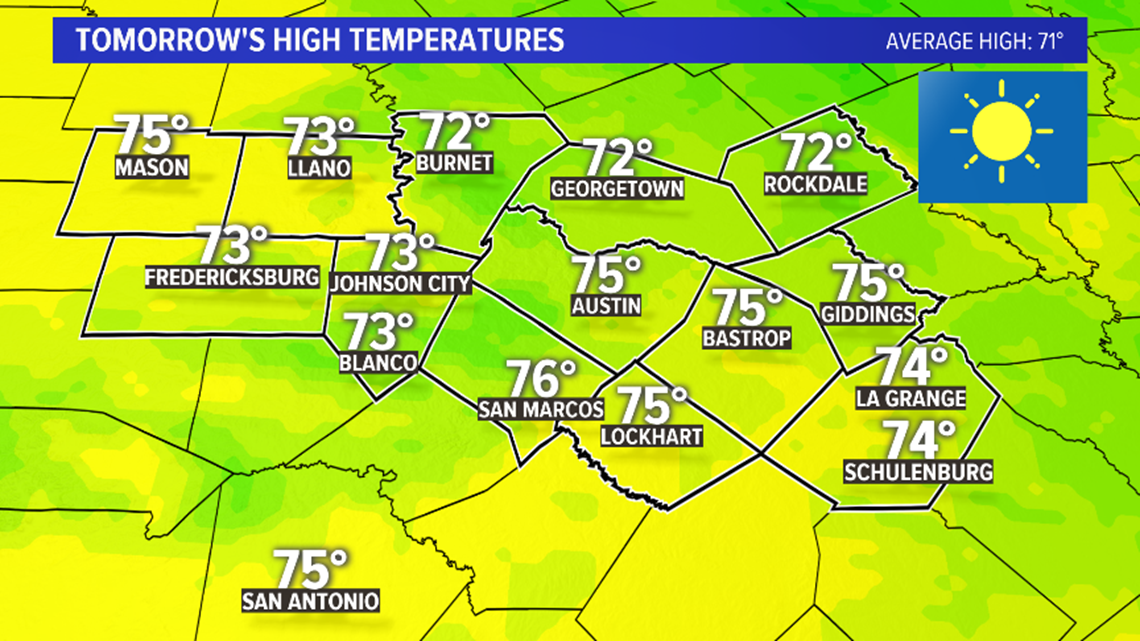 Humidity will stay very low through about Tuesday, but by mid-week, a more southerly flow returns to the forecast. So expect humidity levels to be back on the increase for the second half of the week. Temperatures will also trend warmer with high around 80 degrees by Thursday and Friday.
With the continued drought and very dry air mass in place, elevated fire weather may be possible for the next several days. Please pay close attention to any local burn bans.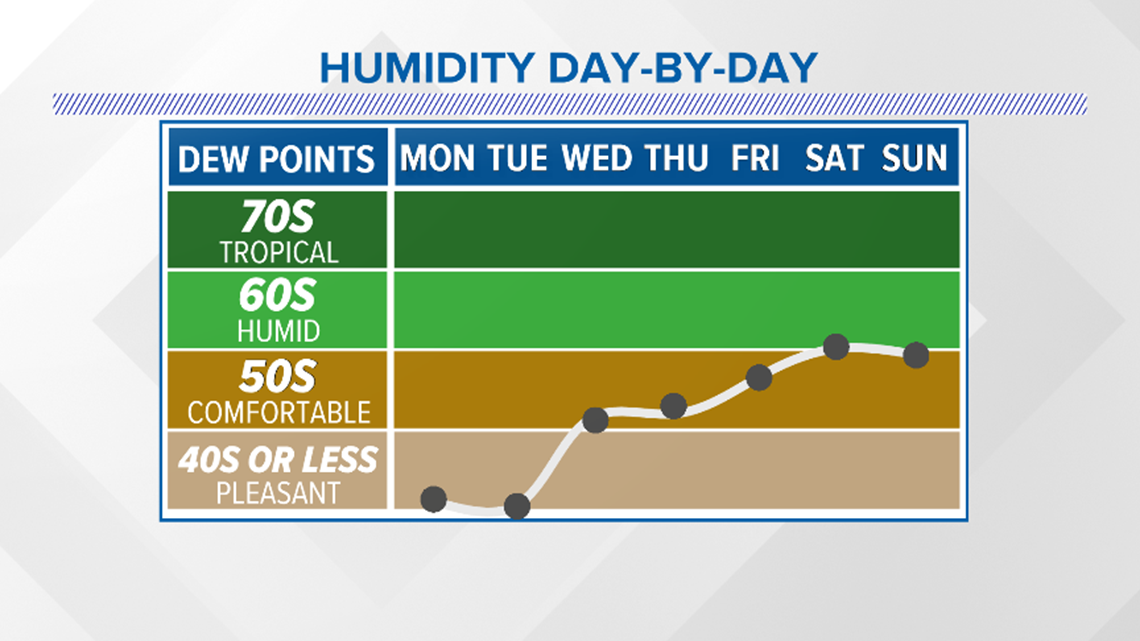 The downside to this forecast is the lack of rain. Some across Bastrop, Lee and Fayette counties picked up some measurable rainfall Sunday morning as the front moved through but, otherwise, it was a dry frontal passage.
Rain chances through Saturday continue to look slim to non-existent as drought conditions continue to worsen. A 10% light shower chance is in the forecast for Friday and Saturday, but widespread rain is not expected.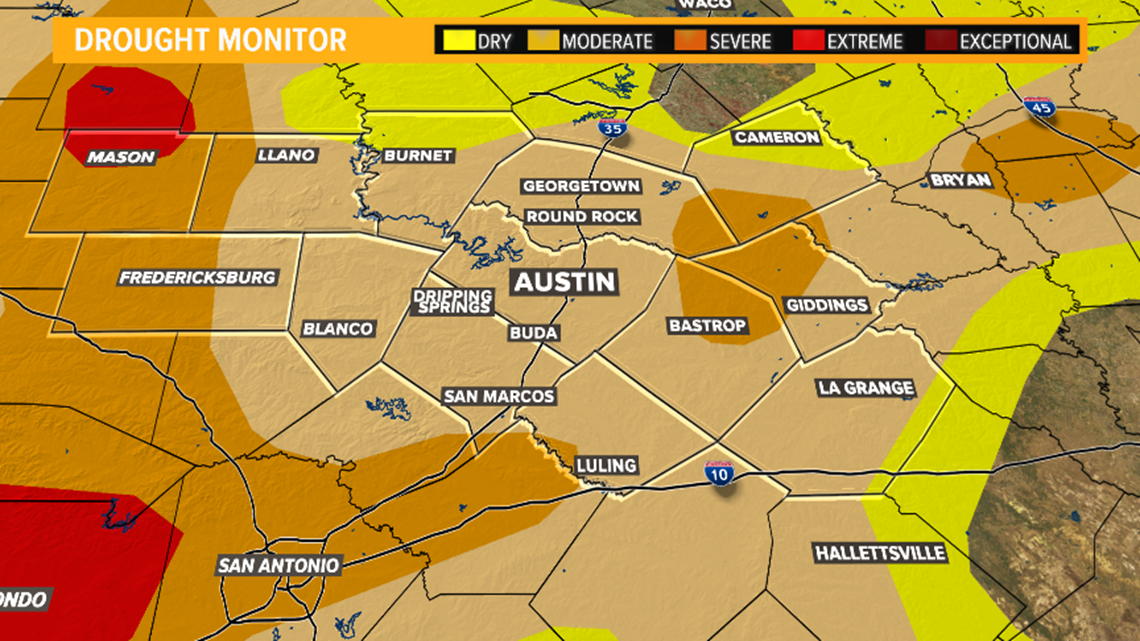 However, long-range computer models are hinting that our next cold front could arrive Sunday night into Monday of next week. The models are also suggesting that this front could provide more widespread rain chances.
With that being said, there is still plenty of time for that to change, and this is by no means a guarantee. We'll keep a close eye on model trends throughout the week and keep you posted.
The extended forecast can be found below: