AUSTIN, Texas — Editor's note: This blog is no longer being updated. Click here for the latest weather updates.
A Flood Watch is in effect through 1 p.m. Wednesday.*
7:49 p.m. - There are no active warnings in Central Texas. Water levels are currently falling in Shoal Creek.
6:28 p.m. - Capital Metro said it is monitoring the inclement weather, which is affecting its services. Riders are asked to expect delays.
6:14 p.m. - Updated rainfall totals show a new daily record of 3.69 inches at Camp Mabry and 1.98 inches at Austin airport. Some of the highest LCRA gauges recorded up to 4.44 inches in Central Texas.
5:57 p.m. - Several creeks are flooding in the Austin area, the National Weather Service said, including Shoal Creek, which has risen rapidly.
5:42 p.m. - A Flood Advisory has been issued for Mason County until 8:45 p.m. Minor flooding is possible.
A KVUE viewer captured this footage of water flowing through Walnut Creek near Georgian Acres in northeast Austin:
5:21 p.m. - A Twitter user captured this footage of Shoal Creek running through Downtown Austin.
5:10 p.m. - The hold on buses at Austin ISD has been lifted.
5 p.m. - Viewer Kerry Sherin sent KVUE this video of flooding on Monday evening.
4:50 p.m. - Viewer Emma Bernhoft captured waters flowing at Peyton Gin Road and North Lamar Boulevard on Monday afternoon.
4:44 p.m. - Waller Creek has overtopped 45th Street, according to ATX Floods. Forty-fifth Street near Speedway is now closed. To see all road closures, visit ATXFloods.com.
4:37 p.m. - Viewer Alex Wild captured this footage of localized flooding at the intersection of Exposition and Lake Austin Boulevard.
4:30 p.m. - Austin ISD is delaying bus pickup for high schools until the storm passes. AISD said parents are free to pick up their children from the schools.
After a brief drying trend over the weekend, we go back to a very unsettled weather pattern to start this week. This will include the potential for a couple of strong storms with gusty winds, but the main concern will be flooding. A Flood Watch is currently in effect and will continue through at least 1 p.m. Wednesday.
Record rainfall was received both at Camp Mabry and the airport. A new daily record of 3.73" fell at Camp Mabry and 2.02" at the airport.
Parts of Central Texas could pick up 1 to 3 inches or more of rainfall over the next 48 hours. Isolated areas could pick up 5 inches or more! Below is a detailed breakdown of the timing for multiple round of rain and storms.
Timeline: Scattered showers and storms possible Tuesday
Widespread showers and storms moved through on Monday afternoon bringing flash flooding to portions of Travis County. Shoal Creek reached its 4th highest crest point on record as levels peaked at 16.37".
Some isolated areas could experience isolated to scattered showers overnight, but rain chances will be on the rise heading into Tuesday. Some isolated storms could develop before sunrise Tuesday. This could keep roadways slick for your morning commute, so you'll want to factor in extra time to reach your destination.
Forecast models are hinting at additional scattered storms developing in the afternoon, mostly along and east of Interstate 35, so don't forget to check in with the KVUE app and have notifications turned on for Tuesday in case any weather alerts are issued. Download the app here.
As temperatures heat up during the afternoon, there could once again be heavier storms with a flood risk and potential for some gusty winds.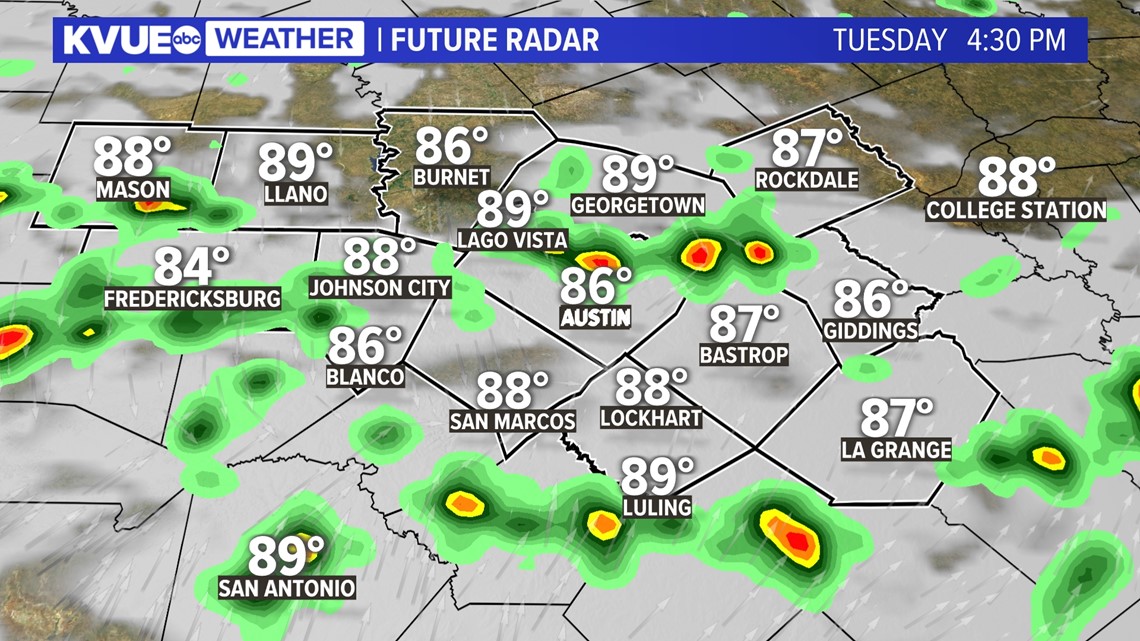 There will be additional showers and storms each day through the rest of the week, but as of now, it looks like that activity will be more scattered in coverage. So, for now, we're watching our highest flood threat this week on Monday and Tuesday, but that is subject to change depending on how much rain we get early in the week.
How much rain will we see?
A widespread 1 to 3 inches of rainfall is possible for much of Central Texas over the next 48 hours. Some areas could exceed that range with 3 to 5 inches of rainfall. These will be the areas that could have the more significant flooding issues.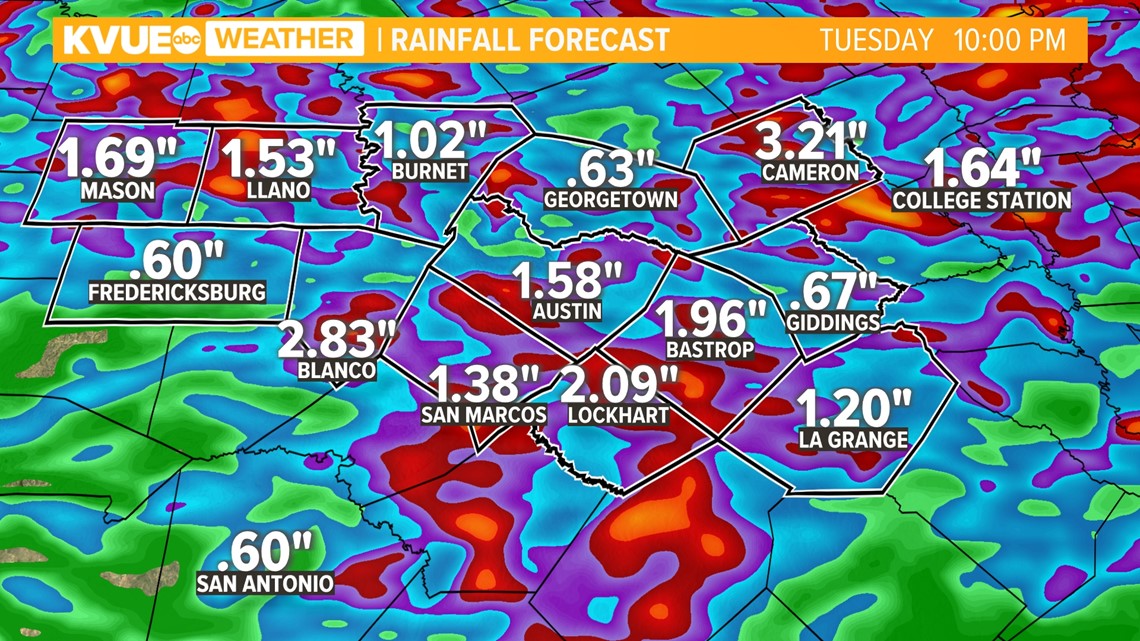 Seven-day rainfall totals will likely range from 2 to 4 inches for most of the KVUE area.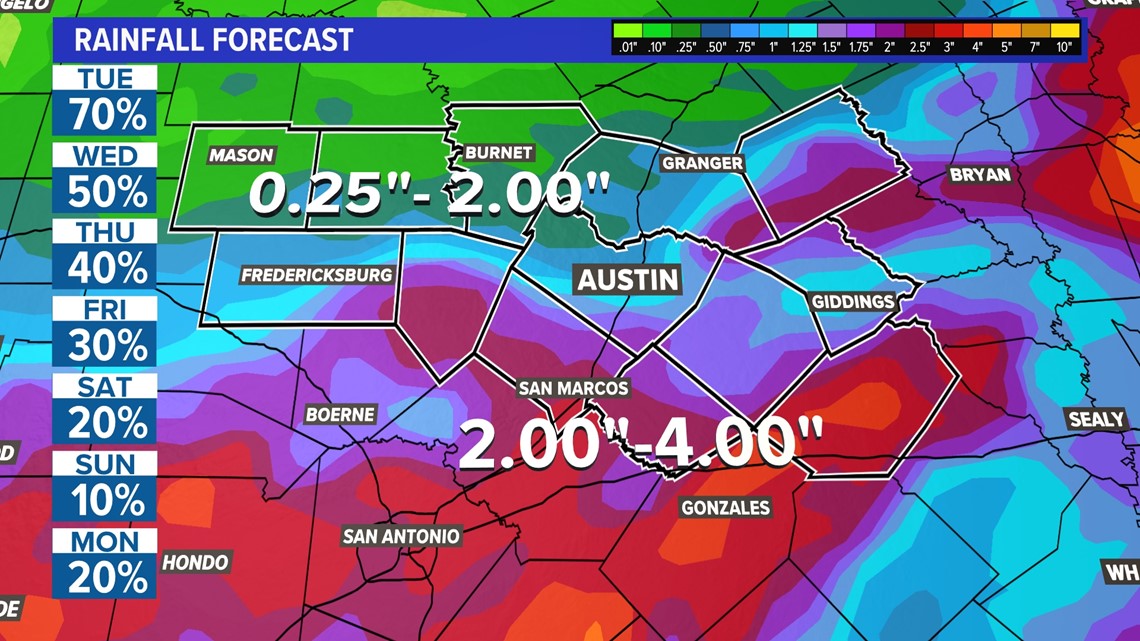 The KVUE Storm Team will continue to closely monitor this developing forecast.
In the meantime, the extended forecast can be found below: