AUSTIN, Texas — The frigid temperatures have caused issues with snow and ice on roads, power outages, and now, water pipes.
Now, the Austin Fire Department told KVUE reporter Tori Larned on Wednesday morning they are not responding to broken water pipe calls because there are too many reports across the city. The AFD advised that those with broken water pipes should contact their property manager.
Austin Water told KVUE four water main breaks were reported Monday and several apartment complexes had pipes burst. AFD told KVUE it responded to 466 broken water pipe calls on Monday.
The following day, on Tuesday, Feb. 17, Austin Fire Department crews said in a tweet that as of 6 p.m., they had another 685 broken water pipe calls to 911 since midnight. As of Wednesday crews had responded to thousands of calls.
"Many of those in the last few hours. Dispatchers are currently answering about one broken water pipe call per minute. We are only able to respond to a fraction of these calls," AFD said in a tweet on Tuesday night.
An Austin real estate agency, Bramlett Residential, sent some tips to KVUE to prevent your pipes from breaking. They recommend staying home Wednesday and Thursday to monitor your frozen pipes thawing. If your power is restored and your home begins heating again, any cracked pipes will begin to flood your home.
Locate your water shut-off valve, which is usually under a lid near the streetn, ad have the proper tools with you, such as channel locks or water valve shut-off tools, ready for closing the main water shutoff valve. If your water shut-off valve is difficult to locate, or you are unable to shut it off, contact Austin Water.
In a 6 p.m. update on Tuesday, Austin Water said there were eight active water main leaks each affecting approximately 15-20 customers on average. Austin Water says staff is working to respond and repair these priority leaks and they continue to have several hundred field personnel responding to water-related concerns and will rotate shifts as necessary to restore service or assist customers to restore private service.
If customers experience a water line break and the property owner's cut-off valve does not work, or you are unable to locate or operate the property owner valve, Austin Water says it's available to turn off the water at no charge. Customers can call 512-972-1000 to report a water main break or concern with its Austin Water service.
As temperatures rise toward the end of the week, this danger of water pipe breaks increases too. Emergency officials were asking the public to turn on their faucets to prevent pipes from bursting, but on Wednesday Austin Water revised that message, saying residents need to limit water use to prevent a shortage or boil water notice.
Here is a more detailed list of tips to protect your pipes from sub-freezing weather:
Open cabinet doors under sinks next to outside walls.
In unheated garages, shut off washing machine water. Water softeners should be drained and protected from freezing temperatures.
In sustained sub-freezing weather, let water drip slowly from inside faucets. If possible, collect that water to reuse for other things.
Nicole Cheng, an Austin resident, told KVUE she had to rush out of her apartment early Tuesday morning around midnight because of a broken water pipe and lost power.
"Why does it seem so unprepared?" Cheng asked, referring to the winter weather response to broken water pipes.
Like many others, she has a lot of questions.
"You're scared for your life and you don't know how bad the road conditions are going to be. So, you just kind of are like, 'Let's just leave, let's leave and take any medication that we need,'" Cheng said.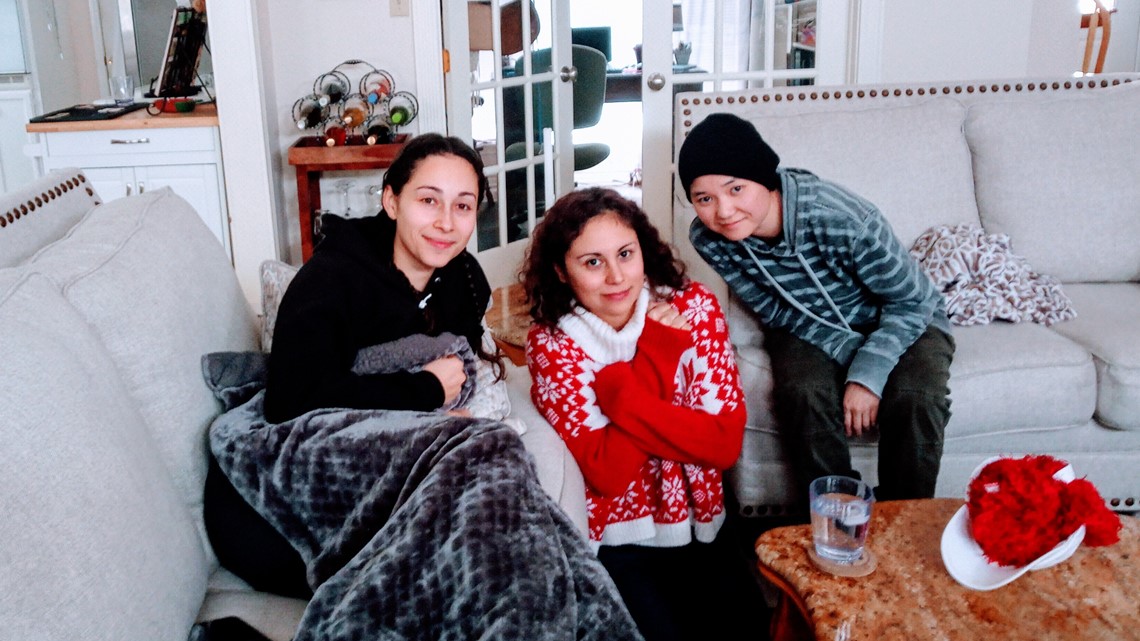 Cheng left with her wife and even took in a resident she met on Monday. The three are staying at Cheng's mother's place until they get power and water back in their apartments.
"They had none of these answers. Nothing. They had no suggestions. So, literally, what our leasing director told us was, 'If you have babies, if you need to leave, leave.' That's the only suggestion she had," Cheng said. "'If you can go, go' because it just wasn't going to be safe."
Some plumbing companies are swamped with calls, like Radiant Plumbing. Brad Casebier, the Radiant Plumbing CEO, said the company is doing online consultations because even their crews can't travel on the ice.
"They're doing some calls and it's only like $20 an hour for 15-minute windows just to get as many people through as we can. We're helping people shut things down and just troubleshoot. We've got some heat back on and some houses. So, that's pretty cool," Casebier said. "We just quickly realized the town needs help, and we can't risk our guys' lives or the vehicle so that we can keep fixing Austin once this is all over. So, we decided to offer virtual help."
Casebier said Radiant Plumbing expects it to take a month to fix all the broken pipes they've gotten calls for this week. He said plumbers definitely need to go in-person to fix things, but the virtual services offer some help to stabilize things that are leaking, flooding or frozen.
"We're in the business of helping people solve their problems, and so my team's pretty depressed because we're can't," Casebier said.
Casebier said it's never too late to take care of your pipes.
"We're just dying for that window when the roads open up, when we go out and actually start helping people," Casebier said. "People might think because they got away with it once or twice that their pipes don't are going to break. It's not true because the pipe, the water expands and it actually can stretch. The pipe may not rupture this time. The next time it freezes, it's going to stretch a little bit more in the third time could be the charm."
By the end of the day on Feb. 16, ATCEMS said it responded to 1,323 calls for service. Here were the notes provided by ATCEMS:
1,323 calls for service
69 environmental exposures
104 falls due to ice
31 traffic collisions with injuries
38 carbon monoxide poisonings