AUSTIN, Texas — We all expected Thursday to be an exciting day, as the heavy rain seen over the weekend would be taken into account on the latest drought monitor. As expected, many areas not only in Central Texas but across the Lone Star State saw great improvements in the drought.
For instance, last Thursday's drought monitor showed that portions of Mason and Llano counties were still under the "extreme" drought category. But this week's monitor shows those counties are now under "moderate" to "severe" drought.
Additionally, portions of Blanco County are no longer under the "exceptional" drought category and a lesser section of Gillespie County is under the same level of drought. Many areas of Hays County, home to Jacob's Well, also dropped to the "severe" drought category.
These impacts are felt not only across Central Texas, but across the state. In last week's drought monitor, a little under one-third of Texas was not in any drought, with mainly the Piney Woods and other regions of East Texas holding this distinction.
For this week, that figure improves to slightly over 38% of the state. Additionally, the exceptional drought category saw a notable decrease to less than 2% of Texas, compared to less than 3% a week ago.
In addition to these improvements, not only is there rain in the forecast for Friday night, but much of the still-drought-stricken Hill Country is in line for some of the heaviest rainfall, per the latest model projections.
It is important to note, however, that anyone in Central Texas can have the heaviest downpours, as this is merely a projection and not an exact idea of where the heaviest rain will fall.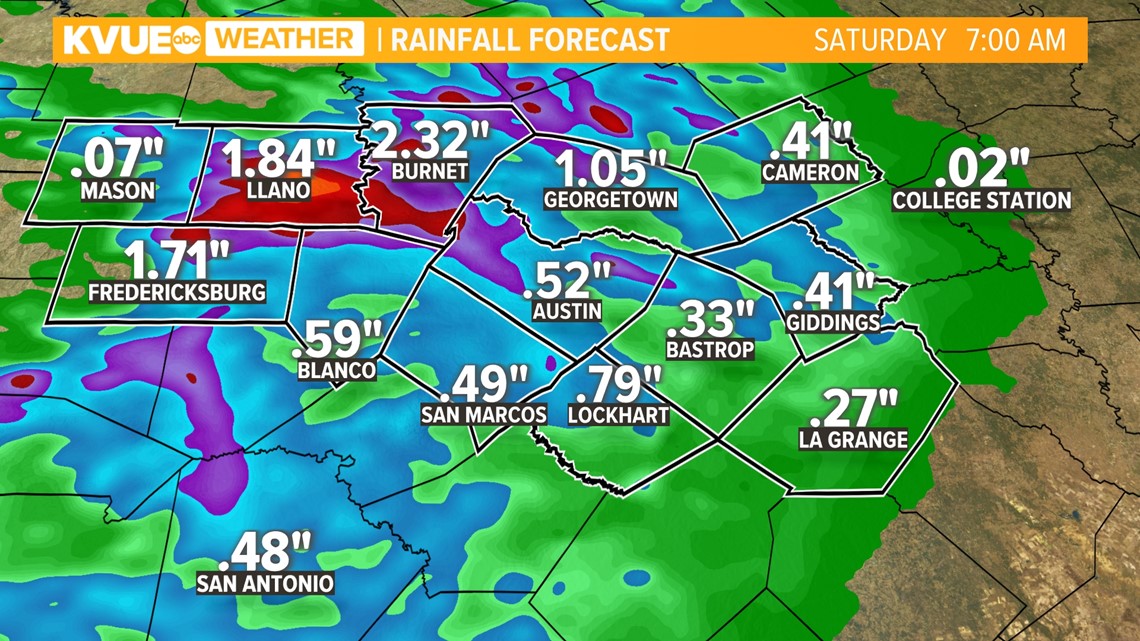 Stick with KVUE for the latest on this developing forecast
In the meantime, your seven-day outlook is below.