AUSTIN, Texas — From relieving stress to boosting your brain power, yoga can improve not just your strength but your mind.
Team Daybreak rolled out our mats, turned up the heat and signed up for a hot yoga class in North Austin.
This exercise adventure at Pure Yoga Texas was off to a slow start. It was so hot in the studio, the camera lenses fogged up initially. It's humid in there and the thermostat can easily crank up to 108 degrees.
PHOTOS: KVUE Daybreak crank up the heat doing hot yoga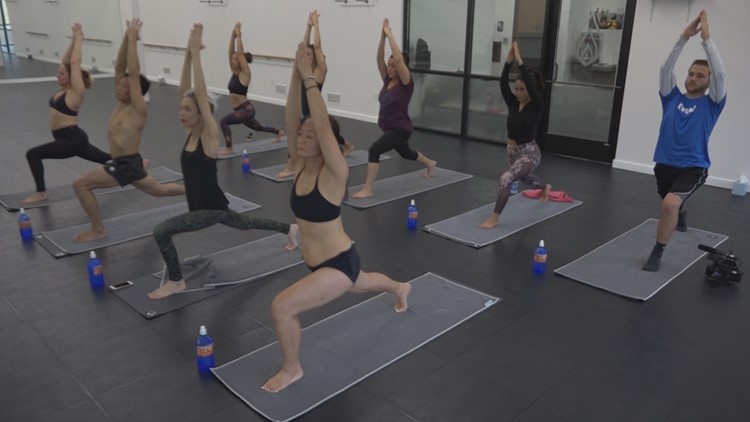 "That just allows you to immediately start sweating. Yoga is my medicine," said instructor and co-owner, Mardy Chen. This mornings class is called "Hot 26 Plus." It includes 26 postures and a few breathing exercises.
But if you're thinking this piece of cake, think again.
"Ay chihuahua I've never seen this in yoga," said KVUE Meteorologist Erika Lopez.
"The heat helps with flexibility. It also helps with detoxification and, believe it or not, it helps with concentration," said Chen. "You are only focusing on one thing. You know you're not thinking about the bills you have to pay outside of the room."
Or the fact we had about five cameras in the room set up at angles we'd rather you not see.
Some postures are as difficult to master as they are to pronounce, but quite often we got the hang of it. Jokes aside, we left the class feeling strong and clear headed.
Pure Yoga Texas is located off Anderson Road and has three other locations. This particular "Hot 26 Plus" class is offered two times a week. For more information about classes, click here.