AUSTIN, Texas — On Saturday, passengers at Austin's airport again faced long waits and large crowds at ticketing and TSA checkpoint lines, especially during the morning hours.
Problems began on Friday, with many passengers experiencing a two-hour wait to get through security, plus additional wait times at ticketing.
The Austin-Bergstrom International Airport (AUS) said passengers should give themselves extra time to get through. The airport recommends travelers with flights before 8 a.m. arrive at least three hours prior to their flight. It also recommends travelers with flights later in the morning avoid arriving too early – more than two hours before the flight – to avoid adding additional congestion to already busy morning lines.
Delays on Saturday caused more large crowds and many missed flights.
Passengers going through Austin's airport on Sunday should also be prepared to pack their patience. An airport spokesperson told KVUE they are anticipating 25,000 outbound flyers on Sunday, June 6. For context, the busiest day, including non-pandemic times, was approximately 31,000 outbound flyers.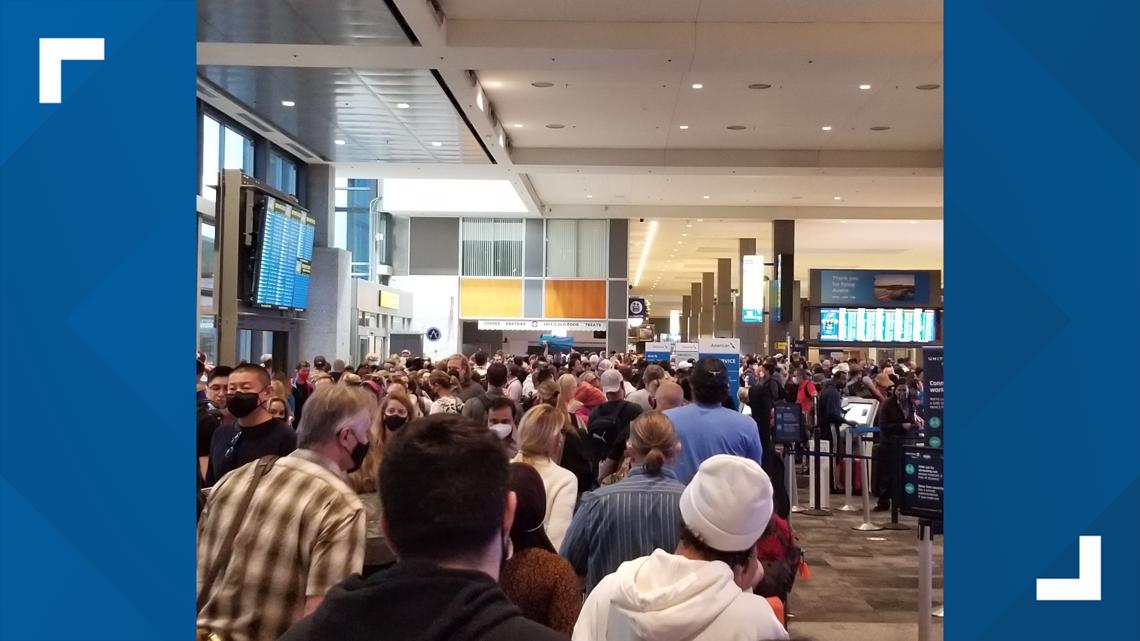 "Chaotic. It was chaotic. Nobody knew where to go. So many people, no social distancing," Emily Mangin, whose boyfriend echoed that travelers were "packed like sardines," said on Friday.
Mangin said she and her boyfriend arrived about two hours before their flight. However, after a tough time parking and an hour-and-a-half in the security line, they missed their flight and decided to drive 15 hours to the wedding they were trying to fly to.
AUS is recommending passengers arrive three hours early for peak departure times and two-and-a-half hours early for non-peak departure times. AUS said its peak departure times include 5 a.m. to 8 a.m., 11 a.m. to 1 p.m. and 3:30 p.m. to 5:30 p.m.
As of just before 7 a.m. on Friday, the TSA Checkpoint lines at AUS were approximately two hours long. AUS also said its online estimated wait time page was not reflecting current wait times.
"We appreciate your patience as we work together with our partners to get you to your flight & destination," AUS tweeted.
According to a spokesperson for the airport, only two of the three TSA checkpoints were open at first Friday morning. The third checkpoint opened at around 8 a.m.
A bomb threat was also reported at the airport later Friday morning, but it was eventually cleared.
The longer lines are due to more passengers and a busy weekend flight schedule, the official said. The TSA told KVUE the preliminary number of flyers at AUS Friday morning was 7,500, and a large number of passengers for a morning surge is usually 5,000.
"What we're seeing right now, really, is just significantly increased passenger demand as travelers are heading out for the summer," said Bryce Dubee, an airport spokesperson.
TSA also sent KVUE the following statement regarding the long lines at AUS:
"Multiple checkpoints are open and operating at AUS Airport and have been all morning. TSA and AUS airport officials remind travelers to arrive at least two hours prior to their flight, know what's in their carry-on bag – keep prohibited items out of carryon - and wear their mask. Various factors can affect the lines which include airlines scheduling flights to leave at the same time and multiple passengers bringing prohibited items to the checkpoints, requiring additional bag checks and delays. Nationwide TSA can report an uptick in travelers. Yesterday 1,815,931 people were screened at airport security checkpoints nationwide and in comparison one year ago 391,882 people were screened."
The TSA said that another overall issue that impacts wait times is a large increase in the number of prohibited items in travelers' carry-on bags. In 2021, gun catches per traveler have been the largest in the agency's history. Every time a prohibited item is found, that causes delays due to additional screening.
The TSA added that as far as staffing, it is in the process of hiring additional transportation security officers, and "an agency as large as TSA is always hiring staff."