AUSTIN, Texas — American Airlines is expanding in a big way at Austin's airport, adding seven new daily destinations, three seasonal flights and four new flights to the West Coast in partnership with Alaska Airlines.
The new, daily, nonstop American destinations include Nashville, Las Vegas, Orlando and New Orleans starting May 6. Then, on June 3, nonstop service to Tampa starts, followed by a July 2 launch of nonstop service to Raleigh. On Aug. 17, the airline will start flying to Washington-Dulles twice a day.
Flights to Nashville, Las Vegas and Raleigh will expand to twice daily on July 2, June 3 and Aug. 17 respectively.
Seasonal service to Aspen, Los Cabos and Destin will run on Saturdays starting June 5. Aspen service will end on Sept. 4 and service to the tropical destinations will end on Aug. 14. In addition, the airline's codeshare partnership with Alaska Airlines means four new flights to the West Coast – Portland, San Diego, San Francisco and Seattle – all start on May 6.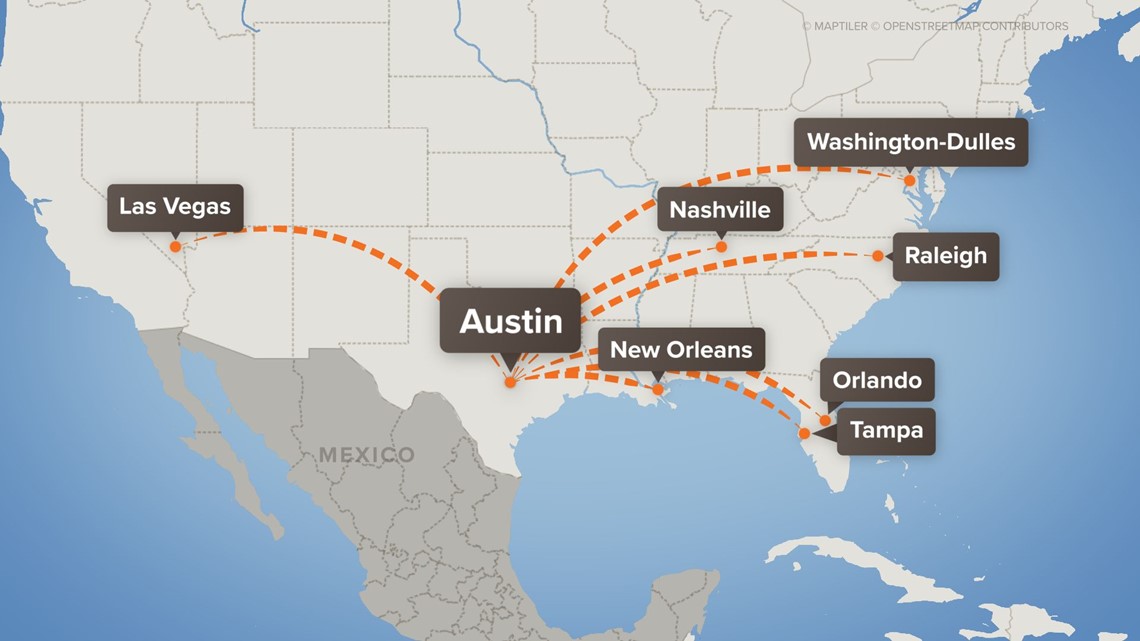 None of the new American flights will operate on the Boeing 737 MAX, which returned to the skies on American flights on Dec. 29.
In December, the airline announced seasonal service from Austin to Los Cabos and Orlando. The Cabo seasonal service is being extended while Orlando becomes a regular daily destination.
Tickets for the new flights go on sale Monday.
The announcement comes after a year of turbulence for airlines. In Austin, 2020 passenger traffic dropped 62% after 2019 broke records with 17.3 million flyers passing through. Airlines slashed flight schedules and the number of available seats on Austin flights was still down 56% last month compared to the year before. According to the airport's latest air service update, airline network planners are "showing more and more signs of confidence as they plan for the spring and summer."
Alaska Airlines recently announced new Austin flights to Los Angeles and Boise. Hawaiian Airlines will start new service to Honolulu in April and Allegiant will start Bozeman and Fayetteville service on May 27 and July 2 respectively.
American Airlines was the second-busiest carrier at Austin's airport last year.
"American is eager to expand in Austin alongside the exponential growth of the region, and we'll be the easiest airline to do business with as we continue to grow," said Brian Znotins, American's vice president of network planning. "Customers have been asking for more service to Austin, and today we're answering the call. These routes not only provide opportunities for companies to get back to business and for leisure travelers to enjoy the excitement of Austin, but also connect Central Texans with new leisure destinations they desire."