AUSTIN, Texas — Austin is on a record pace for traffic fatalities in 2021, according to data from the City's transportation department.
Lewis Leff, Austin's transportation safety officer, said Austin is expected to see as many as 105 to 110 fatal crashes in 2021, the most on city record.
Leff said the number of traffic deaths is a trend seen nationally, rising 16% year-over-year. Forty-four states have seen increases in traffic fatalities, Leff said. Texas has seen a 17% increase.
In Austin, traffic fatalities have increased nearly 25% year-over-year, according to Leff.
Considering traffic fatalities and "serious-injury crashes" combined, they occur most often between 1 a.m. and 3 a.m. on the weekends, Leff said.
Leff also said that around two-thirds of the traffic fatalities happen on roads managed by the Texas Department of Transportation, such as Interstate 35, Highway 290 and Loop 360. Speed is another trending factor of traffic fatalities.
"There's a pretty good, rational explanation for that: The larger the roadways are, the higher speeds they are, the less traffic control that's on there, you're going to see more incidents like that because speed is the primary factor," Leff said. "TxDOT's on-system roadways are typically frontage roads, typically the freeways, and that's what we're seeing play out in the severity of crashes that happened."

GRAPHS: Austin traffic safety data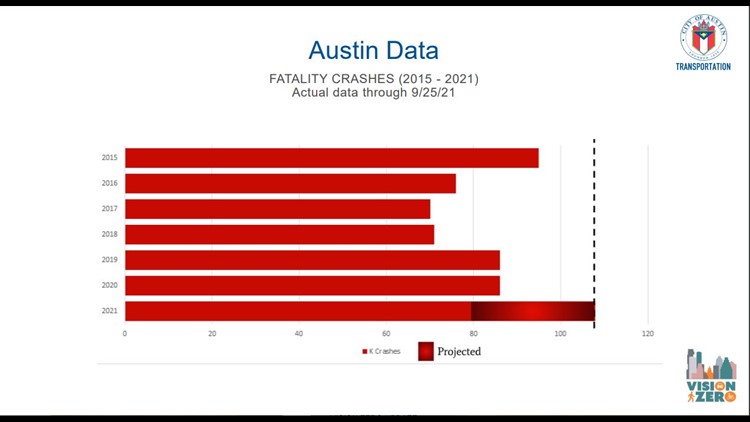 Compared to other Texas metropolitan areas, however, Austin remains one of the safer places to drive. Austin is expected to have less traffic deaths and serious-injury crashes combined per capita than Houston, Dallas and Fort Worth. San Antonio has a smaller projection than Austin does (just under 50 per 100,000 people).
The Austin Transportation Department estimates that there have been nearly 3,221 years of life lost from those who have died in traffic crashes between Jan. 1 and Sept. 25. This number is a "public health metric" and represents the cumulative estimate of how long the victims would have lived, according to the department.
"These are birthdays and holidays, other major events in life that will not be experienced, not only by them having lost their life but by their family members and their friends and their colleagues that are missing them forever," said Leff during the city's Oct. 7 mobility committee meeting.