DALLAS — Plans are taking shape for a nearly $5 billion expansion of Interstate 35 through Central Austin, and local leaders are looking at ways to reconnect East Austin with the rest of downtown.
For decades, I-35 has been a barrier through the Capital City, segregating communities of color and making it dangerous for pedestrians to cross from east to west.
One concept that's being closely looked at as a model for Austin is Klyde Warren Park in Dallas. It sits above the eight-lane Woodall Rodgers Freeway, which separates the Uptown and Downtown neighborhoods of Dallas.
"Where we're sitting today was a very unfriendly, windy or noisy freeway, and you couldn't get people to walk across the bridge from one side to the other," said Jody Grant, the founder of Klyde Warren Park.
Situated in the Arts District, the park is a little more than five acres and is part of a "cap and stitch" concept. The caps are deck plazas that cover the freeway, and the stitches are the streets that go across with bike lanes, wide sidewalks and, in Dallas, a trolley line.
Klyde Warren Park opened in 2012 after three years of construction. It features a restaurant, children's playground, dog park and stage, among other unique design features. The cost was $110 million, and it was paid for using public and private funds.
Park connects community
It's a park that some now refer to as the "Town Square of Dallas."
"It's not a field of dreams. You can't just build it and they will come. We studied what makes a park work and we visited parks around the country. There was only one other programmed park in the country, and it was Bryant Park in New York City. And it showed us the soul of [the] park – how to make it work and how to make it work in an urban environment," Grant said. "We thought we might have a party, and nobody would come. We had a party, and everybody's come. We've had over a million visitors a year and we've continued to give people reason to come here."
PHOTOS: Klyde Warren Park in Dallas
In October, the popular North Texas restaurant chain Mi Cocina opened its newest location in the park. The business has been busy ever since.
"We knew it was going to be successful just because of the reach that the park has, but I think we have really been very excited with the numbers that we're seeing, the people that are coming and the feedback that we're receiving," said Heather Mashburn, senior director of marketing for the restaurant's ownership group.
The park draws city dwellers, suburbanites and visitors from out of town. Park organizers host holiday festivities as well, including an Independence Day celebration with a fireworks show and a Christmas tree lighting.
"It's a celebration of humanity and being together. That's something you can't really put a price on. It's an invaluable experience for bonding as a community," said Kit Sawers, president of Klyde Warren Park. "There are people who come to the park every week from every different neighborhood in North Texas and celebrate what they have in common and enjoy the multitude of different, diverse cultures that are represented."
While the park is a hit with the people who visit, it's also an investment that's paying off for the community.
The park is part of a public improvement district created in 2014. The district has since helped transform the area, more than doubling the value of the properties in it. It also helped increase commercial rent rates and occupancy levels.
"I don't think there has been anything like this again happening in the Dallas area or has happened in the Dallas area prior to this other than the [DFW] airport," Grant said. "It was a huge stimulus that brought Fort Worth and Dallas together, and these two cities wouldn't be what they are today without that airport. But as far as Dallas goes, this was, I think, has had an equal kind of impact on the city."
What about Austin?
As the Texas Department of Transportation (TxDOT) prepares to expand I-35, with construction expected to begin in late 2025, Klyde Warren Park is one example City and State leaders are looking at to help address some of the deep-rooted issues the interstate has caused in the community.
"My family is three generations of Austinites. Anybody who's been here in this community for a long time knows what I-35 has meant," said Mike Trimble, director of the City of Austin's Corridor Program Office.
A key difference would be that Austin's cap and stitch project could be about four times bigger than what exists in Dallas today.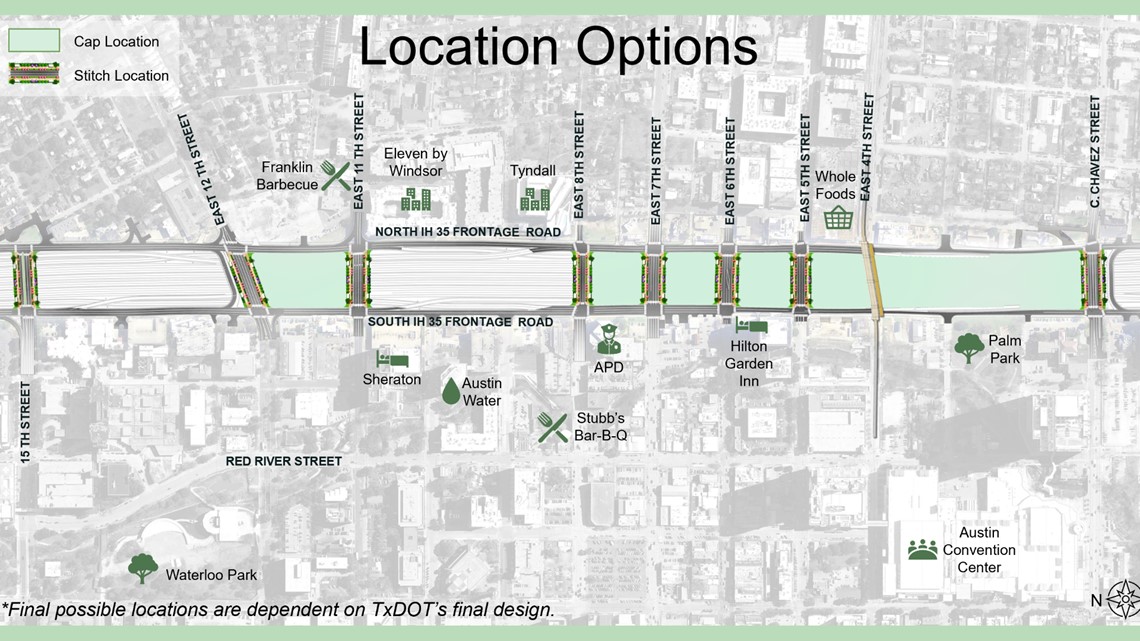 Initial concepts released on Dec. 15, show caps could cover sunken lanes from Cesar Chavez to Eighth Street and Eleventh to Twelfth Street, depending on TxDOT's final design plans. Stitches would provide east-west crossings. Another possibility is a cap near Airport Boulevard.
"We want to make sure that it's of and for Austin, it's not replicating something else. It's something unique to our community that, that represents the priorities of the community," Trimble said.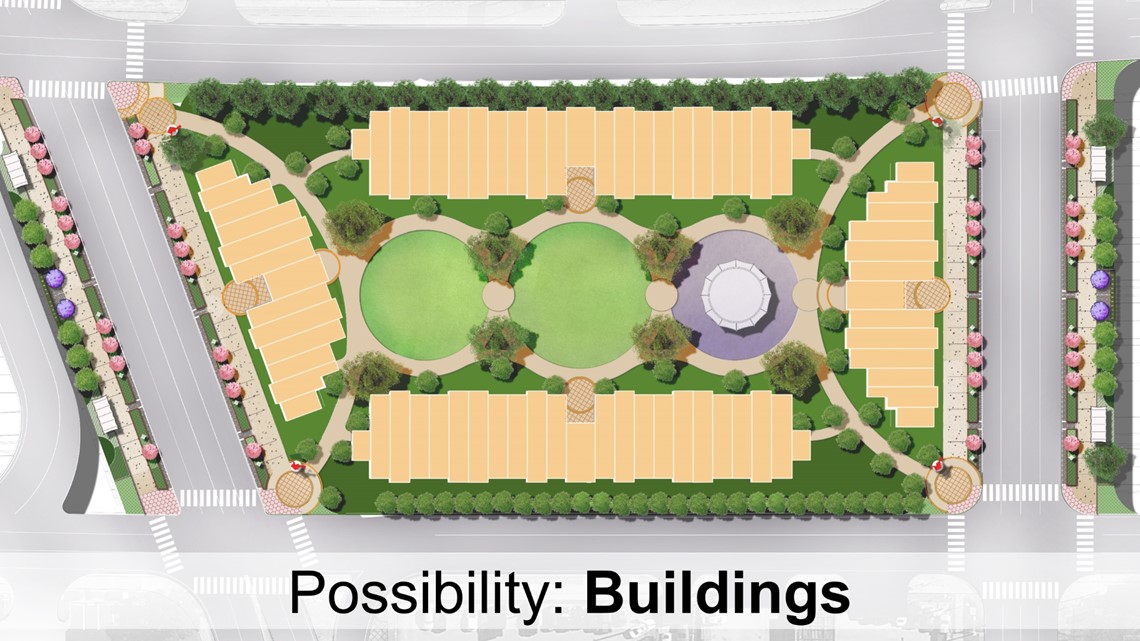 On the caps, initial concepts show the City could build up to two-story buildings. Ideas for use on the caps range from farmers' markets to a trail or even an amphitheater, Trimble said.
On Dec. 15, the City launched a 30-day public engagement process to find out what the community wants to see in the project. You can weigh in here.
The Austin City Council in November approved a $2 million professional engineering services contract with Arup US Inc., which will allow the City to move forward with the engineering design phase of the project.
State funds are expected to cover the cost of the freeway project but local enhancements, like a cap and stitch, have to be paid for using local money.
On Jan. 20, the City's Mobility Committee met and hosted a briefing on the proposed project. The City said a feasibility study is currently underway.
Preliminary cost estimates show the full project could cost approximately $500 million for structure and systems and $300 million for surface amenities. Operations and maintenance are not part of the initial estimates. The City said this preliminary cost profile was based on "extremely high-level estimates."
The City said as the preliminary design phase and community engagement continue, the cost estimates will be refined.
In 2022, the City hopes to:
launch the project's design phase
refine concepts and cost estimates
develop a funding strategy (including federal funding opportunities, possible local funding scenarios, partnership funding opportunities and a funding strategy for capital and long-term operations/maintenance)
analyze land use and economic development opportunities
continue coordination with TxDOT on the design refignment and integration into Cap Express Central Projects