KANSAS CITY, Mo. — The Tennessee Titans made the AFC Championship for the first time since the 2002 season, with thrilling wins over the Patriots and Ravens, but the playoff streak came to an end Sunday against the Kansas City Chiefs.
As the lowest-seeded team in the AFC, they had to play the Chiefs at Arrowhead Stadium in Missouri.
Here's how it all played out.
The Titans scored the first points of the game on a 30-yard field goal. They extended their lead with a 4-yard touchdown run from running back Derrick Henry. Tennessee led 10-0.
The Chiefs scored their first points of the game with 51 seconds left in the quarter on an 8-yard pass from quarterback Patrick Mahomes to wide receiver Tyreek Hill.
The first quarter came to an end with the Titans up 10-7.
Titans vs. Chiefs in the AFC Championship Game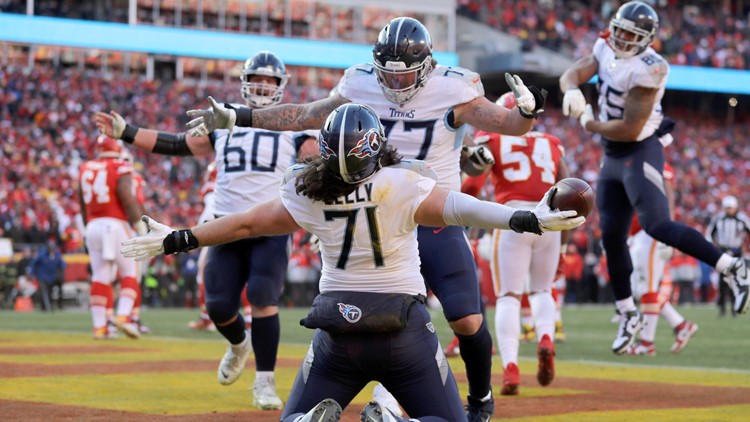 But the Chiefs responded with a pair of touchdowns to close out the first half, first scoring on a 20-yard pass from Mahomes to Hill to make it 17-14 with 4:03 remaining in the first half.
Then with less than 30 seconds remaining in the half, Mahomes rushed for a 27-yard touchdown to give Kansas City its first lead of the game.The Chiefs took a 21-17 lead into halftime.
No team scored in the third quarter. However, the Chiefs limited the Titans to just 22 yards and one first down since Tennessee took its 17-7 lead.
Kansas City ended the quarter gaining a first down to the Titans' 3-yard line.
The Chiefs scored on the second play of the fourth quarter via a 3-yard run by running back Damien Williams. Kansas City took a 28-17 lead.
They extended the lead on a 60-yard touchdown pass from Mahomes to Sammy Watkins.
The Titans were successful on a fake punt to extend a late drive.
That setup Tannehill to throw a 22-yard touchdown pass with 4:18 remaining to bring the Titans closer. The Chiefs still led by two possessions, 35-24.
There just wasn't enough time. The Titans' Cinderella story ended in the AFC Championship game with Kansas City running out the clock. Chiefs win 35-24.